72 Hours in Granada, Nicaragua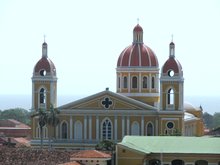 With its fine colonial architecture, Spanish heritage and stunning natural surroundings, Granada, the oldest city in Central America, is enjoying a renaissance. Due to its war torn past Nicaragua is still one of Central America's least visited countries, but since 1990, peace and political stability have allowed it to finally share its unique beauty and culture with tourists.
Nicaragua offers unspoiled beaches, pristine lakes and wild jungles to rival its more visited neighbour Costa Rica, but without the crowds and hefty price tags. Tourism is booming and the laid-back charm of colonial Granada is at the heart of it.
Since being founded by Spanish conquistadors in 1524, at a prime location on the shores of Lake Nicaragua, Granada has survived numerous sackings from pirates as well as years of civil war. Despite this, the city's colonial architecture is still intact and its quiet cobbled streets, stunning buildings and secret courtyards make it one of Central America's best finds.
The ornate façades of Granada's gelato-coloured buildings have lured bohemian expatriates from around the world and they've joined local families in setting up fine restaurants and stylish accommodation to cater for visitors.
Day One
In the morning, head for the Central Park and get your bearings by taking a tour of the city in a horse-drawn carriage that's not just a tourist attraction, but still used by local families to get around Granada. Enjoy the ornate architectural features of the many churches and colonial mansions and make a note of those you want to revisit later. Your driver will wait at Fuerte La Polvora while you explore the 18th century fort and relive the days when Spaniards battled to protect themselves, the city and its treasures from blood thirsty pirates.
After the tour, have lunch by a fountain in one of the courtyard restaurants near the park. Then visit the cavernous interior of the orange, yellow and white cathedral with sweeping archways and towering columns that have been expertly renovated. Walk a few blocks West to the crumbling splendour of the baroque La Merced church and climb the bell tower for spectacular views over the city's tiled roof tops to its surrounding volcanoes and the lake.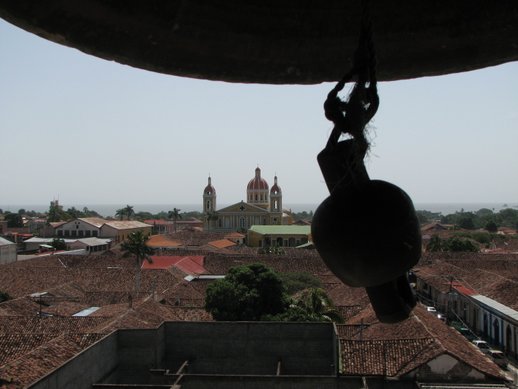 Day Two
In the morning visit the striking chalky blue and white San Francisco Church then have a Nicaraguan coffee at Kathy's Waffle House opposite. Head down to Lake Nicaragua, the tenth largest fresh-water lake in the world, and enjoy the cool breeze on a boat tour of the isletas, some 360 small islands, many so tiny that there's barely room for one building. Look out for the island which is home to spider monkeys released from captivity but unable to be returned to the wild, and check out the tropical birds, the local fishermen and the yachts moored beside the fancy holiday homes of Nicaragua's elite.
Eat a local lunch of rice and beans or fish from the lake at the tiny restaurant on Isla Corre Viento and keep an eye out for out the rare fresh water bull sharks. Make sure you leave time for the thirty minute taxi ride to the Lago de Apoyo, a huge crater lake in an extinct volcano which boasts sparkling clear water. It's perfect for a cooling swim as you listen to howler monkeys roar in the lush surrounding jungle.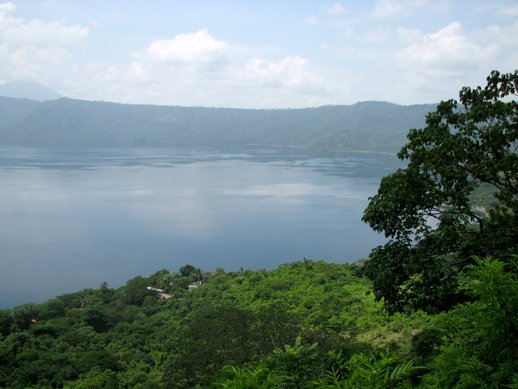 Day Three
Take a day trip to Mombacho Volcano nature reserve for a canopy tour of the cloud forest. Suit up in a harness and heavy gloves to soar through the tree tops among giant ceiba trees on a network of flying foxes. Walk higher through the cloud forest and see how the landscape changes to an alpine tundra with sulphurous steam rising from fumaroles, and take in the panoramic views over the lake to the twin volcanic cones of Isla Ometepe and the peaks of Granada.
After lunch at the Hacienda Cutirre, visit the coffee plantation that thrives on the lower slopes to find out how coffee beans are harvested and dried. Watch out for over 50 different types of bird that live on the volcanic slopes, including resplendent trogons and tiny hummingbirds. Stop at the Central Park on the way home for a fresh coconut milk, and great people-watching. Browse the stalls for last minute souvenirs and watch the colours of Granada intensify as the sun sets.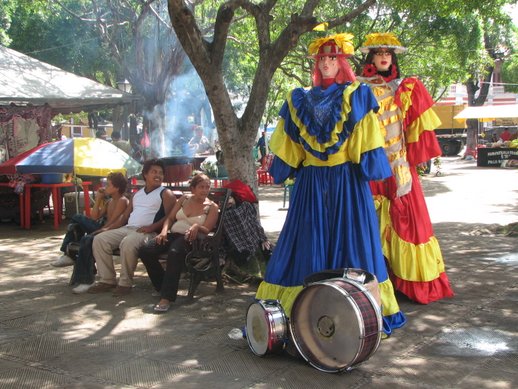 Getting There
Catch one of the regular flights from Los Angeles to Nicaragua's capital city, Managua, then take a taxi or air-conditioned mini-bus shuttle for the 40 minute drive to Granada.
Organised Tours
Tours Nicaragua and Nicaragua Adventures organise historic, nature or adventure tours of Nicaragua. Your hotel should be able to advise you on day trips around Granada, including the Mombacho canopy tour and trips on Lake Nicaragua.
Where to Stay
La Gran Francia Hotel – The most luxurious hotel in town, with an elegant Nica-Euro fusion restaurant.
Hotel Dario – The classic green and white exterior and excellent restaurant make this a favourite spot.
Hotel Casa Capricho – This intimate hotel offers stunning colonial style and excellent value for money.
When to Visit
Expect hot, tropical temperatures of 22-30°C all year round. It's cooler during the rainy season from May to December but usually only rains once a day, in the later afternoon or at night. During the dry season, from June to January, the days are hotter. But the very best time to visit is in August for the annual Hipica horse festival when hundreds of horsemen and horsewomen from around Nicaragua parade through the city in their finery. It's loud, crazy and lots of fun – at least for the humans.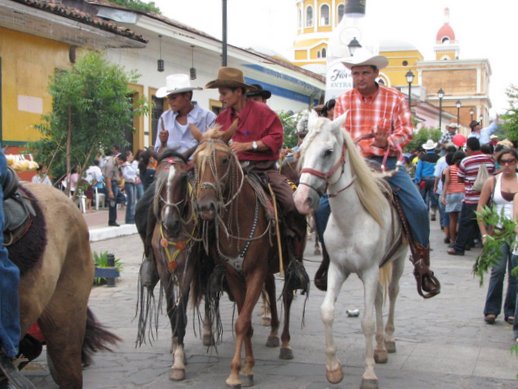 What to Eat and Drink
Kathy's waffle house has a wide range of traditional Nicaraguan or American food that's great for breakfast or lunch.
In the evenings start at the Central Park and cruise the Calle del Calzado reading the menus and listening to guitar music pouring out of the restaurants before deciding where to dine. The bohemian cafe, El Tercer Ojo, is worth a visit as is the gift shop at the Maverick Reading Lounge which also offers Spanish lessons if you can extend your stay.
Apart from coffee, Nicaragua's favourite drinks are the local beer Toña and Flor de Cana Gran Reserva rum.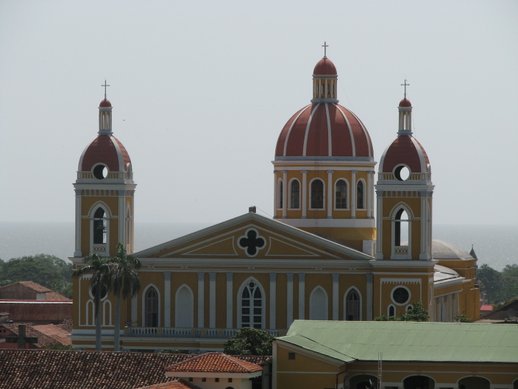 This story first appeared in Escape, Sydney Sunday Telegraph
Looking for more things to see and do in Nicaragua?
See things to see in San Juan del Sur
Are you travelling soon?
Planning your next great adventure right now? Check out 5 Reasons I ALWAYS Get Travel Insurance Before Going Overseas or visit the Worldcare Travel Insurance site for a quote now.
Are you a travel lover and adventure seeker?
Get free email updates from Get In the Hot Spot – it's a weekly injection of tips to help you be more adventurous and have more fun. Sounds good? Click here now to get a weekly email updates.
Share This Story, Choose Your Platform!