Mike's Camp – A Perfect Place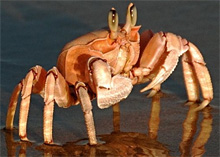 I cast away at Mike's Camp on Kiwayu Island in Kenya in 1992.
My boyfriend and I had been traveling in Africa for five months and had spent the last month over Christmas and New Year camping on the beach north of Mombasa in an army green pole tent.
Mike's Camp on Kiwayu was a touch of luxury, only an eight hour felucca trip from Lamu, a spice island in the Indian Ocean.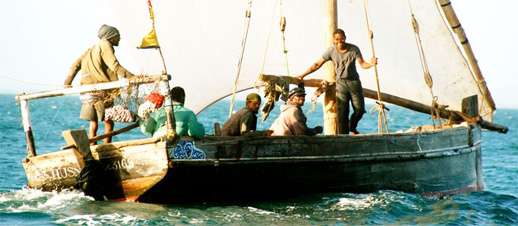 We lived in an open-sided hut woven from grass and slept under a mosquito net, sprawled under the light of the moon.
Huge heads of coral surrounded the island covered in warm, clear water and at night the phosphorescence sparkled underfoot.
The beach was wild and untamed, manned by pink crabs that played along the shoreline, the pink sand speckled with exotic shells.
It was hot and sandy by day, the evening bucket shower short but cleansing.
We feasted on fresh pineapple with coarsely ground pepper for breakfast, crab cakes for lunch and fish for supper.
Our host belched with gusto at meal times following it up with a resounding cry of:
"Alhamdulillah!" Meaning 'thanks be to Allah'.
Eccentric, passionate and a little bit batty, rumor had it that Mike moved to the island to nurse a broken heart. He was the only permanent human resident.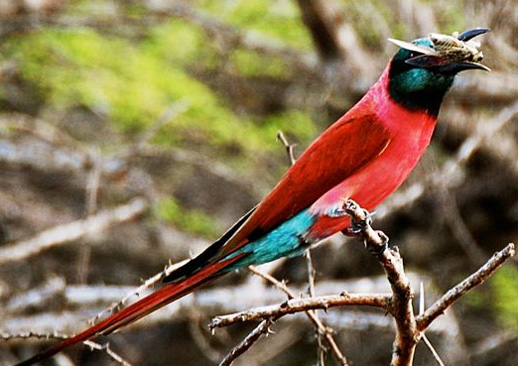 Mike liked birdwatching, star-gazing, shell seeking, oyster hunting or taking a boat trip to the mainland to sneak up on herds of unsuspecting buffalo. He liked skinny dipping by dark and only ever wore a sarong.
One day some posh guests flew in for four nights from London. One of them was Susannah Constantine from the global style makeover show Trinny and Susannah.
This was before she was famous and I can't remember what Susannah wore because they only came down to the camp for meals, spending the rest of their time sequestered in their rooms.
Probably scared by all the belching at meal times.
I'm not sure if she's ever been back but I'd love to visit Kiwayu again.
Editor's Note: These are photos of Mike's Camp in Kiwayu if you'd like to find out  more or visit. Mike's still there and I'd love an update.
He probably hasn't even got internet and I notice his blog needs updating but Mike, if you're reading this, I hope you remember me too and I hope you don't mind me sharing my fond memories of your camp and your table manners. At least I haven't mentioned the time you juggled with the spaghetti bolognaise.
But seriously, you could do whatever you like at the table – Mike's Camp and Kiwayu Island are still my idea of a perfect place and I dream of visiting again some time.
More Perfect Place Posts by Other Perfect Bloggers
A Perfect Place To Be by Shruti
Making Live in Paradise by GutsyWriter
Guided Tour by Galen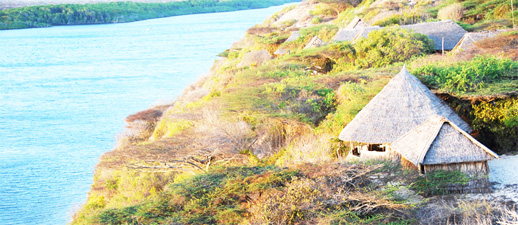 What's Your Perfect Place?
Join the personal writing practice and write about A Perfect Place.
Just write your story about a perfect place or an idyllic time in your life.
Post in on your own blog, link to the personal writing themes post and leave a comment so I know about it then I'll link to your perfect place post here so everyone can read all the stories.
Are you travelling soon?
Planning your next great adventure right now? Check out 5 Reasons I ALWAYS Get Travel Insurance Before Going Overseas or visit the Worldcare Travel Insurance site for a quote now.
Thank you and happy writing.
Do You Like Get In the Hot Spot?
I hope so! I try to make my blog as inspiring, motivating and useful as possible. I'd love it if you can spread the word by sharing it on Facebook, Twitter, email or telling a friend about it. Please help me grow my blog by sharing it with someone else who'd enjoy it. You can use the buttons below to make it easier for you. Thank you. I really appreciate your support.
If you're new here take a moment to subscribe to Get In the Hot Spot by RSS or email. It's a brilliant way to stay motivated and inspired plus it's totally free.
Share This Story, Choose Your Platform!