Playing Away at Bluewater Point Resort in Kawana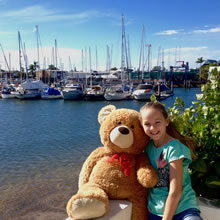 Like many Aussie families our weekends get eaten up by kids' sporting activities. It's a crazy situation because we are not the type of parents that pressure our children to play sport or have high sporting expectations for them.
But some parents are. The problem is apparently so bad that our local basketball courts have a sign reminding parents that:
"children participate for their own interest and enjoyment, not yours."
I've heard and read stories about fights breaking out between parents at kids' games while parents swearing at the referee or rudeness are commonplace.
Some childrens' parents push them hard. Some kids clearly love that but it's likely that some feel pressurized or stressed out by the demands. The basketball website focuses on this issue in its code of conduct:
"It is very tempting for parents who are involved in a sport, or who have children with abilities they wish they had themselves to try and force the children to participate or to participate at a level to which they do not aspire. Resist the temptation."
The greatest temptation for me is to not send my kids to any sports because it takes up so much time and money. But we want our children to be active and would do anything to get them out in the fresh air, playing with friends and away from the computer which is why our children do sport.
We struggle to keep up with our daughter Kiara because she wants to do every sport known to man.
I do my best to minimize after school activities because the driving and time away from home when I should be cooking stress me out. But I don't want to deprive her of any fun, particularly when it involves good, clean, sporting fun.
So currently Kiara does Musical Theater, Gymnastics and Soccer. Which sounds reasonable until you learn that soccer means training during the week AND playing a game every Saturday.
Even though she is only 10 and her all girls team usually loses 10 nil because they mostly play boys teams, some of the away games are a very long way away.
As if it's not challenging enough to get her to soccer practice or a local game, the away games are often a 6o minute drive from our home. I resent that because it means every Saturday morning there's a rush to get to the game in time and, by the time we get home, the morning is gone reducing my weekend to Saturday afternoon and Sunday.
So last weekend we turned that situation around and transformed an away game for Kiara into a weekend away for all of us. Hooray!
Looking around for apartments on the south Sunshine Coast, Bluewater Point Resort which I found on Flipkey was clearly a winner. It had everything I look for in a family holiday rental:
Two or three bedroom apartments;
Fully self-contained with kitchen and laundry;
Central location so we don't have to do too much driving once we get there;
Plenty to see and do within a 15 minute drive.
Plus a few bonuses:
All apartments have amazing water views;
Safe underground parking;
Within easy walking distance of Kawana Shoppingworld mall which has three huge supermarkets and endless shopping and eating options;
Right on a busy main road but dead quiet because the apartments face the water.
Lovely big pool, kiddie pool, spa, sauna and gym.
Using Flipkey to find a holiday apartment
There are a slew of apartment booking websites online but this was my first time using Flipkey which is owned by TripAdvisor.
I loved that there's a huge range of apartments to chose from and the focus is on apartments or houses which offer the best value for family holidays. There's a good choice of accommodation available on Flipkey with everything from quaint rural farm stays to penthouse apartments.
Flipkey is easy to search by location and check in date or using the map to find similar properties in the nearby location. The only downside is that most places require a minimum two night stay so if you've only got one night to spend away you could have problems.
But if you're staying two nights or more Flipkey has some great deals and allows you to make direct contact with the owners to place your booking.
So how did Bluewater Point Resort in Kawana shape up?
For a very low price of $196 per night we had a huge three bedroom apartment on the ground floor which was right on the water.
I loved the view from the living room and master bedroom and especially enjoyed being able to lounge in peace on the huge patio while the kids watched TV inside.
Some of the fittings, such as the blinds and carpets, had seen better days but that didn't bother me because it was such a great location and excellent value for money. The apartment was clean, tidy and spacious which I value more than expensive fittings.
We stayed Friday and Saturday night and were only 20 minutes away from Kiara's soccer game which turned that into a fun outing rather than an epic mission.
Things to do around Kawana
On Friday evening we explored the Mooloolaba spit which is always fun. We walked out to the end of the point to watch the sunset, bought a few fun bits and bobs from the Friday evening market at The Wharf and got some local bugs (aka slipper lobster) from the fisheries for a treat for supper.
On Saturday I challenged myself at the Kawana parkrun, bumped into an old friend, made a new friend and got a new personal best of 26 minutes 39 seconds for the 5km timed run. Not bad running for a beginner.
There was plenty of time to go back to the apartment and get to Kiara's soccer game in time. Watching her team lose again wasn't so bad since at least we hadn't driven an hour to be there. She made a great effort and I am so proud of her and her team. They just keep playing away every week. No matter how often they get defeated they never give up and they are getting better and better because of that.
In the afternoon we explored Kawana Beach, Point Cartwright and La Balsa Park right across the river from the Mooloolaba spit where we were the day before. The kids and I enjoy a photo walk so we took lots of scenic sunset photos.
That evening we treated ourselves to an Indian takeaway and enjoyed a movie night watching Paddington and Alexander and the Terrible, Horrible, No Good, Very Bad Day which were both a hit with the 13 year old boy, the little girl and their mum and dad. We had a laugh.
Check out from Bluewater Resort on Sunday was 10am which gave me time for a 13km training run from Buddina to the Currimundi Lake Conservation Park. That's a beautiful area I'd never explored before even though it's only a 30 minute drive from home.
After check out we took advantage of the nearby shopping opportunities in Kawana then stopped for a picnic at Mooloolaba Spit on the way home. I do like it there but most of all I loved the chance to play away from home and have a micro-adventure with the family without driving too far or spending a fortune.
Bluewater Point Resort pool by night:
Bluewater Point Resort backyard at sunrise and by day – these photos were taken on my iPhone from the patio – that's how close the boats are!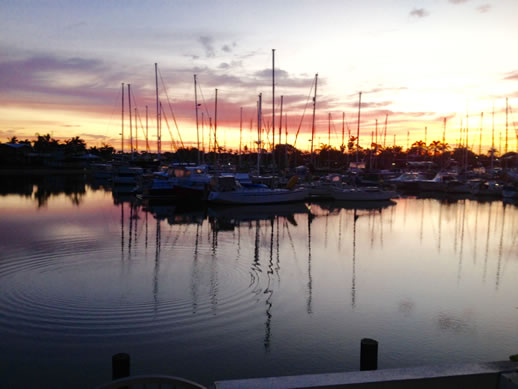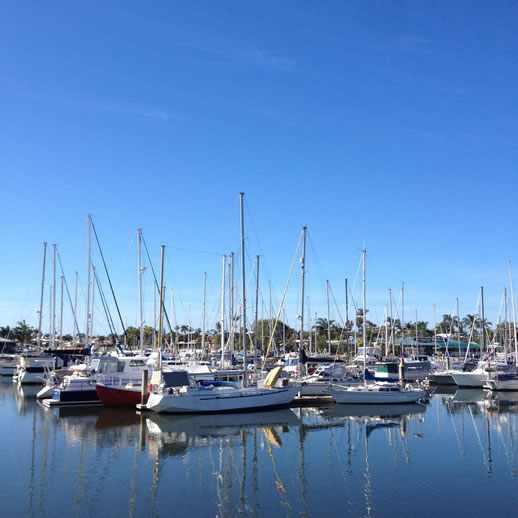 Mooloolaba Spit sunset, picnic with the ibis and playtime: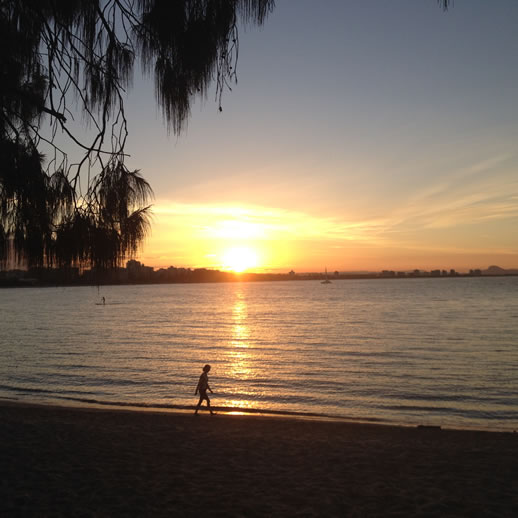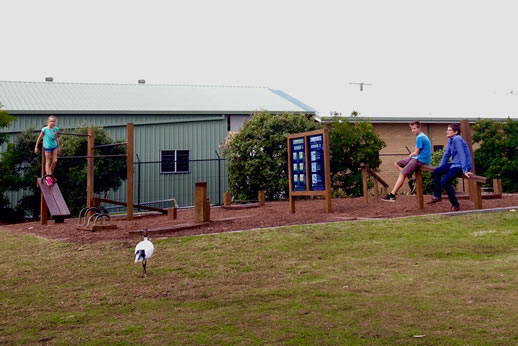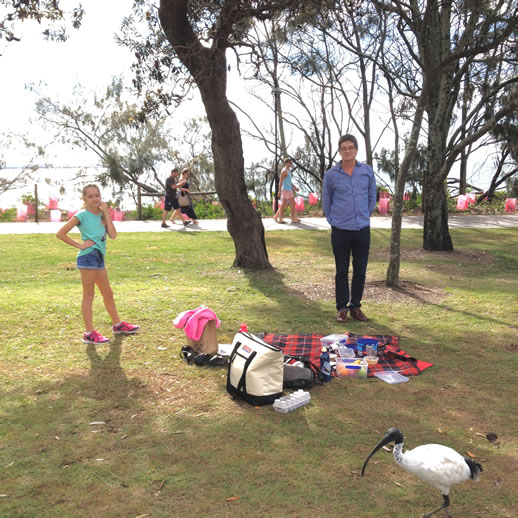 Posing with my two youngest at Point Cartwright in the magical evening light: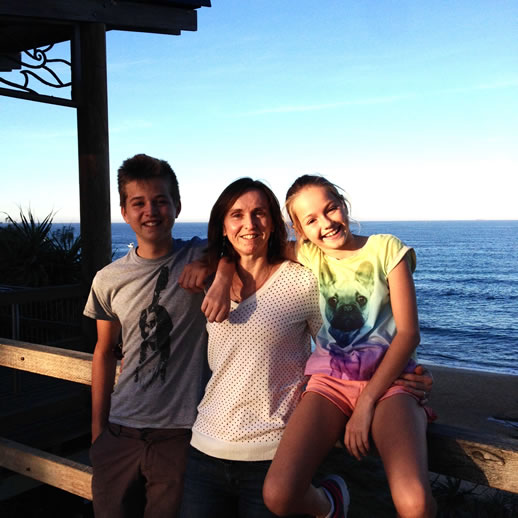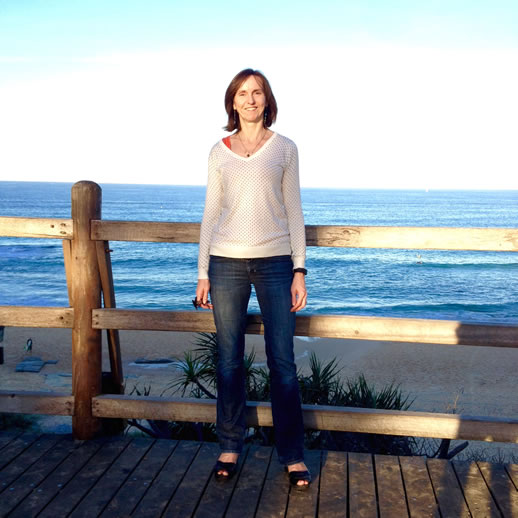 Point Cartwright lighthouse walk with view of Kawana Beach: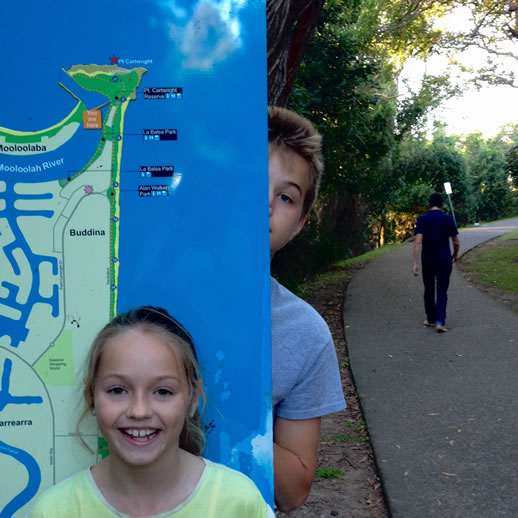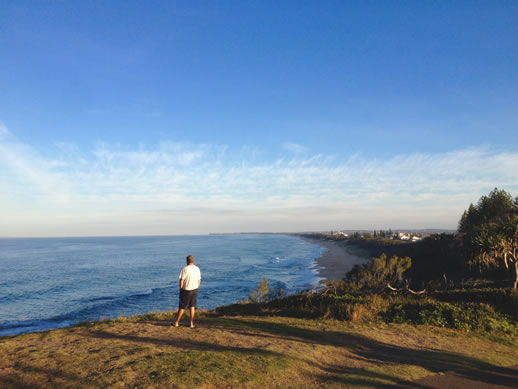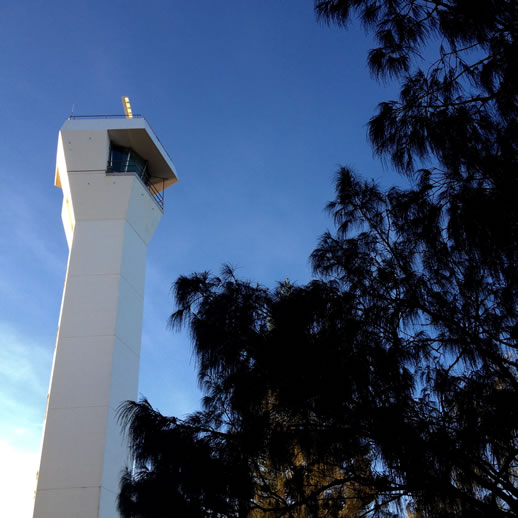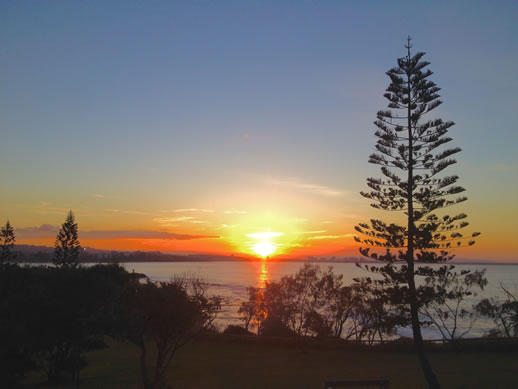 My favourite photo at Point Cartwright –  the light was gorgeous and I love the far off ships: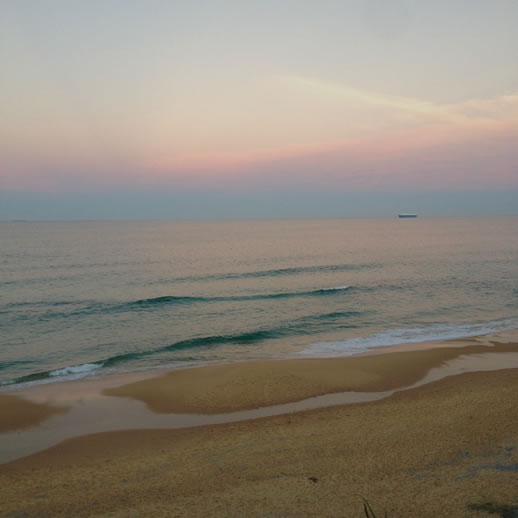 Kiara and Big Bear on the patio at Bluewater Point Resort. BB stowed away in the car so he could join us!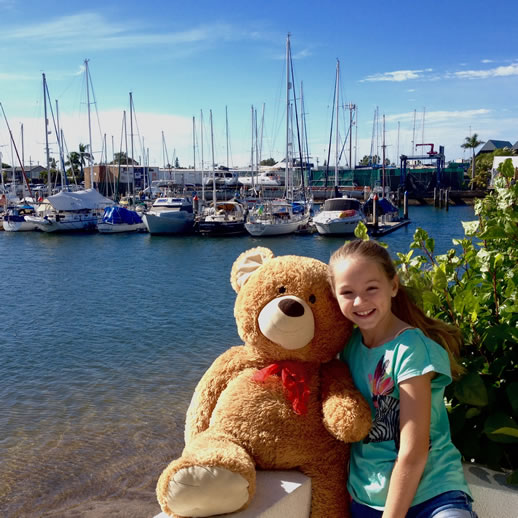 Have you had a good weekend break with the family recently?
——————————————————————-
Interested in my new Noosa Local's Guide?
Get free email updates from Get In the Hot Spot – it's a weekly injection of tips to help you be more adventurous and have more fun that includes the Noosa Local's Guide with Noosa travel and food tips. Sounds good? Click here now to get free weekly email updates.
——————————————————————
Share This Story, Choose Your Platform!