52 Exercises: #40 Kayaking in Noosa and Stress Reduction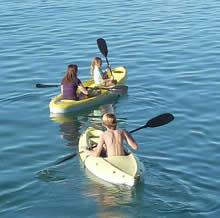 Everything feels rushed, stressful and anxiety-ridden. I'm not depressed any more but I can feel the black dog is there, snapping at my heels.
Daily meditation keeps it at bay though and most of the time I feel good but it doesn't take much to upset the fragile balance.
With the kids on school holidays (again!) and family visiting from overseas fitting in meditation is hard. But I sneak up to my room from time to time and just breathe.
I could do a formal sitting meditation but laziness stops me. These things give me an excuse to revert to form, not to look after myself and to get stressed out. Temptation is strong, my old friend busy-ness is calling me but I don't want to go back there.
I keep temptation at bay with more exercise. My brother Tom wants to learn to stand up paddle board and I'll kayak because I haven't covered kayaking yet in the 52 Exercises quest. Out on the Noosa canals and river they will be no temptations to email, answer the phone or clean house. All we can do is paddle, talk and watch the scenery.
If sounds great but the conditions aren't. My brother finds stand-up paddling tricky. He can't get his balance and a strong wind is blowing make it hard for him to get momentum.
After moving about 20 meters in 20 minutes we give up and swap places. I take the stand-up paddle-board and Tom kayaks. We turn a bend in the canal and the wind is blowing straight into our faces. Tom manages well on the kayak but at times I'm actually being blown backwards. I pull myself along on jetties or moored boats, feeling like a fool as I hang on waiting for the wind to die down.
When a lull comes I paddle off again trying to catch up with Tom. I'm not enjoying myself and I'm conscious how stupid it is to be doing something that should be fun, relaxing with my dear brother who I hardly ever see, and yet to be wishing we were doing something else.
We round another corner and finally the wind is behind us. Desperate to stop I pull onto a beach and persuade Tom to have another go on the stand-up paddle-board so I can take is the easy option and kayak. I am not always a good big sister.
Tom's reluctant to have another go at stand up paddling after his first experience but I persuade him. If I could just have a short break from all the hard work I might start to enjoy our outing again.
With the wind behind us now paddling is easier and Tom gets his sea legs. I pull onto another beach so we can swap back but he just carries on paddling.
The water which was churned up is calmer now, we're on the homeward straight.
My kayak is old, water-logged and heavy but I just keep dipping the paddles and out in and out of the water, droplets of water splashing on me, the wind blowing my hair.
I think we're both relieved to get back to a starting point where we tie the kayak and stand-up paddle-board back on the car.
We get a fresh juice, walk to Noosa Main Beach and sit facing the ocean. There were some hard points during our paddle and kayak, moments when we wanted to give up. But we stuck it out and eventually we got to a good bit.
Now we've completed our mission and come out the other side just sitting by the ocean with a loved one is bliss.
Life is filled with hard, uncomfortable moments; I'm learning to accept them just as easily as I accept the good ones.
The secret of dealing with stress is accepting it, not running from it. Sitting with it instead of avoiding it is what reduces stress. But I'm still glad the rushing is over and the stress has gone. Now it's time to relax.
Thanks for Reading
If you're enjoying Get In the Hot Spot and the 52 Exercises Quest please share this post on Facebook. Thank you.
Join Thousands of Vibrant Readers with the Free Weekly Newsletter
Are you a travel lover who'd like to make sure your later years are filled with adventure, fun and curiosity? Click here to subscribe now for free weekly email updates from Get In the Hot Spot.
Image taken from a previous kayak in lovely Hervey Bay.
Share This Story, Choose Your Platform!