52 Exercises #22: Falun Gong Surprise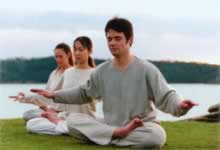 Having been told that falun gong is not a form of exercise-based meditation but a sect I'm instantly suspicious. Paranoid even.
There's a free falun gong practice at a park near me every and the promise of meditation and slow-moving qigong exercises sounds good but I'm worried I'll be brainwashed and persuaded to hand over my first-born son.
I may have a suspicious mind but I'm not as paranoid as the Chinese government. Falun Gong was started in 1992 and became popular so fast that in 1999 some estimates placed the number of falun gong practitioners in the tens of millions.
Falun Gong was soon seen as a potential threat by the Chinese government due to its size, independence from the state, and spiritual teachings so, even though this description makes it sounds fairly harmless they banned it:
"Through moral rectitude and the practice of meditation, practitioners of falun gong aspire to better health and, ultimately, spiritual enlightenment."
I know from visiting China and personal experience with the Western blogger and the Eastern blogger how tightly regimented China is but learning that today falun gong practitioners in China are routinely tortured is a shock. Although it's hard to get a figure on how many people have been affected the estimated number of deaths by torture ranges from 2,000 to 61,000. Whatever it is it's not good.
Meg and I know nothing of this when we arrive at the park but what we see doesn't look good. There are three people sitting on round red mats, cross-legged and meditating under a tree in a corner. We approach them slowly and glance at each other.
"Shall we just go?" Meg whispers.

"No!" I hiss.
Ever the professional I'm intent on trying a new exercise for 52 Exercises and there could be a good story in this strange-looking bunch.
Still, what I'm really thinking is:
"Yes, run!"
But it's too late. Amanda the local falun gong leader has spotted us and comes over to greet us. She's warm, friendly and looks utterly normal.
Amanda ushers us over to a quiet area of the park away from the others and gives us a private falun gong lesson which is both relaxing and challenging. I'm not sure about cupping the hands around the belly button as a way of channeling energy but the rhythmic movements and open air setting are relaxing.
My shoulders are tight and the stretching is the perfect antidote to sitting hunched over a computer all day. My brain is as busy as normal so the breathing meditation is what I need.
Time flies by and soon our lesson is over. Amanda tells us she's a teacher at the local kindergarden who's been practicing falun gong for years and has found it's helped her through hard times.
She's the kind of gentle, socially concerned person you feel totally comfortable with and could sit and talk to all day.
Apparently falun gong is based around truth, compassion and tolerance. Three things I need to consider before judging myself and other people. I arrived with a suspicious mind and left feeling humbled by the every day kindness of strangers.
—————————————————————————————————–
Falun Gong Exercise Review
Cost: Free. The website looks terrible – I'd have run a mile if I'd seen that before going to Falun Gong but the experience was fine.
Time Exercising: 90 minutes although a lot of that was talking.
Average Heart Rate: Definitely no aerobic exercise here, it's all about feeling calm and mellow.
Fun Factor: 5/10 – It's not about fun either, more about contentment.
Fear Factor: 8/10
Post-exercise Glow: 7/10. We enjoyed the practice and were relieved that no one tried to get us to sign over our children.
—————————————————————————————————–
Thank You for Reading
If you're enjoying Get In the Hot Spot and the 52 Exercises series check out more from the 52 Exercise quest here and please share this post on Facebook, Twitter, by email or wherever you please. Thank you.
Get the FREE weekly newsletter
Join thousands of happy readers of Get In the Hot Spot's weekly newsletter. Click here to subscribe now. I'll email you weekly with news you can't find on the blog (secret stuff that's just between you and me) and links to the best stories.
Photo credit: FalunAu
Share This Story, Choose Your Platform!