The Kindness of Strangers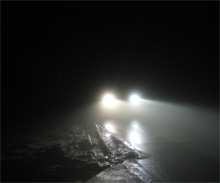 I don't go to out at night to pick up men. It just happens.
The first time I was driving home from the local Toastmasters public speaking improvement session at 9.30pm. It was dark and cold when I noticed a man in a bus stop waving at me.
I knew there wouldn't be any buses and he'd be stuck there for a while. No one would risk picking up a strange, single man at night on a dark, lonely stretch of road would they? Except perhaps me.
So I stopped and whizzed down the window to ask where he was going. Not far from where I lived as it turned out. I could tell he was drunk but I trusted my instincts that he was a harmless drunk and told him to get in.
It's a 15 minute journey. I chatted cheerfully, acting as though I picked up strange men from the roadside every night but all the time I was hoping he wouldn't touch me or threaten me in any way.
Instead he rabbited on about how he couldn't believe I'd picked him up.
I'm not sure who was the most nervous.
Finally we were there. I dropped him off and he thanked me for the 15th time before skulking off into the night.
I used to go hitchhiking a lot. I've relied many times on the kindness of strangers picking me up and now I have a car I like to give back and pick up hitchhikers if I can.
But everyone says it's a dangerous practice and of course, you should not pick up strange men on lonely roads at night.
When I got home I confessed to my husband and promised I'd never do it again.
Four weeks later I left Toastmasters again. In case you don't know Toastmasters is a place where you go to learn public speaking. It's just about the only time I go out by myself at night.
This time I hadn't got far when I saw a Japanese man by the roadside holding a sign with my town's name on it.
I guessed he worked at the nearby Japanese restaurant but I stuck to my promise of  not picking up male hitchhikers at night driving past him at least 20 meters before I pulled over.
He was lovely and not at all drunk. He explained that he always cycles to work (a 40 minute bike ride) but that evening he'd forgotten his bike lights. We chatted about Japan, the recent earthquakes, his family and our mutual love of Japanese food.
I took him out of my way to his home and he gave me sushi. A big pack. Plenty for me to share with my husband at lunch the next day.
Once again I promised him never to pick up strange men on dark roads at night.
But I just can't stop thinking about how yummy that sushi was and how far those poor men would have had to walk home if I hadn't given them a lift.
Would You Take a Risk to Help a Stranger?
Share This Story, Choose Your Platform!