The Western Blogger and the Eastern Blogger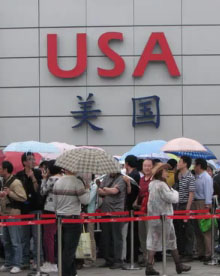 "I believe that a blogger should write only what he holds in his heart to be true."
Anonymous, Chinese Blogger
Dear Long,
It was amazing to meet you and your wife and daughter during my trip to Shanghai. I can't believe it was a year ago.
I know you spent a year living in the USA and I wonder if you heard the story of The City Mouse and The Country Mouse? It's one of Aesop's fables which is very popular there.
My trip to Shanghai reminded me of that story. It's about a city mouse who doesn't like the boring life in the countryside and a country mouse who prefers the simple rural life to the excitement of the city.
Where I live in Noosa, Australia there are only two sets of traffic lights and by law no buildings can be over three storeys high. Noosa has a population of about 10,000 people but it's a bit busier than that because it's a popular holiday destination.
But Noosa is the big city for me and I've only lived in Australia for two years.
Before that I lived in the jungle in Costa Rica where there were more animals than people, and before that, on a small island New Zealand with a population of 8,000 people.
So I when I came to Shangai I was lost and bewildered like Aesop's country mouse.
In Shanghai there are futuristic towers everywhere, some almost 500 meters tall, flashing a kaleidoscope of colours and shooting lasers into the night sky. Those buildings would dwarf the tallest buildings in the UK, New Zealand, Australia and even the USA. I'm sorry, a TV mast doesn't really count does it?
I've heard about China a lot before and knew it's highly populated with 20 million in Shanghai alone. But you can never really prepare yourself for a country until you get there. When we arrived at our hotel we went straight out for a walk and even though it was night time it felt as if we walked past one million people in the first 20 minutes.
I know you can't get my emails because of the "great firewall of China" so I thought I'd write a blog post. It seems to be the best possibility of reaching you although I understand that it's unlikely you'll ever be able to read it.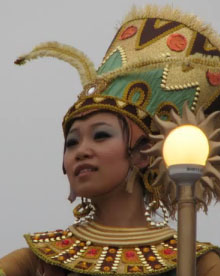 I've also changed your name because I don't want anyone to know your real identity in case that could get you into trouble with the authorities. It's probably not necessary but it's best to be cautious.
I wanted to write to you because I was fascinated by your blogging story and your life and I want you to know how much I enjoyed visiting China and seeing your country from the inside, not just how it's shown in the Western media.
Hearing you explain how you started writing a blog about your life in the US and how many Chinese people visited it was incredible. It's hard for me to imagine that your most popular post about getting a gun when you lived in the USA got 500 million hits. It's mind-blowing.
It sounds as if Chinese people are hungry for knowledge about the outside world and I'm glad they can find that in your blog.
Before visiting China I sneered at the idea of World Expo. For someone who's travelled all over the world the idea of being able to get a flavour of other countries by creating an exhibition is ridiculous.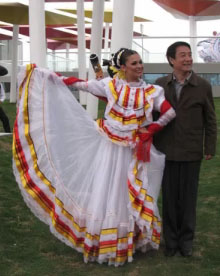 But after seeing Shanghai I realised it was brilliant because many Chinese people could visit World Expo in Shanghai to meet people from other countries and experience what life is like outside China even if they can't afford to actually go overseas or get visas to leave China.
Did you see the queue of people waiting to get into the USA pavillion?!
I had so many preconceptions about China and Chinese people but I never realised how many until my trip.
To be honest with you China was never high on my list of places to visit but I'm glad Coca-Cola took me there.
Of course, I'd heard about China's one child policy. They taught us about it at school in England and now my oldest son is learning about it in his Australian school too. But I never really stopped to think what life would be like in a country where everyone only has one child.
It's strange to see large groups of adults everywhere with one child being doted on by all of them.
And sad to think of generations of Chinese people growing up with no brothers or sisters, no aunts or uncles, no real understanding of how to make compromises, share, play or squabble like children from larger families do.
I know it must be hard for many parents who'd love to have a bigger family and I really feel your loss as a nation.
I've lived in Laos before so I'm familar with communism and how closed life can be for people who live in communist countries.
But now I can't imagine how frustrating it would be not to be able to surf the Internet outside China or even get emails from people outside your own country.
I read in my guide book that Chinese people are great at playing cards but when I mentioned that to our tour guide she explained that gambling is illegal in China. So if I had a little game of poker with friends in my house as I do here in Australia I could be arrested for it in China.
It seemed unlikely that people would find out but she said neighbours would report any suspicious gatherings.
I guess issues of trust become paramount when you live in China and you really can't speak your mind because you know exactly how much trouble it can get you into.
On a lighter note, Chinese people are experts in queues aren't they? We were dawdling along in the World Expo queues and every time we hesitated for a second 150 people would cleverly rush in front of us.
You know Westerners have a bad impression of Chinese food and you're definitely more adventurous eaters than us. I did see someone eating something that looked like frog spawn for lunch. No idea what that was! But everything we had to eat was delicious. In fact the dumpling soup was so good I'd love to attempt to make it for my family. It'd go down a treat.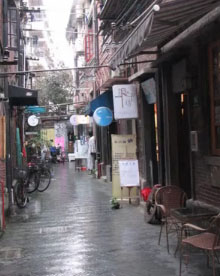 We loved the area called the Lanes. I'm afraid when I think of China the first words that spring to mind are plastic rubbish.
But of course China has a rich history and I loved seeing those old-style buildings and getting a feel for how your city was before being  modernised and started making cheap, disposable goods.
The Lanes seemed so bohemian and cosmopolitan but when we went there one evening there were police everywhere and their main mission seemed to be to stop people making noise.
It seemed as if laughing was forbidden. I wonder if that's why Chinese people seem so quiet compared to Westerners – because you're not allowed to show your emotions and if you do you can be punished?
Even Shanghai airport was strangely quiet with none of the usual hustle and bustle you find at big airports.
I know I'm probably displaying my ignorance here and I have many more questions than answers about China. But I still came home with a much better understanding of what it means to be Chinese and how it feels to live in China as well as a much greater appreciation for life in the West.
Here we can laugh as loudly as we want, write whatever pleases us and access news and views from anywhere in the world. I used to do that every day without even thinking about it but now I really appreciate that freedom.
I know you've experienced that yourself from living in the States and I hope you get to experience it again.
I hope all Chinese people can really be free to go where they want, do what they choose and say what they please.
I know that Eastern bloggers and Western bloggers will never be the same but I wish they could have the same opportunities to share their voices. I wish we Western bloggers could read what's making you tick.
So I just wanted to let you know that I haven't forgotten you.
You maybe living in a closed society but the door has been opened by a crack and one day it will surely burst open. I hope that happens soon so you and your family can live the life you want in the country you love.
I love the quote on your blog:
"I believe that a blogger should write only what he holds in his heart to be true."
I hope you're able to do that in China and I hope that people all over the world feel safe and brave enough to write about and live the life that's true to them.
If we all work together as a team and strive first of all to be true to ourselves then I think that it can happen, if not for our generation then maybe in the future.
Imagine if truth and honesty were at the heart of everyone's existence. What positive change would be caused by that? We are all different yet we are all alike. All of us are seeking happiness, comfort and truth.
I hope we can all find it.
Thank you so much for teaching me so much about you, your country and about me.
I wish you all the best in everything you do.
Best wishes,
Your Aussie blogging friend,
Annabel
Share This Story, Choose Your Platform!