Escape to Zanzibar – Even With Kids and on a Budget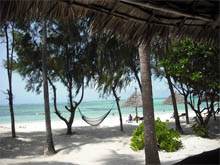 Think 'Zanzibar' and you might think 'not with the kids on my budget', but Zanzibar, a dream destination and stunning spice island in Tanzania, can be a great and affordable family holiday.
If you're coming to Tanzania and Zanzibar from Europe, Australia or the USA the exchange rates to Tanzanian Shillings mean the flight expense can easily be balanced out by the low living costs. You could end up paying as little as $8 (€5) for a feast of a meal, $4 (€2) a beer and from just $100 per person per week for a private villa.
Things to do in Zanzibar With (or Without) Kids to Fit the Budget
When it comes to things to do in Zanzibar it can be as cheap or expensive as you like. Beaches, walks and swimming are all free and can provide hours of entertainment when you're travelling with kids. If you want to splash some cash kite-surfing in Paje is great fun for older kids and will teach them a new skill.
Up in the north in Nungwi you can make the most of the great value beach massages and the snorkeling and scuba diving opportunities too. I went snorkeling off a boat with all the gear for an hour for just £10. Fresh mango snacks included. You can also go fishing from the dhow boats and parasailing attached to a speedboat too – at $50 it's way cheaper here than many other travel destinations.
Exploring the souks in Stone Town is another must. You can easily spend more than a few shillings on wooden giraffe statues and fun jewellery to take back to friends, but just looking is free.
There's also the fascinating history of the island to discover – the Slave Market, the Museums, the Spice Plantations and the local villages. There's also a reptile park and the Jozani Forest is filled with monkeys. All these activities are under $8, making the area great value for families.
Places to Stay in Zanzibar on any Budget
Villas like Vanilla Arches in Bwejuu on the east coast of Zanzibar are the perfect choice for families. Dinner is all-inclusive, a babysitting service is available and bedrooms are spacious and available with sea views. Once you've paid as little as $100 each for a week you're sorted for entertainment with sun loungers, a pool table, the beautiful beach and a pool too. Bwejuu is just an hour's drive from Stone Town so it's the perfect escape from the crazy city, but still within easy reach.
Otherwise Crazy Mzungo's Flashpackers is just $20 a night, also in the beach retreat of Bwejuu, or there are some great value hotels in Stone Town like Mazson's Hostel where I stayed for just $25 a night.
Getting around Zanzibar
The dala dalas (shared minibuses) are an interesting experience if you're feeling adventurous. These unique buses are a convenient and cheap way to get around the island, but be warned, they get busy! You'll put your luggage in the roof and bob in to get cosy. It's a great cultural experience and perfect if you really want to see how the locals live, although maybe not the right option for anyone who likes their space.
Otherwise taxis are cheap in Zanzibar. It costs around $40 to get from one side of the island to the other and the taxis are everywhere. Bargain away and agree on a price before you set off. If you're travelling locally be sure to check at your accommodation to see if they have any bikes – as soon as you get out of Stone Town there's quite a bit of space to move around so make the most of it.
Eating and drinking in Zanzibar: Great Food at Budget Prices
There are some brilliant restaurants throughout Zanzibar. In Stone Town try the Sunset Bar to watch the sun set with some tasty food and a cocktail in a coconut. Look below and the kids are sure to be fascinated by the evening Capoeira club that meets there to practice. The Zanzibar Café is good too, especially for smoothies.
If you're in the capital you can't miss the Fodhoroni Gardens food market. It's like a giant barbecue with any food you could ever want on the beach including freshly squeezed sugar cane juice, octopus, calamari and pizzas. You can eat a feast here and still get change from $10.
In Nungwi try the house curries at Langi Langi, delicious and great value. Or visit the beachside Nungwi Bar and Restaurant to watch the sun go down as you eat. If you ask nicely they'll also set up a campfire to keep you warm – the kids will love it.
Safety in Zanzibar
Zanzibar is a poor country, but it's also a very friendly one and sometimes visitors can find it difficult to trust the friendly, open nature of the locals. Over 100,000 tourists visit each year visit for the white sand and tranquil waters but crime is still reasonably low. Like anywhere, you need to keep your wits about you.
Local children may want to talk to your children, but they mean no harm. Stay sensible, don't walk on the beaches or in areas you don't know at night with expensive items, and you and your children will be fine.
Final Zanzibar Travel Tips
Eat local food and buy from markets and you can eat great food for a small price in Zanzibar. Stay by the beach and you have a whole playground and hours of entertainment for free. Even when you visit Stone Town the attractions, meals out and shopping options are very affordable, especially for Aussies, Europeans and Americans.
Most people tend to think of Zanzibar as an expensive honeymoon destination, but this beautiful island in Tanzania has much more to offer than just romance. Check out Zanzibar with or without the kids for a fun time and an amazing travel experience, no matter what your budget is.
Guest Post by Victoria Philpott
Victoria Philpott writes about budget holidays, festivals abroad and fun times at vickyflipfloptravels.com. She reveals how you can get the most from your annual leave and tight budget – keep up with her on Facebook.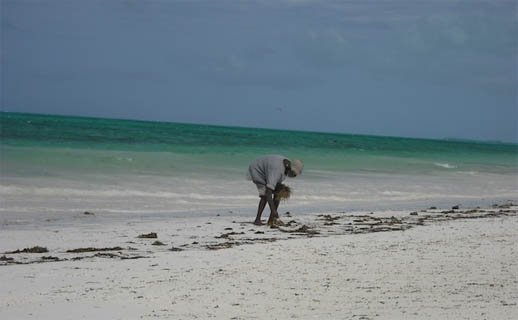 Would you like to travel to Zanzibar?
If you're looking for Tanzania safari tours including the mainland and Zanzibar I highly recommend Daigle Tours, a family-owned and run business based in Dar Es Salaam. 
Share This Story, Choose Your Platform!