My $10,000 Writing, Travelling and Dreaming Bonus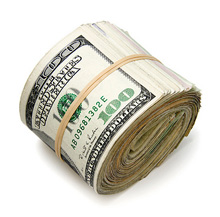 What would you do if you got an email from a stranger saying you'd won $10,000 and asking you to send them your bank account details?
a. Delete it immediately – that kind of spam usually gets caught by your spam filter but one or two dodgy emails slip through.
b. Read it carefully wishing it could be true.
c. Read it carefully then send them your bank account details and look forward to getting the cash next week.
My finger was hovering over the delete button when I got an email last week that said:
"Thanks for taking the time to enter our Masterchef Ultimate Food Dream competition.

The good news is that YOU are the lucky competition winner and as a result you will shortly have $10,000 winging your way to enable you to head of to Zanzibar and feast on Swahili food!

We can draw a cheque and mail it to you, or, if you would prefer we can transfer the money directly into your bank account. We would just need your bank account details."
But some of the details rang true.
I dream of travel. Always have, always will.
I had entered a Masterchef competition a few weeks earlier and I do dream of visiting Tanzania and its famous island Zanzibar.
I'd noticed the competition in the Sunday paper. I read every section. It's a kind of illness, but it worked out well for me this time.
The $10,000 prize caught my eye even though I don't watch Masterchef. The show sounds great but I don't watch television much because I'm too busy writing, dreaming and planning how to make my dreams come true.
Reading the competition details I noticed they suggested writing about a country whose food you'd like to sample. I don't really have an ultimate food dream but I do have travel dreams galore so my imagination took off.
My latest big travel dream focuses on Tanzania. I want to take our three children there on a six month safari for a few reasons:
I left my heart in Africa when I visited 20 years ago so I need to go back to get it.
We love wildlife. It was a joy to live in Costa Rica and see toucans, monkeys and sloth in the wild and I really want the kids to see African animals too.
My husband has friends in Tanzania. We design websites for some of them who run safari companies and if their photos don't want to make you want to visit Tanzania nothing will.
I dreamt of being a writer and constantly strive to improve my writing
So that Sunday, as I lay in bed, I decided to enter the competition.
All you had to do was write 50 words or less about your dream and dreaming is my speciality.
My challenge was to weave in the foodie bit since Africa isn't exactly well known for its cuisine.
I also wanted to stretch my writing skills and try to incorporate the five senses to bring my dream to life, or at least as many sense as I could squeeze into 50 words without going overboard.
I've entered a lot of competitions over the years where you have to write a few words about something and never won. I used to think it was because my writing was bad.
As I vanquished my inner critic I chose instead to believe that no one ever read what I wrote and the competitions were rigged anyway so I never had a chance.
So I had no real expectations of winning $10,000. I entered because:
It was a fun writing exercise.
I like to dream.
If you don't try you won't win.
Ultimate proof that it pays to dream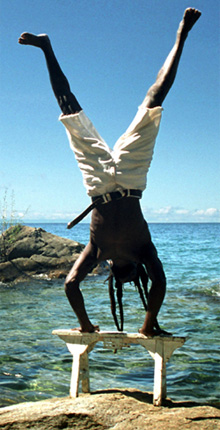 It took me 20 minutes to write this entry:
"My ultimate food dream follows ancient trade routes to the Spice Islands, to Zanzibar where hot trade winds are scented with coriander, lime and coconut.

We'll feast on Swahili food, exotic blends of African and Asian flavours, the freshest seafood and produce.

Don't wake me! I'm dreaming of Zzzzzzanzibar……"
And of course I'm stoked I actually won because its proves a few things:
Never give up.
You won't win anything first time so keep trying, keep writing.
Dream big.
Sometimes you just get lucky.
Sometimes emails that sound too good to be true are true.
Making dreams come true
Many people would celebrate this windfall and have a little spending splurge.
Some would have to use it to pay off their debts but I don't borrow money to follow my dreams or buy stuff I don't need. I've travelled the world by working hard, spending carefully and prioritising travel.
$10,000 is a lot of money.
Never mind how long it would take you to earn that money. What's really important is how long it would take you to save it.
I won't be blowing my windfall on daily expenses, a new car or flash clothes. My windfall will be saved for our big trip.
I got the email on Friday evening and had an early night in. The next day I got up at 6.30am for my boxercise class and then spent three hours cleaning the house.
I can wait for my reward. I'll celebrate when we get to Zanzibar.
So when are we off to Zanzibar?
Not for a while. It's a trip we'd already got planned for a few years time but the good news is that $10,000 almost covers the flights from Australia to Tanzania.
I have to buy three adult tickets (my oldest son is 12 now so he pays full fare) and two child tickets for the younger ones so the flights are $11,000.
They're the cheap flights too – you have to fly via Bangkok and then on to Tanzania with Ethiopian Air via Ethiopia which should be interesting.
We won't be travelling business class either like I did last time I got an email from a stranger which seemed too good to be true but was true.
But we will be going to Zanzibar one day.
Here's to Travelling, Writing and Dreaming
Let's raise a toast to Masterchef, to Channel Ten, to Africa and to dreamers like me and you.
Because you have a dream too, don't you?
The first slogan at Get In the Hot Spot was Live Your Dream and this blog is still about knowing what your dream is and making it happen.
Thank you so much for reading my blog, listening to my dreams and helping make them happen.
I hope my story inspires you to keep writing, keep travelling and keep dreaming.
What's your dream? What do you need to do to make it happen? What would help you most?
Subscribe now by email or RSS feed for more travel and writing inspiration.
Share This Story, Choose Your Platform!