Why Social Media Rules: Readers Sponsor My Trip to BlogWorld in Vegas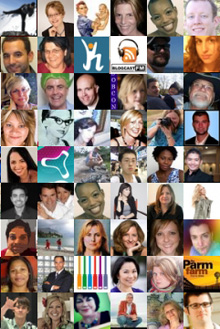 I've been dying to go to BlogWorld for months. I want to feast my eyes on 4,000 bloggers of all shapes, sizes, colors, talents and interests. I want to meet as many of my readers, blogging buddies and blogging heroes as I can. I want to experience the world's biggest social media conference and learn as much as I possible.
Most of my friends don't know what a blog is, but since I'm obsessed with blogging I crave time to talk to with people who get social media, who understand my love of it and are equally afflicted. But I really couldn't excuse going to BlogWorld. My blog hasn't made much money yet because:
1. I've only tried to make money three times by selling affiliate products.
2. I don't want to plaster my blog with ugly adverts.
3. My focus has been on making me and my readers happy, not making money.
Why Ask For Reader Help Getting to BlogWorld?
I don't need my readers to pay my boring bills, but I asked them to help me finance a non-essential expense, and above all show me that I'm doing the right thing here. These are the main reasons:
I tried at length to get corporate sponsorship and didn't succeed in time. I hoped asking readers to donate, and offering their donations to charity if a corporate got involved, would help me find a sponsor.
I've barely earned anything from this blog because I've hardly tried to, so I probably shouldn't spend money on my blog and going to BlogWorld.
I'm guilt ridden. A good mother would stay home with her three children and husband. Not flit off to Las Vegas, spending the family money on such frivolous behaviour. I think partly I was asking for permission to go, to know that my readers heard, understood and supported my dream. Having some money to pay for the trip would also help cover the big costs and assuage my guilt.
I've worked hard on my blog, helping hundreds of people and I hoped readers would support my crazy dream.
Money's a great motivator. I write a lot about motivation because like all of us I struggle with it. Every time you see me write about motivation and egging you on to keep trying and persevere you can bet I'm writing that for myself. Knowing that readers appreciate my work here enough to pay for it is a great motivator.
I'm Going to BlogWorld!
I always say don't use exclamation marks on your blog, but this is the exception. I'm feeling truly blessed. Guilty, yes, but still blessed, lucky, inspired, happy and excited. I didn't raise $5,000 but it turns out I didn't need that much. Here's why:
1. I got enough donations and sold enough consultation packages  to pay for my flight from Australia to Las Vegas, and that was the major expense. The flights turned out to be cheaper than I thought, plus I had some air miles from my business flights to Shanghai  (paid for by Coca-Cola) and I discovered I could use those to further reduce the cost. The donations ranged from $10 to $125 for a blog or Internet marketing consultation.
2. Readers offered to let me stay with them free. Accommodation, the second big expense, was taken care of when I got an amazing offer from Amy Parmenter, an award-winning journalist, inspirational blogger and BlogWorld speaker, who said she's got her room booked and I can share it. Amazing isn't it? Fancy sharing your room with someone you've never met before. But Amy's an amazing person. Her blog, Parm Farm, is about the spirit of sharing and caring and she's walking the walk.
Amy isn't alone in her generosity. My Twitter friend, Sally had me for a sleepover at her house when I went to the Problogger conference. Once again, I couldn't have attended without that help.
Plus, after the conference ends, (I have to stay a few more nights to get the cheap flights), another friend says I can stay in her timeshare because she needs to use a few nights up before they expire.
3. Overwhelming reader support helped me follow my dream. It wasn't just donations that helped. I got so many lovely emails, comments, tweets and Joshua Noerr even wrote a blog post to help me. So with flights and accommodation covered I've added to the fund and paid for the conference ticket, also cheaper than I thought. If you buy BlogWorld tickets before 16 Sep and use the EBIRD code you can get them for $719 instead of $1195.
I've got a huge copy writing job on and that'll help cover other expenses. I'll be working extra hard in the run up to my trip, and after, but it's worth it. I hope at Christmas when my kids are on school holidays for six weeks I'll be able to take time off to be with them. I feel guilty about working and not spending as much time with them as I used to but guilt seems to be part of the parenting experience.
What About Charity?
I'm still seeking a corporate sponsor so the charitable donation is pending. Any amount donated now, no matter how much or how little, will now go to charity. I hope this will happen.

In the mean time, on behalf of you and the Get In the Hot Spot team, I've followed the inspiring example of my generous readers and taken a leap of faith. I've signed up with Kiva and loaned $250 to Sophia Akinyi, a small business woman in Kenya who could use a break. There's a massive gulf between her life and mine but my thinking about travel and social priviledge is similar to Chris Guillebeau's.
When this blog is profitable I'll make supporting charity an integral part of the blog and a long term commitment. I currently donate my time to charity but I want to donate cash too because charities need it.
Would I ask for Donations again?
Probably not. It's uncomfortable, which is why I took so long to do it. I tried it because I know it worked for Leo Babauta and, although many said it was a waste of time, I wanted to try it and see for myself.
But it's strange. On one hand I feel beholden to the people who donated to me, on the other hand I know they did it because they appreciate the value I give them, and are happy to repay me for that. I'll be mentioning them on my blog in the coming months in one way or another, along with other bloggers who've helped me in other ways or whose blogs will help you.
Yes, the experiment was a success but the ideal way for me to make money is by selling products or services on your blog. That has always been my plan and that's what I'll do. All being well, my book, Successful Blogging in 12 Simple Steps, will be out next month. I also need to do more affiliate reselling of products that I totally believe in and recommend. In fact, I'm going to start right now.
Can You Join Me in BlogWorld?
BlogWorld is in Las Vegas from 14th – 16th October. If there's any way you can make it I want to meet you. If you're considering it you can buy tickets from here if you like – it's an affiliate link. I doubt I'll sell enough to recoup the cost of my $719 ticket but every little helps.
Please leave me a comment if you're coming (no matter how you buy your tickets) so we can work out how to meet.
There are several different options for tickets and you don't have to come every day and buy the most expensive ticket. But I think if you're going all the way there from Australia especially you should. Find out about tickets and save 20% on BlogWorld registration with the code "EBIRD.
If you can't come don't worry. I will be giving you the full story, so you can work out if it's something you'd like to go to another year.
Many Many Thanks to All My Readers, Supporters and Social Media Friends
Thanks to all of you for your amazing support, generosity and positivity. I'm so excited about the way my blog is growing and evolving and looking forward to sharing with you more.
I think this proves there are many amazing, supportive and kind people on social media and Get In the Hot Spot is an exceptional community.
The best part of all this is instead of being sponsored by a company my readers  sponsored me personally and made this happen. That's empowering for all of us.
What's Coming on Get In the Hot Spot?
I'm going to work my butt off for the next five weeks so I can make sure my paying clients are provided for, my fridge and freezer well-stocked for the family, and my blog posts written while I'm away. I also have a lot of work to do on my book – editing and getting it formatted beautifully so the reading experience will be as good as the content.
The blog will be back to business as usual from now on. Amongst other things I have two more posts in the Blog Writing Magic series, some excellent guest posts lined up and some wonderful blogs to share with you.
Find Out More About BlogWorld
Who's speaking at BlogWorld 2010?
Register for BlogWorld before 9/16 and save up to 25% off your Full Access Pass
Photo credit: Dawnzy58
Share This Story, Choose Your Platform!