5 Reasons I Want to Fly Away to Darwin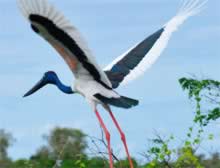 After visiting Uluru, Kings Canyon and Alice Springs in the Red Center last year I'm mad keen to see more of the Northern Territory and Darwin's top of the list.
And it's not just me who's dreaming about visiting NT. Apparently more than 50% of Aussies have the Northern Territory on their bucket list.
Why I Want to Go to Darwin
It's no secret I'm a country girl. I get overwhelmed when I hit the big cities but, with a population of under 80,000, Darwin's my kind of place – vibrant and cosmopolitan but laid back and friendly. Darwin is also within easy access of some of Australia's wildest scenery so as well as exploring the city you can get out in nature.
So when Tourism NT asked me to inspire more Aussies to reconnect with the true Australia with an NT adventure of course I said yes. Not that I need any more inspiration myself.
Planning trips is one of my favorite pastimes (also known as favorite way to procrastinate) and, although I'm not sure exactly when I'll make it to Darwin, I know I'll get there some day. Here's why I'm hanging out to go to Darwin:
1. Diverse Culture
Darwin has an incredibly diverse culture; as well as its strong Aboriginal heritage it's a melting pot and home to 75 nationalities each with their own customs, culture and cuisine.
I want to go to the Darwin markets for indigenous art, food and culture and see works by local Aboriginal Australian artists in the many art galleries.
2. Wilderness adventures
Darwin is surrounded by some of the remotest and wildest beauty spots in the world. I'd love to hire a 4WD campervan and drive to Kakadu National Park. It's the holy grail of Australian travel destinations as far as I'm concerned – check out the amazing photos here.
Officially Kakadu is about a three hour drive from Darwin but you'd never make it in three hours because there are so many distractions along the way.
3. Waterfalls
I'm a little bit obsessed with waterfalls so I want to visit Litchfield National Park to hear, see and maybe even feel the spray from Tolmer Falls, Wangi Falls and Florence Falls. Litchfield National Park is a only two hour drive from Darwin but I'd want to camp there and swim in the Buley Rockhole pools.
4. Walkies
Walking is another of my favorite activities and I take great pleasure in dragging the Candy kids on hikes up mountains, down to waterfalls and round gorges. They'll thank me for it one day.
It's an easy walk to Wangi Falls so that won't be a problem but I'd love to go on a longer hiking adventure by doing the two-day 18km Litchfield National Park bushwalk from Wangi Falls to Walker Creek. Now that would be some quality family time.
Maybe we could take a walking tour with a local guide to learn about the local flora, fauna and stories.
5. Wildlife
I love birds and other critters. Even the not so cuddly ones. While driving and walking in the NT national parks I'll be keeping my eyes peeled for wallabies, sugar gliders and quolls which I've never seen one of those in the wild.
I'd like to get up early and sneak out while the kids are asleep to do a bit of quiet twitching. Birds names are always interesting but I especially love the idea of seeing Spangled Drongos, Dollarbirds and a Rainbow Bee-eaters in NT. Darwin and its surrounding area has more than 400 species of birds so that should keep me busy.
I'll also be stopping at the Mary River Wetlands on the way to Kakadu National Park for the bird-life and to see bug definitely not swim with the saltwater crocs.
More Amazing Images from Your Own Backyard – Darwin and Surrounds
Warning! If you're not already dreaming of going to the Northern Territory this Your Own Backyard video will push you over the edge. Check it out to hear and see why the Northern Territory is special.
When's the best time to visit Darwin?
The dry season is the best time to go to Darwin or anywhere in the NT from April or May until September or October. So it's perfect for a winter break to escape the cooler weather in other Australian states at that time of year.
How can I get to Darwin and the NT?
If you're already in Australia the NT is just a few hours away in your own backyard. Qantas and Jetstar have direct flights to Darwin from most major cities in Australia including Adelaide, Brisbane, Cairns, Melbourne and Sydney and Tiger Airways have direct flights to Alice Springs from Sydney and Melbourne.
Plan Your Trip to Darwin or the Northern Territory
The Travel NT website has heaps of inspiration and advice to help you plan your dream trip to NT.
But don't just dream about going to Darwin or the Northern Territory. Book it in now before those overseas visitors beat you to it.
Post sponsored by Tourism NT. All images from Travel NT. 
Share This Story, Choose Your Platform!