Why be Happy When You Could Be Interesting?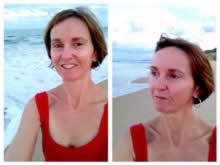 "You're really interesting!"
I met heaps of new people when I was in Sydney and two of them surprised me by saying that, probably because I've lived in so many places and have a few funny travel stories to tell.
But since I've been feeling depressed lately and recently loved reading Why Be Happy When You Could Be Normal? that comment made me think. I wondered if one of the reasons I have spent my life travelling is because I have low self esteem and think I'm boring. I wonder f I'm constantly looking for ways to make myself sound interesting so no one finds out how dull I actually am.
Then today, after over three months of trying to shrug off a depression which has blanketed itself over me thickly and is threatening to suffocate me completely, I finally went to the doctor.
"It feels like such a failure," I said, "to go on antidepressants because I have been trying and trying to fix myself but it's only getting worse."
I had already told her my many problems and neuroses so that admission of failure probably sounded like the least of my worries.
I'd also had to answer yes to some other questions I'd have preferred to deny. Had I been depressed before? Had I taken antidepressants before? Was I often tearful?
She handed me some tissues.
10 years ago I was diagnosed with severe moderate depression and I expect this depression is about the same severity. It's not really that bad. I can still work, I still sleep sometimes, if a little sporadically, and I still get through every day so that anyone who didn't know me probably wouldn't guess I was depressed.
I should get a Golden Globe for acting like everything is great when inside I am splitting at the seams.
But having experienced depression before I know the signs and I've been trying to help myself.
Despite heartily recommending anti-depressants I've avoided them because taking them is like heaping failure upon failure.
So instead of gratefully enjoying the benefits of modern medicine I attempted to make myself better. So far I've tried:
Healthy eating;
Quitting alcohol;
A cocktail of vitamins;
Dressing more carefully and getting haircuts and manicures to make myself look and feel better;
More and more exercise and more extreme exercises to boost my serotonin levels naturally (it works but only briefly – follow my progress in 52 Exercises);
Scheduling weekly catch ups with friends;
Cleaning the house and decluttering to make my environment more attractive;
Going out for more walks because I love walking. It gets me out of the house if the kids are arguing and helps me cope with boredom;
Photography because its creative, keeps me in the moment and makes me appreciate natural beauty every day;
Journalling and blogging my emotional journey because I love writing and don't want to feel ashamed of my feelings;
Helping other people ( I do that all the time anyway);
Meditation because I need to stop doing so much, start chilling out and think more positively.
Those are just the things I can remember trying. There are probably a few other things which I've forgotten about.
The fact that none of them has worked and I haven't been able to fix myself has depressed me more. Getting depressed for no reason is depressing me too so I've been looking for a reason and finding none.
There have been no major life changes and the doctor doubts its hormonal or induced by menopause so this depression seems to be a bolt from the blue. As inexplicable and ridiculous as table falling from the sky and landing on my head. It feels a lot like that too and I can't get the table off.
I didn't want medication from the doctor either. Even though antidepressants fixed me up a treat last time after just six or nine months I didn't want to go back on them. I wanted to be referred to a psychologist which I just found out I could get free or for a small sum with a doctors referral.
I know I don't think straight when I'm depressed. These are some other things I do wrong when I'm depressed:
Find with ways to get away from my family (walks, work, exercise are favourites);
Do things constantly to dull my feelings or glug a few white wine spritzers so I can sit down and zone out;
Start hundreds of different things and never finish any of them because none are good enough for my inner perfectionist;
Hardly ever laugh – my sense of humour has done a runner;
Rush everywhere and everything;
Feel like I'm a waste of space, someone who can't cope with the real world and shouldn't be here;
Fill the void where my self esteem should be with work or exercise thinking that pots of money or the perfect body might make me feel better about myself.
But the doctor won't refer me to the shrink right now. She wants me to take the antidepressants, to put a band-aid over my wounds to protect them and help them start to heal first.
And what if this depression doesn't come from nowhere? I've already diagnosed myself with suspected hyperactivity and manic depression. That may be over-dramatic but at best I have the self esteem of an earth worm.
Now I'm not sure if my brain is just defective and prone to depression for some reason or whether I actually have one of those other mental illnesses. I'm not sure if labels and knowledge will make things better or worse. I don't know if what's wrong can be fixed with anything other than prescribed drugs.
But I guess only I can fix my self esteem. It's great that some people think I'm interesting but there's interesting in a bad way as well as interesting in a good way. And anyway, I shouldn't care if people think I'm interesting or not.
Still, if someone does say I'm interesting I want to believe them.
I want to start looking on the bright side again and believe it when I say depression isn't a fun journey, but it's definitely an interesting one.
Most of all I want my happy back.
What do you think about the question Why be Happy When You Could Be Interesting? Surely we'd all trade anything for happiness? 
Share This Story, Choose Your Platform!