What to Wear on a Long Flight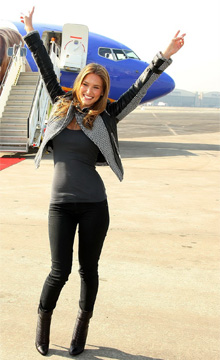 Ever wished you had the perfect outfit for a long flight?
Even for dedicated travel lovers there's probably nothing worse than a long distance flight.
Let's face it, even if you're luxuriating in business class seat, no one wants to be on a plane. You just want to be at that amazing travel destination right now. If you're in the cheap seats (as I usually am)  you want to be there even more badly.
A flight's never going to be fun but it can be a good chance to chill out because there's nothing else to do. Knowing what to wear on a long distance flight makes the difference between a relaxing flight and an uncomfy trip.
A long flight can feel like an endurance test if your clothes are tight, itchy or so saggy and baggy that you feel deeply unstylish. Let's face it if you've got to go on a long flight it helps if you look good and feel good too.
It's also important to have layers you can pull on and off because it's often uncomfortably hot on a plane before take off then it gets cold during long overnight flights.
So what should you wear on a long distance flight? These are the building blocks for your outfit:
1. Comfy bottoms
Not track pants or old leggings. Go for something more structured but equally comfy. Four great options are:
– Yoga pants with a slightly flared leg are great but you need to buy quality brand like Kathmandu to avoid the knee bagging out and looking terrible. Yoga pants are a useful travel item because they can be dressed down or up during your travels. You could even wear them with heels and a great top in the evenings. In the day time they're easy to wear with a simple t-shirt for walking, sightseeing or active adventures.
I own this pair of Kathmandu vixen pants which are perfect to wear on long flights. They call them active pants and they're currently on sale reduced from $119.98 to a much more affordable $47.99.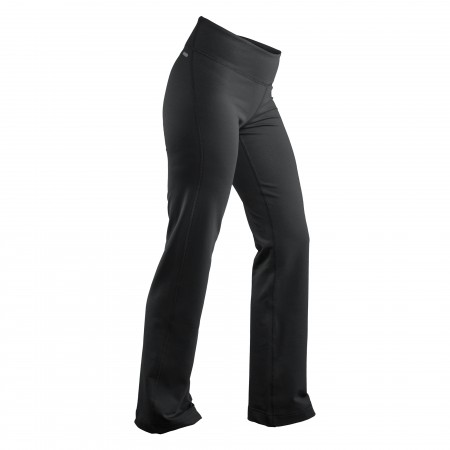 – Super stretchy light weight jeans – Country Road do a great line in jeans that are super comfy and look stylish too. They call them jeggings but they're more like jeans because they have a zip and button at the waist. They come in different colors so you don't have to stick with black if you'd prefer something different.
I own and love a pair just like the ones below. They're made of thin, stretchy cotton so, unlike real jeans, they're light to carry, pack small and dry fast. They cost $99  a couple of years ago and I've worn them so much they're just about worn out.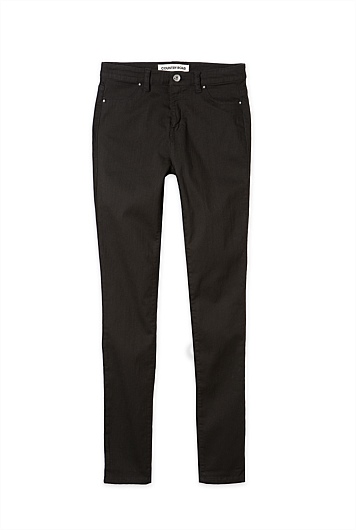 Jeggings – A step above leggings, jeggings are equally comfy and 200% more stylish, often sporting detailed like double seams or studs. They're super stretchy but fitted enough to hug your curves and hold in the wobbly bits. They're very flattering.
Good jeggings are quite form fitting, like a giant compression sock, so if you get hot easily, or you're flying somewhere hot, light weight jeans or yoga pants are a better option.
I love these jeggings by Spicey Sugar from the cheap online store Planet Robe. They suck those saddlebags in, streamline my legs and bum and are also incredibly comfy.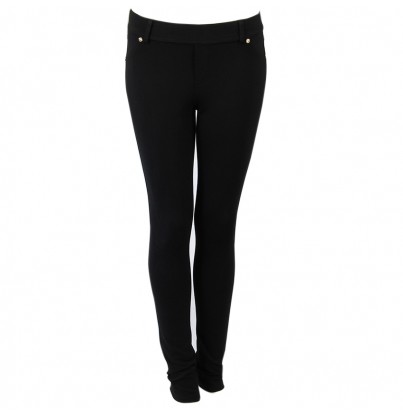 – Genie pants – These are on trend right now and perfect if you're flying to or from somewhere hot. I've got a pair similar to these ones from cheap and cheerful online store Planet Robe which cost $45. Mine are leopard print, they have an elasticated waist and cost just $16 from factory outlet store Trade Secrets. I'll wear them with a plain vest and t-shirt untucked to hide the elastic, probably in red, orange or bright pink.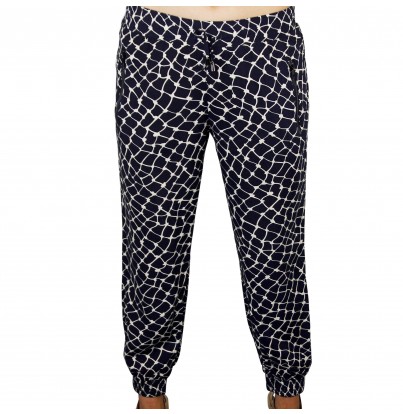 2. Tops
I feel the cold and temperatures at airports and on the plane during long flights can vary wildly. If you've ever been stuck on the runway for three hours with no aircon or frozen because the aircon is so high you'll know the problem.
So I take three layers to wear on top:
– A plain camisole or vest top;
– A patterned t-shirt (if the bottoms are plain) because patterns disguise food stains if you have a spill on the plane;
– A loose cardigan which you can leave open to drape around you or button up or wrap around you if it's chilly. A cotton//bamboo and lycra blend will work well or a light weight merino.
If I'm flying somewhere cold this Country Road waterfall cardigan in merino is perfect. It's on sale right now in the Country Road outlet store reduced from $149 (I paid full price a few years ago) to $69.95 (lucky you).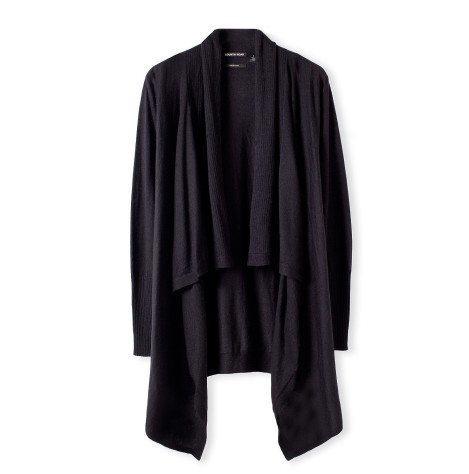 If I'm flying somewhere warmer I take a beige wrap cardigan in stretchy bamboo fabric from Body Peace Bamboo Clothing. I can't see it in stock right now but you'd be able to find something similar. It can be worn hanging down loose or wrapped around and tied at the back if it's cold.
Either way I try to choose a bright, colorful vest and t-shirt are to offset the plain basic bottoms.
3. A wrap
Sometimes three layers aren't enough, especially if you feel the cold like me, or if you're leaving or flying to somewhere cold.
Pashminas or light shawls are a classic travel item for long flights. Real pashminas are very expensive but I got a cheaper version from Club Pashmina online which I'm happy with because it's the type of thing you easily leave behind. or lose when traveling.
They have a rainbow of colors and different weights at a reasonable price. Mine cost $45 including $20 shipping.
4. Shoes and socks
This is the hardest part when deciding what to wear on a long flight. If I'm going somewhere hot I wear my trusty Birkenstock sandals. Then I always take two pairs of old socks to wear on both legs of the flight which I throw away afterwards to lighten my load.
When you're travelling somewhere cooler it makes sense to wear your bulkiest footwear to travel in like boots, trainer or hiking boots. I always take my shoes off on the plane and walk around in socks. That's why I wear old socks I can throw away after they've been traipsed around the plane and the plane toilets. Even though most airlines supply socks they're often uncomfy so I prefer to bring my own.
Just make sure you choose comfy shoes that will be big enough for you to get your feet back into after the flight as feet do swell up on a plane.
I have a pair of black patent court shoes from Frankie4 and a pair of Kass ankle boots, also from Frankie4 and pictured below, that are perfect. Designed by a podiatrist for comfort, support and functionality they're fully cushioned and ideal for walking round the airport.
Neither of the shoes I own are currently in stock but you can find Frankie4 here.
Their shoes are also perfect for walking around all day when you get to your final travel destination. I want more Frankie4 shoes, especially the Sophie shoe in red or the Ella in silver.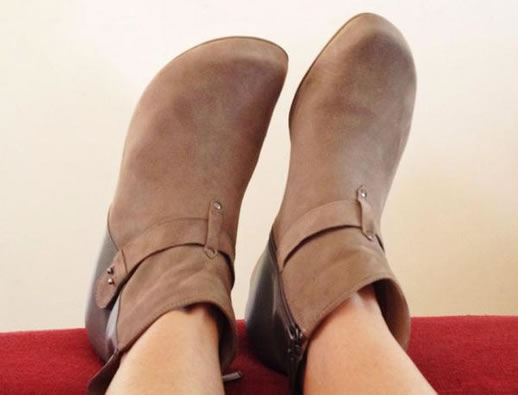 Final Tip: Be sure to inject a splash of color that makes you look ready for fun and adventure!
Where I'm Flying Next!
This post is scheduled to be published while I'm on a long flight from Brisbane, Australia to Barcelona, Spain. Lucky me!
It's about a 30 hour journey door to door and, because I'm flying from hot, sticky Australian summer to chilly mid-winter in Europe, I'll be wearing my genie pants on the first leg of the flight with my jeggings in hand luggage to change into before I arrive.
I've been invited to Catalonia to film a TV travel show for Agència Catalana de Turisme and I'll be met at the airport by a film crew so I hope I'll manage to look presentable, even after the long flight.
I'll be sharing photos on Facebook, Twitter and Instagram during the trip so please follow me there to join the adventures. Better yet subscribe here for weekly email updates so you don't miss out on any new stories.
Travel Well and Feel Fabulous with Get In the Hot Spot!
Stay tuned to Get In the Hot Spot with our free newsletter, a weekly injection of tips to help you travel well, feel fabulous and live your dream. Hit this link now to get updates by email.
What would you wear on a long flight?
Share This Story, Choose Your Platform!