Do You Worry About What People Will Think?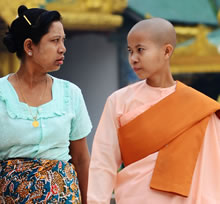 When asked about the obstacles and fears around following your dreams one of the other women on the Chenrezig mindfulness retreat confessed:
"I'm worried about what people will think."
That didn't surprise me. I'm always concerned about what other people will think. I'll never overcome it but I want to carry on pursuing my dreams no matter what other people think which was why I was on the retreat.
Still I was shocked to hear this other woman voice her fears about what other people would think because, even though she seemed to be an otherwise average white Australian, she was wearing the saffron robes of a Buddhist nun and her scalp showed clearly through her shaved hair.
It seemed to me that she had taken the bravest step of all by assuming the Buddhist garb and shaving her head. I could scarcely imagine anything more scary than daring to stand out from society and display your personal convictions like that in such a public way.
Yet here she was admitting that she was still concerned about what people would think about her.
I loved her for that because it shows that even the bravest among us still have fears. That we may never overcome our fears but that we can learn to walk with them and follow our path no matter what fears, concerns and thoughts crop up along the way.
Do You Worry About What People Will Think?
Want more HOT tips and inspiration on how to lead the life you want?
Stay tuned to Get In the Hot Spot – a travel blog for women aged 40+ who want to enjoy new adventures, have more fun and feel fabulous.
Subscribe now by email for free weekly updates.
Viet Images  from Shutterstock.
Share This Story, Choose Your Platform!