3 Day Retreat at Chenrezig Buddhist Institute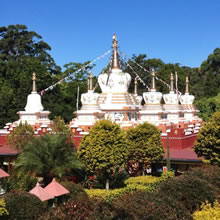 I dream of retreats. I Google retreats. I love the idea of retreating from the busyness of life, the business and even my dear family.
Much as I love the Candy family I also need time away from my three kids and a walk a day just doesn't cut it. So in the interests of keeping us all healthy and happy (in particular me!) I'm committing to regular time out from them and time by myself. I'm ready to stop dreaming about retreats and actually go on some. Yay!
Yes, I'm being utterly selfish and scheduling time to leave the mum/cheerleader/nag/study mentor/art curator/personal shopper/housekeeper/maid at home, and just be myself as well as be by myself. Bliss!
I've decided to aim for a monthly break or retreat and overseas trips take too long to do monthly while commercial retreats and health spas are too pricey. I still hope to get overseas once or twice a year and to a commercial retreat, health spa or posh hotel as often as possible, but I also need a cheaper option for my retreats because there's enough guilt around taking time away from the family for mums without over-spending would make it worse.
Chenrezig Buddhist Retreat in the Sunshine Coast hinterland* fit the bill for my first solo retreat because:
Chenrezig  is close enough to get to easily from the Sunshine Coast, Brisbane or even the Gold Coast, but far enough away to make you feel like you're on holiday and on a real retreat. *Chenrezig is about an hour's drive from Noosa and an hour from Brisbane near the small village of Eudlo.
Chenrezig  is a cheap retreat option with accommodation options starting at $32 per night.
You can buy good, reasonably priced vegetarian food in the Big Love Cafe with breakfast for $7, lunch for $12.50 and supper for  $7.  They have some great cakes for $4 too. Mmmm. A no cooking retreat is right up my street.
There are a range of events and retreats throughout the year at Chenrezig so you can just pop in for a meditation session, a walk in the garden and lunch or stay for a weekend, a week or longer. The retreats and events are varied covering meditation, mindfulness, silent retreats and therapeutic retreats as well as more tightly focused Buddhist courses.

What I loved about Chenrezig
In addition to the above Chenrezig was a good choice for my retreat and I particularly enjoyed:
1. My retreat hut
I stayed in a fully self-contained retreat hut which is the most expensive accommodation option costing $70 per night. It's a small stand alone room with a kitchenette area and a tiny bathroom.
To be honest I was a bit shocked when I first saw my hut. The bathroom was probably fitted 20 years ago, the toilet bowl was deeply stained and the shower curtain moldy.
I realise I've become a bit of a princess about travel accommodation recently and, when you consider that the last place I stayed at before Chenrezig was the highly luxurious Sofitel Gold Coast, my retreat hut was bound to be a come down.
But once I got used to it I loved it. I got all the privacy I needed, could make a cup of tea whenever I wanted and the bed was comfy. So deeply engrained are my princess travel ways these days that I even brought my own cotton sheets with me but the bedding was fine although I did prefer to use my own towel.
There was a fan for summer and an oil heater for winter too and I loved the parrot that came to visit me on my balcony.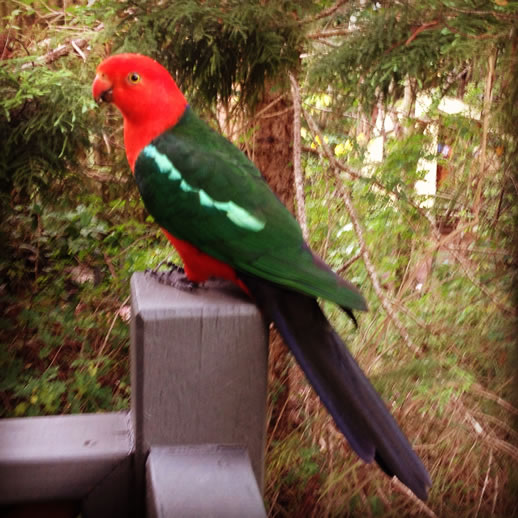 2. The retreat
I attended a two day course called Further Flourishing which covered acceptance and commitment therapy and was led by two psychologists, Dr. Samantha Clarke and NeLi Martin. I won't go into details of the course here as that's a whole new blog post but it was excellent.
This wasn't an official retreat but I'm using the term widely here to mean a break from kids and routine. If you want to do a more organised retreat Chenrezig have them, just check the events calendar on their website.
3. The Big Love Cafe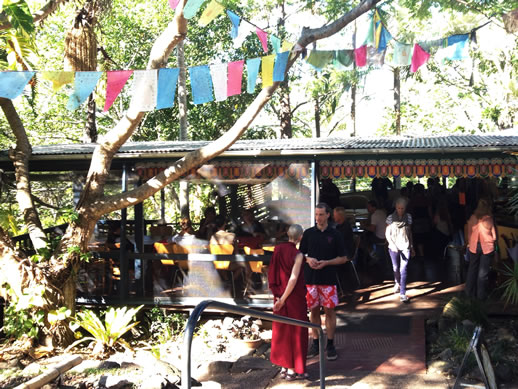 Apart from the name, which is brilliant, The Big Love Cafe is a fun place to hang out and chat with a diverse crowd of people including some of the nuns and monks who live at Chenrezig and business people from Brisbane who want some peace and quiet.
The food's simple but tasty. My favourite meal was the curry and the cakes are sensational. Not having to cook is a vital part of any retreat for mothers.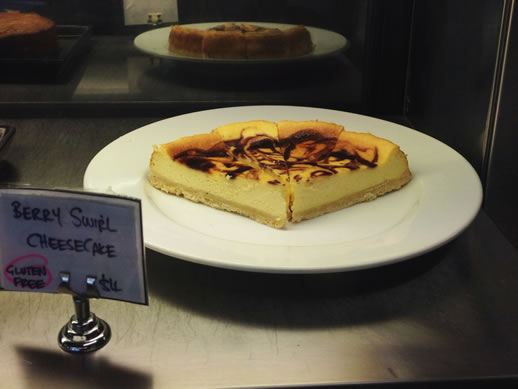 4. The peace and quiet
I love nature and walking and there are plenty of options. You can take a brisk walk down the road towards Eudlo or back up the hill for coastal views or just wander round the Garden of Enlightenment (pictured below). I spent a bit of time at the dam which had lovely waterlilies and a resident kingfisher.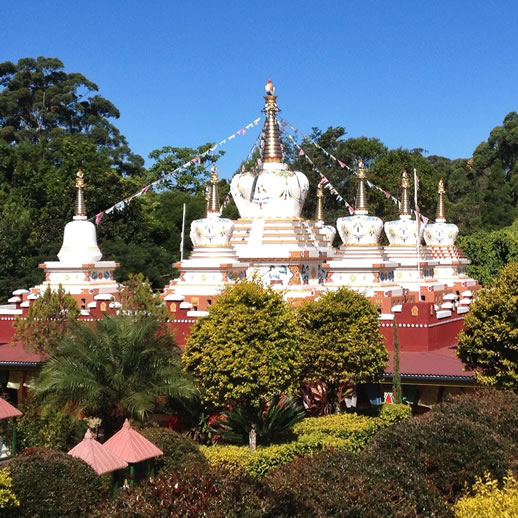 5. The Buddhist culture
Although you're on the Sunshine Coast in Queensland, Australia it seems more exotic.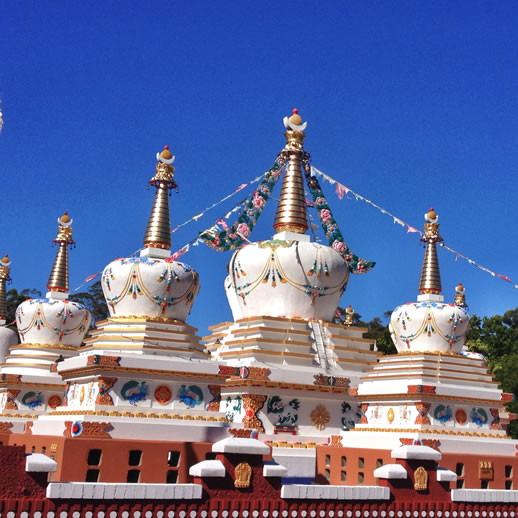 What you might not like about Chenrezig
1. Rules
Being a regular rule breaker I struggle with rules but, being a Buddhist Institute and community made up of nuns and monks, Chenrezig has some. They call it a code of conduct and it includes five main rules:
No killing any living beings including all insects and mosquitoes.
No stealing.
No lying.
No sexual misconduct and no sexual contact on the "Hill" area.
No intoxicants including alcohol and marijuana.
Sounds fair enough doesn't it? The rules were easy to stick to and the one about not killing insects is taken seriously. There are reminders in the bathrooms for you to keep toilet lids down to avoid any insect drownings because there is "no liveguard on duty"! Everyone was very careful not to kill anything, even a bug, even accidentally.
2. Mosquitoes
They tell you not to kill mosquitoes for a reason. They are everywhere. I recommend you take plenty of mosquito repellent and keep your window and door mosquito screens tight shut. Obviously bug spray would be a big no no in view of rule no. 1.
3. Website
Being a web designer I'm fussy about user-friendly websites. Let's just say that the Chenrezig website has some serious design flaws. Still, if you're determined all the information you need to plan your own retreat is up there, including a detailed list of courses and events. Find out more about retreats, events and courses on the Chenrezig website.
The final verdict
Chenrezig's a great place for a budget retreat. It's cheap, friendly and relaxing plus you can design your own retreat or join an organised one.
My total bill for three nights came in at $370 including the retreat hut, the excellent weekend course plus lunch, dinner and Big Love chocolate cake that I bought the day before and took up to my room for breakfast. You can cut costs if you stay in one of the other rooms and don't do a course. There's no obligation to join in with anything so you could just spend your weekend retreat reading and writing if you like.
I love the Candy kids and I loved my mini retreat at Chenrezig too.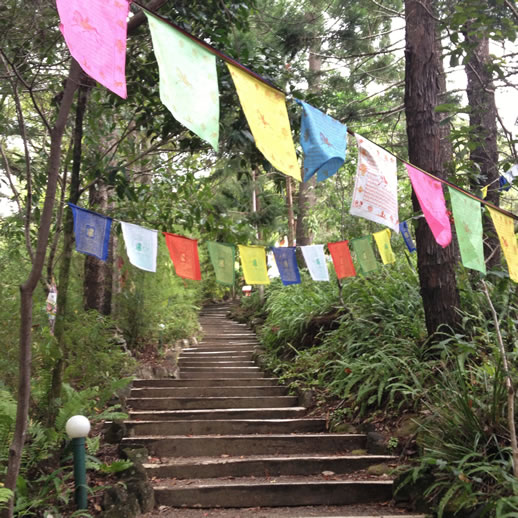 Would you like to go on a retreat?
Share This Story, Choose Your Platform!