5 Reasons to Rent a Villa in Bali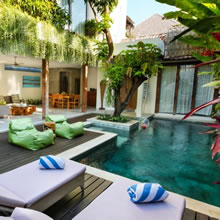 There's no doubt that Bali is a special place. Even though it was discovered decades ago, and is now very much part of the tourist trail, it's still got that blend of stunning beaches, unique cultural experiences and tasty food which people keep coming back for.
If you're thinking of planning a Bali holiday and wondering where to stay, it's worth considering hiring your own villa as an alternative to the usual accommodation options. You won't be able to fully appreciate what it's like to stay in a villa until you get there, but these are the key benefits.
1. Enjoy total privacy
When you hire a villa, you've got privacy guaranteed, and you can do what you like, whenever you feel like it.
If you've got small children, you don't need to worry about disapproving looks from other guests. Or, if you want to stay up late and swim naked in your private pool at midnight you can. No one will ever know.
Better yet, you'll never have to fight for a lounger by the pool.
2. Enjoy a touch of luxury
Just because you're staying in a villa, doesn't mean you have to forgo the pleasures of five-star treatment.
There are villas in Bali to suit every budget and many of them are highly luxurious, with fine linen and carefully landscaped swimming pools, tropical gardens and outdoor relaxation areas.
Better yet most villas can come with their own staff. If you wish, you can request a private chef to cook for you, a beauty therapist to give you a manicure or massage, or a babysitter so you can enjoy shopping, eating out or sightseeing while the kids are well looked after at the villa.
3. Save money
Hiring a villa is likely to save you a fair amount of money compared to staying at a resort. Firstly, you'll be paying for the whole villa and however many people it can sleep, rather than paying a set price per head. This can add up to a big saving for one family and you can save even more if you share the villa and the rental price with friends.
Secondly, you'll also be able to cater for yourself, so you'll avoid paying resort prices for food which can leave you with a hefty bill at the end of the holiday.
4. Pick your favourite location
You can hire a villa almost anywhere in Bali so the location is up to you, and the choices seem to be almost unlimited.
Whether you want to be in one of the main tourist areas with plenty of shopping and dining options to choose from, off the beaten track or in a jungle hideaway, you should be able to find a villa to suit your preferences.
5. Feel like a local
Even though tourists abound, you don't need to feel like a tourist when you visit Bali.
When you hire your own villa you won't be surrounded by other tourists or staying in a resort cut off from the locals. You're more likely to be surrounded by Balinese, Indonesians and local expats who live and work in Bali. After a few days, you'll feel like one of the locals too.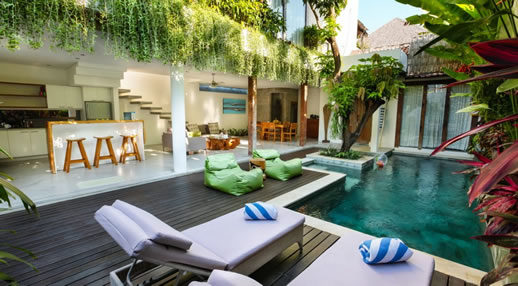 This blog post was sponsored by Bali Villa Escapes. Find out more about their services and villas before your next Bali holiday.
Share This Story, Choose Your Platform!