Uluru's Sensational Sunrises and Sunsets: Photo Post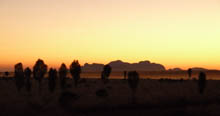 Uluru is really all about the changing colours, in particular the creative palettes of sunrise and sunset.
I took a zillion photos during my trip to Uluru and I've spent hours pouring over them, contrasting and comparing, trying to choose which ones to share with you.
It's hard to choose, so very hard but these are my final favourites. Enjoy the views of Uluru.
More Red Hot Travel Stories and Tips Coming Soon
I was a guest of Tourism Northern Territory during my trip to Uluru and Alice Springs and will have more hot travel stories to share with you very soon.
Stay Tuned for Free Updates – Either by RSS feed or by email – Whatever works best for you.
 Do you love sunrise and sunset photos? Where were the most memorable sunrises or sunsets you've ever seen? 
Share This Story, Choose Your Platform!