Travel Style: Little Red Dress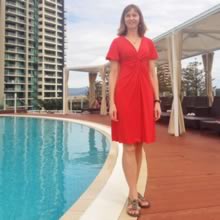 Dresses are a wardrobe staple whether I'm at home or travelling because they're:
easy to throw on which means you can get out of the door fast;
a one piece item so you don't need to find something clean that matches them;
smart and dressy (if you choose the right dress) so they're easy to dress up or down;
comfy;
flattering – if you know what style suits you;
cool in hot weather but you can layer them with tights and a cardigan if it's cold.
So when I won a Verily fashion voucher on Johanna Castro's Lifestyle Fifty blog I instantly knew what I'd spend it on. Johanna had modelled this dress herself as a little black dress but at the height of my depression I took a solemn vow not to wear black anymore which I  mostly stick to.
Black is slimming and looks great on blondes but it seems to drain all color from my face and, unless you dress black up and accessorize to add style (which Jo does brilliantly but I struggle with), it can look boring and even depressing.
Nowadays I try to wear bright cheery colors that make me feel cheerful and red's my favorite color. I loved the style of that dress so when I saw it came in hot red I had to have it.
I knew from the photo that the cut would work because I like dresses that are tight across the bust (to give me shape because my breasts are teeny) and flowing out from below the bra line to disguise the tummy and bumpy legs or bottom that come as you get older.
The dress fabric isn't something I'd usually choose because it's a mix of polyester and spandex. I usually go for natural fibers like bamboo or cotton because I they're cooler and I live in the tropics but this dress is perfect for spring, autumn or even winter when it's not so hot.
I ordered the size 8 and it's a great fit with plenty of room for growth if I wear it out for supper. To give you an idea of length I'm five foot nine and it sits just above my knee.
If you'd like to buy it the Red Bell Twist dress comes in sizes 8-18 and is currently on sale online for $90 instead of the full price of $120. Verily is a Queensland label so delivery around Australia about $9 or $20 if you're overseas.
I'd wear this dress for a day sightseeing with the kids paired with flats like the ones pictured here (super comfy orthopedic Hush Puppies) or to a conference with heels. It's wash and go, fast drying and doesn't need ironing. Best of all it's super comfy and the I have a feeling the pop of color will boost other people's mood as well as my own.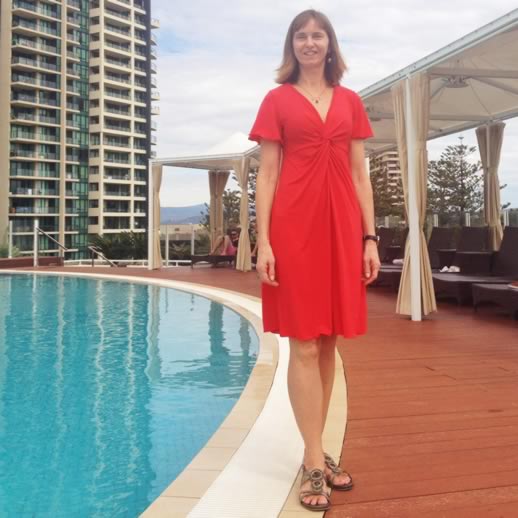 What's your travel style??
Share This Story, Choose Your Platform!