Top Range Travel Pillow: Tempur Review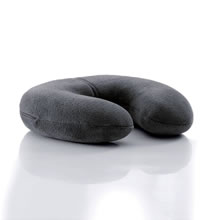 Even when I'm not travelling I keep a travel pillow in the boot of my car for unscheduled meditation or nana nap stops! A travel or neck pillow's one of my top five travel essentials. They make you so much more comfortable on long haul flights and can also help you rest or sleep on trains, bus trips or the airport shuttle.
I've tried both a small pillow which squishes itself into a bag and is easy to carry and light weight as well as the traditional U-shaped neck pillow which seem to be more popular.
Advantages of neck pillows
Make sleeping sitting upright WAY more comfy, helping you avoid the horrors of a sleepless night and get some reasonable rest;
Keep your head upright which makes breathing easier and reduces neck pain and stiffness;
Can be worn around the neck when you're walking round the airport.
Disadvantages of neck pillows
Large and bulky, can be hard to fit in your  bag.
What's so special about the Tempur Neck Pillow
Tempur is a special type of memory foam which was created as a pressure absorbing material to cushion and support astronauts during the strain of lift-off. Seriously!
Only a handful of top Tempur scientists know the proprietary formula that has made the Tempur material recognised by NASA and certified by the Space Foundation.
Tempur is a temperature sensitive, visco-elastic material, which forms to the shape of your body to provide comfortable support with minimum counter pressure.
Tempur products are only made in Denmark or the United States.
Tempur is constantly seeking new innovations to deliver the best sleep possible.
Tempur pillows have an open cell structure, resulting in billions of supporting points that reduce pressure on your head and neck.
The Tempur material responds to your head's weight and warmth, conforming to your shape.
Unlike an ordinary memory foam or bead neck pillow, a Tempur pillow returns to its original shape night after night.
Tempur neck pillows give the best support possible to relieve discomfort for head, neck and shoulders.
They help improve the quality of your sleep by relieving pressure points that cause discomfort.
Advantages of the Tempur neck pillow
I was send a Tempur neck pillow for review purposes and have given in a good test. Here's an unbiased review:
I love how it comes in a removable, washable case;
It really is super comfy – far comfier than both my other travel pillows;
It does squash down a bit to help you get it in your  bag;
It looks and feels high quality.
Disadvantages of the Tempur neck pillow
It's large and heavy with no carry bag and no way to easily be clipped onto or attached to the outside of a bag.
It only comes in one color – business-like gray which is fine for business travel but not so good for style conscious travellers and holiday makers who want something more fun.
Cost – a Tempur neck pillow costs AU$210 (approximately US$150 or £120)
Review summary
A good travel neck pillow can help you avoid a sleepless journey and help you arrive feeling rested and painfree. It's worth spending money on a good one and Tempur is undoubtedly the Rolls Royce of travel pillows.
Find out more or buy a Tempur neck pillow here.
Want More Travel Ideas and Inspiration?
Stay tuned for more travel stories, ideas and inspiration. Get free email updates from Get In the Hot Spot – a weekly injection of tips to help you be more adventurous and have more fun. Click here now for free updates.
Share This Story, Choose Your Platform!