Why Pitching a Book is Scarier than Hannibal Lecter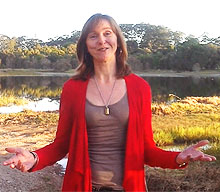 Did you know I try to do something scary every day?
Some days it's something simple like reaching out to someone by email. Sometimes I send off a guest post I've poured my heart into. Now and then I just going surfing.
There are plenty of things that scare me. The lovely Jen Gresham at Everyday Bright interviewed me about this strange practice so you can read more about why I do it here.
Now the more scary things I do, the scarier the things I do keep getting.
You see I'm running out of scary things to do, so now I have to do the things I've been putting off longest. The things that scare me most of all.
So in March I joined Toastmasters to improve my public speaking.
Why Public Speaking Scares Me
I was a teacher for many years so I used to be at ease standing up front talking to people.
This year I've been doing a lot of talks and workshops about blogging and I feel comfortable with that. It's okay teaching and talking to people about topics I know well but talking about myself is terrifying.
If you thought writing and sharing your personal writing on your blog was hard, then try talking about them to a room full of expectant strangers.
I also have a problem with putting my body on display.
I can talk away happily when sitting down. Standing behind the safety of a lectern is great. But I hate standing in front of people with nothing to hide behind.
I feel awkward. I don't know what to do with my hands. I remember how I got teased at school for being a skinny giraffe.
Writing it down sounds ridiculous. Just as I can't understand people who fear flying because it doesn't bother me, so you may not be able to relate to this awkward body image thing of mine.
But it's a deep-seated problem and to be honest joining Toastmasters (a group to help improve public speaking) has made it worse.
I never realized how scary it would be until I actually tried it.
I've given six speeches to my fellow Toastmasters on various topics but what bothers me is, unlike the people who've paid to learn from me, all they probably want to do is practice their own public speaking skills. Not listen to me. So I feel bad for boring them.
But deep down I know my speeches aren't boring. I spend days writing them then many long hours practicing and memorizing them.
As with anything I'm a perfectionist.
I want my speeches to be better than anything Martin Luther King ever uttered. No wonder I get scared with the bar set that high.
Most times when I finish my speech at Toastmasters I want to run to the toilets and cry. Sometimes I do that.
But when I did my sixth speech there was a watershed moment. Afterwards I thought my speech was actually okay.
I know I shouldn't feel so scared of speaking and I know the only way to kill my fear is to keep doing what scares me until I'm not ruled by that fear any more.
So that's why I keep doing scary things every day and why I persevere with the things that scare me most.
Why Pitching a Travel Book Terrifies Me
Since my fear of public speaking is so out of proportion I decided it needs serious treatment. Instead of quitting like I so badly want to, I decided to participate in a live blog pitch for my book The Naked Travel Stories.
It's doubly scary because I have to talk and, worse still, talk about my book The Naked Travel Stories which I'm terrified might not be good enough.
I haven't even written the book yet and fear is probably why. I know procrastination for writers is driven by fear. It's driven by the fear that our writing won't be good enough.
I suffered rejection and it sucks but I know we can bounce back from rejection. I've done it.
Why I Pitched My Travel Book Anyway
So I signed up to pitch my book The Naked Travel Stories live in front of a publisher, an author and an audience of 60 other writers at a literary festival.
Here's the video of the book pitch made about an hour before the pitch by Lake MacDonald in the Noosa hinterland. Can you tell how scared I am?
Now I'm ratcheting the fear up more by sharing this video with you. Because if speaking live in public is hard, being videoed has to be the worst.
Sharing the video on YouTube where who knows who might watch it strikes fear into my heart.
But hey, what's the worst thing that can happen? Not much. It's not exactly life-threatening is it?
That's the thing about fear. It's irrational, it's cowardly, it's idiotic. Worst of all fear robs us of living our dreams.
So we have to face those fears. They may seem real to us but really, they're as fictitious as Hannibal Lecter himself.
I hope you'll take courage from my exercise in conquering fear and do something scary too.
My Book Pitch For the Naked Travel Stories on Video
Can't hear the video? It's not your ears, the volume is low. I apologize. Next time I'll really yell. Until then, please turn up your computer speakers and the YouTube video speakers – full blast:)
Can't see the video? If you're reading this in an email or RSS you need to visit the blog to see the video. See you there.
Non-Fiction Book Pitch Transcript: The Naked Travel Stories by Annabel Candy
Here's the full transcript. I divided my pitch into three parts: Who would read the book, what it's about and why I'm the best woman to write it.
The Naked Travel Stories fill the gap between who we once when we were children and young adults and who we are now.
They're written for women aged 35 and older to explore the conflict between our childhood dreams and our parents' dreams for us. Between the desire to follow those youthful dreams versus the instinct to play it safe and follow the beaten track. The desire to travel and have fun versus society's expectation for us to settle down, have children and get a proper job.
The Naked Travel Stories cover the first ten years of my adult life when I was traveling the world, not just exploring the globe, but also exploring who I was, what my potential was and what I would become.
When I left school I knew I wanted to be a writer, in fact I'd known that since I first started school, but writing wasn't a career or a lifestyle choice my parents supported.
So instead of following my dream I got two degrees, lived in eight different countries and traveled to more than 40 counties before finally coming to terms with who I am today – a mother, a wife and, at last, a writer.
But during those 10 years when I was traveling I experienced things which are at odds with the respectable business woman and mother you see before you.
The English private school girl, wearer of white gloves and a straw boater, nicknamed Baby Doll by her English teacher Mr. "Don't Mention His Grandfather" Tolkien, has had a few adventures.
I've experienced sleep paralysis in Greece and, convinced there was a strange man in my room run outside naked, calling out to some nearby men for help then quickly switching from fear to confusion then tears when we discovered the intruder was nothing more than a figment of my imagination.
I've slept free in Germany during the Oktober Fest in Munich when beds are booked months in advance, wrapping myself in kitchen towels to survive the cold nights.
I've hitch-hiked extensively and traveled by donkey cart in Tunisia, Porsche in Germany, gravel truck in Zimbabwe and fire truck in Turkey. Palms slippery with sweat, hanging on grimly to the metal pole at the back as the truck careened round corners up a steep mountain pass with Turkish firefighters laughing merrily at me in the rear view mirror from the safety of the cab.
So how do we fill that gap between who we were, what we've done and what we've become?
It's been a long, rocky journey. Sometimes funny, occasionally angst-ridden, at times plagued by depression but always in motion.
And over time I've learned to reconcile the little girl who wanted to be a writer with the hippy chick who traveled the world and unite them as happy room mates in this middle-aged body. They still have the odd skirmish but on the whole those three parts of me have learnt to get along.
Finally I've given myself permission to be the writer I was meant to be and accept that, while I might look like your average middle-aged mother, I'm not, and I never will be.
The Naked Travel Stories are a fun way to explore the differences between what we were and what we are now and come to terms with them.
Today I'm a writer and travel blogger. I started my blog Get In the Hot Spot two years ago and it now has over 20,000 unique visitors each month. I have over 2,000 subscribers and 5,000 followers on Twitter and Facebook.
I was chosen by Coca-Cola in 2010 as one of four Australian bloggers invited to become Live Positively Ambassadors because they liked my writing.
I frequently speak about blogging and social media to business and writing groups and hope to speak at BlogWorld, the largest social media event in the world, this November.
My travel writing has been featured in Escape Magazine and on some of the biggest blogs on the internet. I write for the local tourism company Sunshine Coast Destination Limited and Regional Development Australia and am frequently interviewed about travel, writing and social media.
Thank you for listening to my journey round the world and through my heart and for your interest in The Naked Travel Stories, about a woman who spends ten years traveling the world to find herself, but ends up back where she started.
Thank You, Merci and Kop Khun Ka
Many thanks to my dear friend Lisa Alexiou for recording the video and for her incredible, generous and much appreciated support for my writing and all my nutty ideas.
Thank you so much to all my Toastmasters mates in Coolum for listening to my speeches including this travel book pitch and encouraging me onwards and upwards.
Muchas muchas gracias to the Get In the Hot Spot team and readers who've made me brave enough to share my stories. I am so very grateful to have you here.
What scares you?
Share This Story, Choose Your Platform!