25 Australian Travel Blogs and Bloggers to Watch in 2012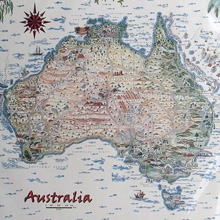 Travel bloggers are a unique bunch. You can't put them in boxes and parcel them off neatly and nor would I want to so these travel blogs are not all strictly Australian bloggers nor blogs about Australia.
Update: Check out 43 Australian Travel Blogs and Bloggers to Watch in 2013 too.
Some are travel blogs by Australians living in Australia, some by Australians living overseas and some by non-Australians who live here. Like me with my dual British and New Zealand nationalities currently squatting very happily in sunny Australia. Although I'm not listed for obvious reasons.
I've been planning this post for ages but procrastinating because:
a. It takes so long to prepare and it's just keyboard jockeying, cutting and pasting. No fun writing of crazy travel stories involved.
b. I'm bound to miss some great blogs (maybe yours or your favorites?) and include some that you don't think should be here.
But never mind about all that. It's a good list to get us started and carefully compiled in random order so no feathers get ruffled. I hope you find some terrific new travel blogs.
Caroline and Craig have been there, done that and are blogging it all. They're from Australia and living here right now (we met in Melbourne) but they'll probably be off on more travels soon.
Twitter: @YTravelBlog
Amy and Kieron are two young travelers from Melbourne who are currently on a long-term travel adventure that began in Hawaii on 26 July 2011. Lucky things.
Twitter: @amzkiz
American Christine is currently living in Melbourne, Australia. I met her at the pub.
Twitter: @camorose
Dean Wickham is a self-confessed travelholic (or should that be travelaholic?!) who travels when ever and where ever he can to experience as much of life as possible.
Twitter: @roadtoanywhere sure that I am forgetting some more
Chris describes himself as an Aussie rogue (loveable hopefully). His blog focuses on travel at home and abroad with just a dash of sex, romance, and alcoholism. Ooooh errr.
Twitter: @Aussieontheroad
Anthony says he doesn't take himself too seriously but that doesn't mean we shouldn't. Especially if you want to have a travel-themed laugh. Anthony lives near(ish) me in Brisbane and we've met in real life a few times which was a real pleasure.
Twitter: @thetraveltart
Only I know Red's real name and I'm not telling. Her epic travels around Australia make me want to hit the road too. Tourism Australia should be paying this woman handsomely. I should pay her too because she helped me find some new blogs when I put out a call on Twitter for Australian travel blogs. An all round super star.
Twitter: @rednomadoz
Linda is a cartographer who makes the most gorgeous maps like the one pictured up top. One day I'm going to hit the road in a camper van, drive all over Australia and document it with one of her maps. In the mean time I'll just read Linda's blog and drool over her pictures. If you're planning a trip round Australia or looking for a gift for an Aussie traveler you can't go wrong with a Journey Jottings map.
Twitter: @journeyjottings
For a fearful girl Torre DeRoche has been all over the place and has some amazing stories to tell. Torre's even written a book about it and scored a huge publishing deal. Keep an eye out for it next year. I met her in Melbourne and scored a copy of the self-published version which is sitting by my bed all ready to keep me entertained over the summer.
Twitter: @FearfulGirl
Nicole is from Adelaide. She used to want to be an air-hostess but then she discovered blogging. Thank heavens.
Twitter: @nicoletravelbug
10. The Life That Broke
By Lauren Fritsky, (love that name!) an American living in Sydney. Lauren hails from Philadelphia and blogs about expat life, travel and writing.
Twitter: @LaurenFritsky
This is a blog from the BootsnAll travel network with a team of writers giving it an unfair advantage over all us solo bloggers. They've got a good thing going though so don't hold it against them.
Twitter: @WhyGoAustralia
Lisa is sharing her new life on the road with her husband and five boys. That's a lot of testosterone to content with. She bought a bus on Ebay and her hubby is doing it up before they embark on their travels.
Twitter: @NewLifeOnRoad
Travel Outback Australia has travel advice from real outback locals for people who want to explore outback Australia independently. I know that will come in handy some time.
Twitter: @TravelOutbackOz
An "average Aussie country boy" Chris is an Australian living in London and traveling all over the place judging from his latest blog posts.
Twitter: @theaussienomad
15. Pack Your Passport
Beverly is an English girl traveling the world but currently living in Melbourne and writing about her adventures. She covers Australia, NZ, Asia  and beyond.
Twitter: @PckYourPassport
Lynda's another Americana living in Australia who blogs about her travels here, there and everywhere. We met in Melbourne but I bet she doesn't remember me. No matter. I remember her.
Twitter: @lynnie11
17. Clarence Valley Today
Photo blog of the northern New South Wales area.
Gorgeous photos from travels round Australia from UK expat Stewart, a bird watcher, biologist, bush walker and book lover. A lovely sensitive man.
A blog dedicated to showing the world the beauty of Perth, Western Australia by one of life's optimists, Gracie.
Joan shares photos about travels  a day or two beyond the beautiful Blue Mountains in New South Wales where she lives and sometimes ventures further into the vast and beautiful land of Australia.
Dave Dean is a Kiwi (in case you didn't guess from his Twitter handle!) who's been backpacking, wandering the world and living the travel dream for over a decade. I met him when he was living in Melbourne but he's nipped off to Thailand since then. Nothing to do with meeting me I don't think.
Twitter: @driftingkiwi
Nikki's blog is a guide to house-sitting and a story of adventures on a budget. She's written a book about her travel stories which is out on Kindle now. I'm going to get it.
Caitlin is a journalist and writer who's returned to Sydney after seven years in London and San Francisco.
Twitter: @niltiac
Michela helps passionate travelers like her make their travel in Australia a memorable experience. She's got everything covered so independent travelers can get sorted and enjoy.
Twitter: @rockytravel
25. Expat Women
Andrea is a serial expat and wonderful woman who used to live near me on the Sunshine Coast in Queensland. Before that she was in Mexico then she jetted off to Asia with the family. She's currently back in Australia living it up in Sydney. Andrea commandeers a community of hot expat women from all over the globe which I'm happy to be part of.
Twitter: @Andreaexpat
Bonus Travel Blogs! 3 More by Women Who Don't Live in Australia and Aren't Australian
One of the best things about blogging is you make up the rules isn't it? Let's just say these bloggers are all fab supporters of Australian travel blogs and bloggers with great travel blogs so it would be remiss of me not to mention.
Multi-author travel blog started by Beth Whitman.
On Twitter: @Wanderluster
Harlequin romance writer Karen has some fab tales to tell and she spins them beautifully along with some gorgeous travel photos.
Twitter: @MissFootloose
Go on then! Tell me what I missed. Or tell me what your favorites from the list are in the comments. Usually I ban links from the comments but since we're breaking all the rules here let's break that one too. And feel free to add your own travel blog too. Especially if it's about Australia, you're Australian or you live here.
Sonia sold up and moved to Belize with her family. She now lives in California and is one of my most bodacious travel blogging buddies. I hope we get to meet one day.
Twitter: @GutsyLiving
Update: Ooops! Here's one I missed and it's a goodie too. They're not Aussie bloggers either, they're Kiwis (like me!) but they do list Australia as their location on Twitter and that's good enough for me:
Join Linda and Craig for your award winning travel listening pleasure.
Twitter: @indietravel
Who's missing? Which are your favorites?
Usually I have a no links in the comments rule but since we're breaking all the rules today let's break that one too.
Feel free to leave links, even if they're to your own blog. But let's try to keep the focus on blogs about Australia, by Australians or by people living in Australia. Otherwise we'll be here forever. Although that might be quite fun now I come to think about it.
Update: You might be interested in 43 Australian Travel Blogs and Bloggers to Watch in 2013 too.
Thank you: Linda at Journey Jottings for sharing your gorgeous map.
Share This Story, Choose Your Platform!