15 Things Travel Professionals Hate About Hotels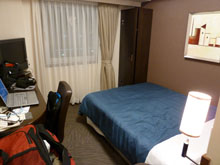 Call them spoilt, but once a travel professional or travel writer starts getting whisked around the world on press trips she also starts to get picky. Some complain about the food. Others bad mouth the activities but most of them complain about the hotels at one point because something is nearly always wrong.
High expectations are created by smoothly worded press releases and when hopes are raised for a relaxing stay something is bound to dash them.
Maybe travel professionals just get irritable because they're always traveling. Or maybe they don't appreciate the travel opportunities that come that way because they don't pay for them with cash. But whatever the reason they do have reason to complain about some hotels and complain they do.
Here are the 15 things travel professionals most hate about hotels garnered from informal interviews with travel professionals from around the world as they whiled away their days on another press trip.
1.Hotel room windows that don't open
After being cooped up in trains, planes and airports, what travel professionals want more than anything else is a breath of fresh air. Even if the hotel room doesn't have a balcony you can get outside on, if the window opens you can feel some connection with the environment outside and gauge the temperature so when you do step out of your hotel you're wearing the right clothes. But if the windows don't open you're stuffed and stuck in a stuffy room.
2. Dodgy hairdryers
Many women wash and blow dry their hair every single day so they need a decent hairdryer with multiple heat options and speeds to achieve the same luscious locks they sport at home. A cheap tinny model that shoots sparks into the air is sure to get any female travel professional's day off to a bad start.
3. No bathrobe
When you're traveling light the first thing to get shelved is sleepwear. In the name of traveling light I sleep naked but I like to have a fluffy bathrobe so I can wander round my room with the curtains open and my modesty intact. Bathrobes also help you stay warm in over-air-conditioned hotel rooms.
4. No kettle
We Brits like a cup of tea in out room. My big name Las Vegas hotel room hadn't got a kettle or coffee making facilities either which is torturous and every hotel I stayed at in Canada had a coffee making machine but no kettle. Tea bags were provided so you could make a cup of tea but tea tastes vile made with luke warm water and imbued with the flavor of stale coffee.
5. Digital alarm clocks
That bright light keeps you awake at night and most digital alarm clocks are almost impossible to work out how to set.
6. Inhuman wake up calls
If I ask reception for a morning wake up call please give me a cheery human voice saying:
"Good morning Mrs. Candy, it's 7am and this is your morning wake up call."
Prerecorded messages are definitely second best but you really feel unloved when the ringing phone wakes you in a strange place, you pick up and there's no one there. Just a lonely silence and the feeling that no one loves you, no one cares. You're not a person, just a room number.
7. Surly staff
It happens. Even in service-driven countries like the UK, Australia and the USA where you expect to be treated politely, and even when you've been flown thousands of miles specially to write about a place.
It's annoying when you're waiting at reception to check in or out or ask a question and the receptionist pay more attention to the ringing phones lines than they do to you.
Hotel staff, like anyone in a service industry are being paid to smile, be polite and be friendly. Sure, some hotel guests may be a pain in the bum (not me of course) but there's no need to make it obvious that you wish you didn't have to deal with them.
8. Bad breakfasts
I love a hotel room with breakfast included in the price but the breakfast has to be edible. The hot food at buffet breakfasts should be hot and late risers should not be penalized with over-cooked leftovers dotted with specks of unidentifiable offerings.
9. No full length mirror
We all want to look as good as we can while we're traveling as those travel photos are lifelong souvenirs. A full length mirror is essential to give yourself a quick once over before you leave the room and check that everything is tucked in, bulge free and fluff free.
10. No lift and a room on the third floor
Much as we want to travel light and much as we wish we did, most travel professionals don't. We are weighted down with big cameras, heavy electronics and clothes which will take us through any climate and any social situation. Wheelie bags are great but they don't handle stairs well.
11. Tip hungry staff
Obsequious hotel staff who follow you round everywhere, try to foist help on you when you don't need it and linger awkwardly for a tip they're not going to get are just as bad as surly staff and equally common. Expecting a tip makes you less likely to get one.
12. Badly lit bathroom mirrors
Mirrors in bathrooms which are lit from the top make shaving under the chin tricky and even facial-hairless ladies need decent lighting so they can put their game face on before going out. Or maybe spot that black hair growing out of a mole and pluck it out before someone else notices it.
13. Plastic cups
Nothing is meaner and more environmentally unfriendly than plastic cups in the bathroom. Especially if they are encased in a plastic sleeve. They fall over when you put your toothbrush in them too.
14. No Internet or over-priced wifi
Roll on the day when every urban hotel in the developed world has free Internet and Wifi in every room. Even many developed countries like Australia are surprisingly backwards when it comes to letting their guests access the Internet and many seem to see it as a luxury and an up-sell.
15. Too few electrical sockets
Travel professionals have to recharge their cameras, iPads, mobile phones and plug in their computers so they can download and back up photos and share their travel experiences on social media so multiple sockets are essential.
Say what you like about travel professionals, but they know what they love and hate in a hotel. Even if they are just a teeny bit spoilt sometimes.
What are your pet hates about  hotels?
Share This Story, Choose Your Platform!