45 Hours on the Queen Mary 2: Part 2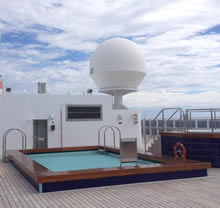 If you've read 45 Hours on the Queen Mary 2: Part 1 you won't be surprised that we need another snooze by now. If not start here. This will all make a lot more sense!
2pm – Snooze time again. It's been a busy day and we missed the preball Cha Cha lesson while we were having lunch so console ourselves with a nap.
3pm – Check out the casino. There's talk of a Texas Hold 'Em poker tournament but it's cancelled because there aren't enough players. Or maybe they just got scared after reading my Poker Champion's Guide to Winning in Life . The slot machines are running hot and there are a few people playing Pontoon or 21 but we opt to get some more fresh air.
There's a fierce breeze blowing on Deck 12 but it's fun to be on the top deck and we peer into the bridge at the Captain and his crew as they navigate the ship towards Brisbane. If they could hear me through the thick glass window I'd tell them to take their time getting there.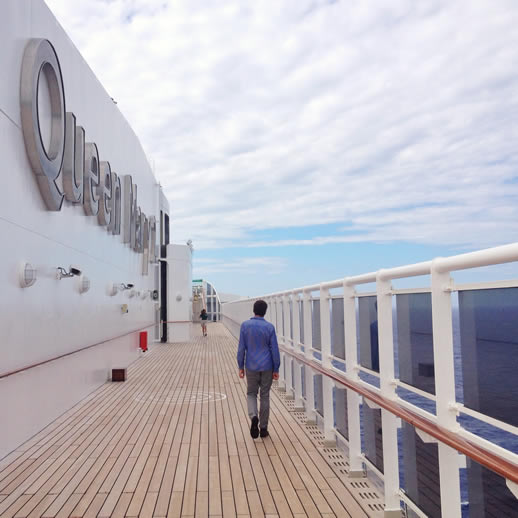 3.30pm – Afternoon tea in the Queen's Room. I'm starting to feel like a turkey being force fed before Christmas but one simply has to take afternoon tea on the Queen Mary 2.
As a string quartet plays we nibble smoked salmon and sliced cucumber sandwiches, make some tough choices between the seven different types of cake and wash down a scone with jam and cream with a pot of Earl Grey tea. The chocolate slice, bakewell tart and cherry bake are delicious. I wish the Candy kids were here – this would be their idea of heaven.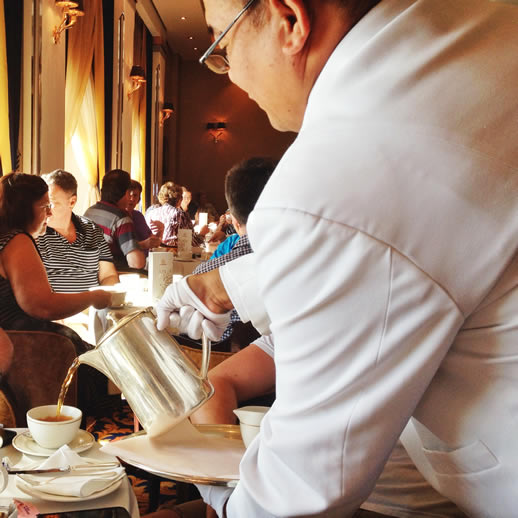 4.45pm Spa treatment time at Canyon Ranch Spa. It's formal night tonight on board the Queen Mary 2. The men will be donning their tuxedos and bow-ties and of course I want to look my best too.
Katja from Poland pampers me with an Essentials Spa Pedicure. As a nail technician specialist she performs pedicures and manicures for eight hours a day. Naturally she's very good at it.
My pedicure starts with a foot soak and removal of the old, chipped and badly put on (by me) nail polish. Next my toe nails are filed and cuticles groomed, then there's the sloughing off of dead skin from the soles of my feet, with an estimated weight lost of several hundred grams.
Next my feet are gently exfoliated with minty smelling scrub and massaged with avocado vitality cream. Finally bright red nail polish is applied and, as a bonus, I get to keep the bottle because Canyon Ranch Spa are having a special promotion where the nail polish is included in the cost of the $79 pedicure.
Next I head to the hair salon for a $69 shampoo and blow dry. I've never ever experienced such things before and I tell the South African hairstylist to do as he pleases. He is very excited about that and tells all his friends I am the greatest type of hairdressing customer.
I leave feeling truly pampered and even a little bit glamorous with perkier, bouffant hair that's thick with hairspray because I want it to last. 
6.30pm – Get ready for formal night. Back in stateroom 11007 Rich is already wearing his brand new, bought specially for the occasion, tuxedo and bow-tie and looking very dashing. I slip into my wedding dress, a black and white Lisa Ho number which is perfect for the black and white ball.
We congratulate ourselves on how nicely we brush up and start packing our bags. We have to disembark tomorrow so our main luggage needs to be outside our cabin door so that we can enjoy the last morning on board without lugging them around. We keep clothes for tomorrow, our wash bags and our suit holder for our formal clothes in the cabin and step out in style.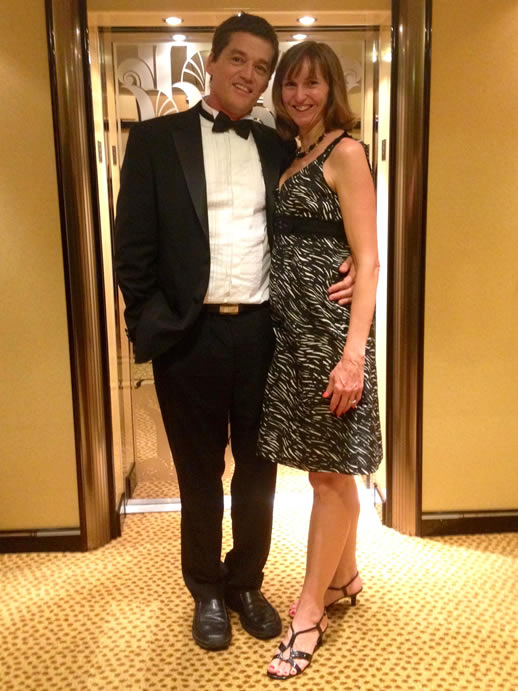 7.30pm – Cocktails at the Commodore Club (again!) I  love cocktails and, since they are so reasonably priced and highly delicious, we can't resist going back to the Commodore Club. And anyway, we want to parade around in our fancy clothes and see what everyone else is wearing.
The other guests are all glittery and glammed up too. We sit at the bar and tell our fellow cruisers (as in people on a cruise) about the Molecular cocktails. We order one each and when they see ours everyone at the bar wants one. That makes the barman busy but he rises to the occasion.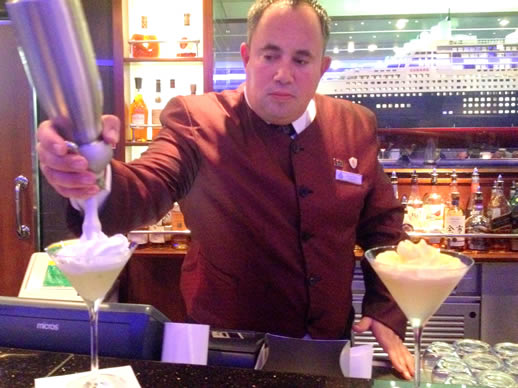 8.30pm – Dinner in the Todd English Restaurant – Apparently Todd English is a celebrity chef but his celeb status has only just reached us here in Australia. His restaurant on the Queen Mary 2 is one of the premium dining spots meaning you have to pay to eat there although, like the Commodore Club the prices are excellent value.
We join friends and feast on a fabulous four course meal. I heartily recommend the crab cake, the naked lobster gnocchi, the artichoke and scallop brochette and the falling chocolate cake with raspberry sauce. Sigh.
I probably got some of those dish names slightly wrong but I was focusing on enjoying the meal, not taking notes, and enjoy it I did.
11pm – Formal black and white ball – The ball started earlier and we've missed the dance show but there are still plenty of people on the dance floor.
I have no idea how to ballroom dance but I take a turn round the dance floor with some willing men (my Rich is not one of them) and feel like a real lady. We peak in at the nightclub where a younger crowd are doing a different type of dance to the sounds of YMCA by the Village People.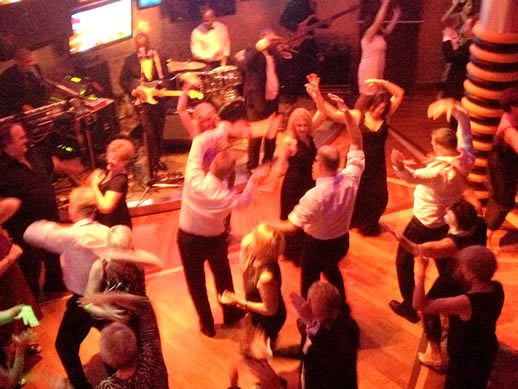 12am – Bedtime at last.
8am – Breakfast in Britannia Restaurant. Room service is tempting but we want to see what's on the menu at the Britannia Restaurant for breakfast. I choose smoked salmon, fruit salad, bacon and a mushroom omelet. I'll be back on my regular breakfasts of a fresh fruit smoothie tomorrow and I'm going to miss all this fine food and fabulous service.
9am – Visit the library. It's our last chance to explore the ship. We take a final tour of the deck, check out the library and try but fail to buy some souvenirs because all the shops are shut on port days.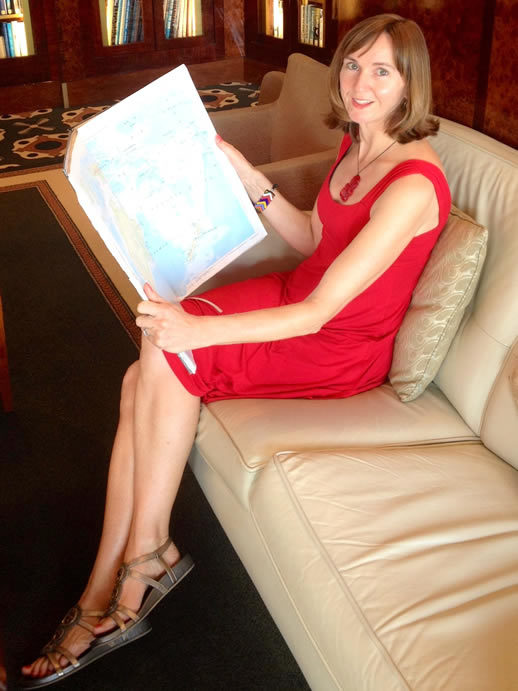 10am – Disembarkation. We'd love to stay on board and circumnavigate Australia but the real world and the Candy kids await us.
45 hours on the Queen Mary 2 wasn't long enough but it gave us a taste for the cruising life. It gave us a taste for the old style glamour of cruise ships. And it definitely gave us some fond memories to look back on in years to come.
I was a guest of Cunard Cruise Line. The Queen Mary 2 gets around too but you can check out her cruises here. If you're in Australia or New Zealand and you've left it too late to book a Queen Mary 2 cruise this year then fear not, she'll be back down under in 2015.
Interested in reading more about our experiences on the Queen Mary 2? You've probably already read 45 Hours on the Queen Mary 2: Part 1 and do check out I Was a Cruise Virgin on the Queen Mary 2.
Subscribe now – its 100% Free!
Stay tuned to Get In the Hot Spot for a weekly injection of tops to help you be more adventurous, have more fun and feel fabulous. Click here now for free updates.
Share This Story, Choose Your Platform!