45 Hours on the Queen Mary 2: Part 1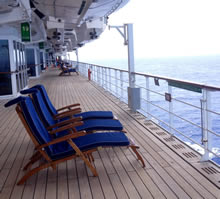 Hopefully when our life comes to an end we can focus on all the great things we did and not regret the things we didn't do.
It's hard though because life's short and I'm one of those people who wants to do everything. I'd like to climb every mountain to check out the view, walk round every corner to see what's there and talk to everyone to get a feel for life in their shoes.
So, although I was very happy to experience a cruise the Queen Mary 2, I was also slightly disappointed because our time on board was short so we'd never be able to fit everything in.
Sure enough, despite my best efforts to pack in as much as possible during our two night cruise we didn't have time to try the planetarium, theater, cinema, shopping, ballroom dancing show, heaps of exercise classes, quoits, shuffleboard, golf simulators, poker or a swim in one of the five pools.
We didn't even eat in most of the restaurants, although we did try three of the 11 dining options on board.
That's not all we missed either, there were educational talks, dance lesson, trivia quizzes and many more things that slipped us by. But let's not worry about what we missed out on, let's think about what things we did do during our 45 hours on the Queen Mary 2.
1pm – Queen Mary 2 embarkation in Sydney. This involved a long queue for ticketing, photos and security which was a bit frustrating as we were gagging to get on board.
2.30pm – Flung open the door of Stateroom 11007 on the 11th deck to find out bags were waiting for us and our balcony had an amazing bird's eye view of the Sydney Opera House. Bounced on our king size bed and tried out our tiny but perfectly formed bathroom.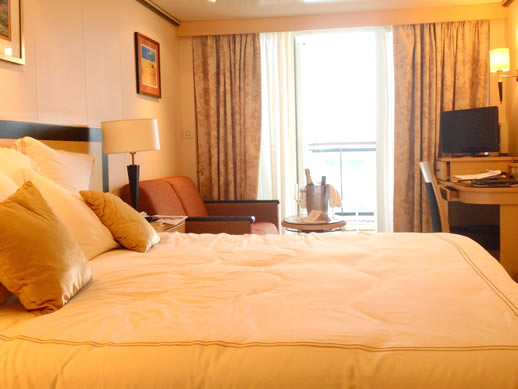 2.45pm – Dashed to the Canyon Ranch Spa to book treatments for the next day because we'd heard the spa gets heavily booked when there's a formal night. The Queen Mary 2 has several formal night when suits and ties for the gents and cocktail or ball dresses for the ladies are required wear for access to the better restaurants and, of course, to the ball.
I managed to get one of the last appointments for the next day and noticed that there are great specials to be had on shore days. For example, when the ship was moored in Sydney they were offering half price facials all day.
3pm – Late lunch in the King's Court buffet restaurant. It's the only restaurant open for lunch on embarkation and disembarkation days.
I selected bits and bobs from the salad bar, a fish pie and passion fruit panna cotta for desert. Rich had beef stirfry which was being cooked fresh in the restaurant. I washed it all down with a cup of Earl Grey tea and felt right at home because they had big mugs, not little cups that leave you thirsting for more.
4pm – Time to explore the Queen Mary 2 and all she has to offer, including the 11 restaurants, shops, gym, theater, movie theater, ball room, pub and casino. On deck 7 where you can walk a mile by circling round the deck three times. I'm sure we walked much further than a mile and climbed hundreds of stairs too. My sense of direction is hopeless so I was constantly lost which was fun because there were surprises round every corner.
5pm – Snooze time. Despite being in the first flush of youth a good holiday always includes a nana nap. We dashed back to our stateroom and fitted in a quick lie down before the evenings activities.
6pm – Drinks on the balcony. Crack open one of the two bottles of French sparking wine which one of Cunard's finest very thoughtfully placed in an ice-bucket in our cabin.
Take it out on the balcony and spend a pleasant hour watching the water taxis and ferries chug between the Queen Mary 2 and the Sydney Opera House. Take hundreds of photos and feel like we're living the high life.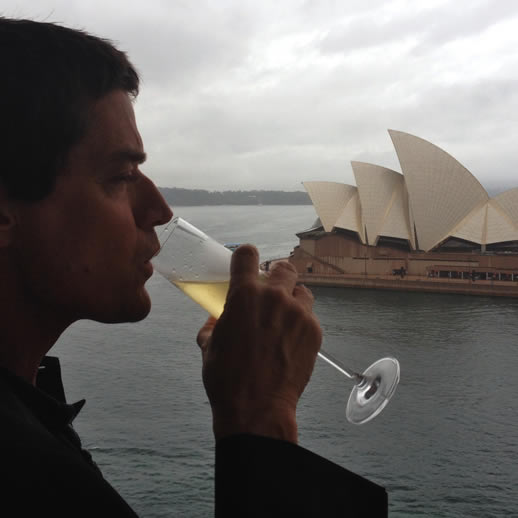 7pm – Head to deck 7 for a pre-dinner walk. It rained in the afternoon but the sky was clearing and the light spectacular. A huge rainbow arced over the Sydney Opera House, so big I couldn't capture it with my iPhone. I wished I'd bought my camera on deck with me.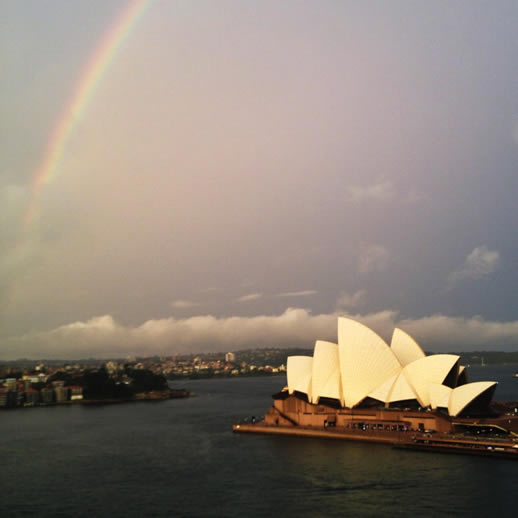 7.30pm – Cocktails in the Commodore Club. I supped a Rhubarb Mule first and then a Molecular Martini Margarita. The cocktail list is long and brilliantly priced at $9.50 for the mule and $8.50 for the margarita.
The Molecular Martini Margarita was extra special made with fresh lime juice and Patrón Añejo tequila embellished with a Grand Marnier, Cointreau and fresh orange infused foam made with gelatin which created a creamy cap on top. Everyone wanted to try it.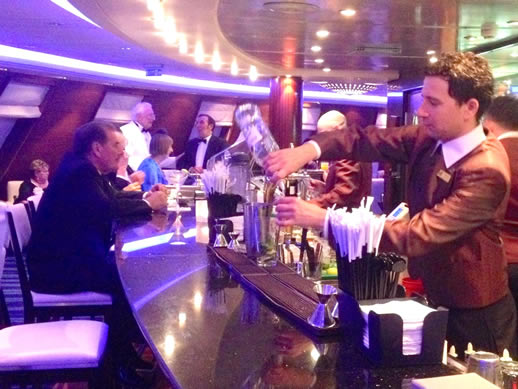 8.30pm – Dinner in Britannia Restaurant. There are two seatings for dinner eat at 6pm or 8.30pm. I feasted on coconut crusted prawns, a huge fillet of cod and chocolate cake followed by a cheeky Irish coffee to power some dance moves later on. The food is good and the service fantastic.
9pm –  They run a tight ship in the Britania Restaurant but, soon after our  main course, we noticed the ship had set sail so we rushed up on deck to take photos of the Sydney Opera House by night (you can see them in my first Queen Mary 2 post) and wave goodbye to the bright lights of Sydney.
10.30pm – The DJ at the G32 Night Club was playing an eclectic mix of tracks ranging from Lady Gaga to the Village People to some Country and Western songs I couldn't recognize. None-the-less the dance floor was crowded, but not so packed that we couldn't bust out our best moves. I can't remember the last time I went to a night club but tonight was fun.
Midnight – 6.30am – Sleepy time. Catch some zzzzzzzs in our comfy king-size bed.
6.30am – Sunrise over the sea. Being an early bird and an excited cruise virgin I got up to enjoy the serenity and take a  sunrise photo from our private balcony. I could see a few other guests up and about but Rich kept his head firmly under the pillow.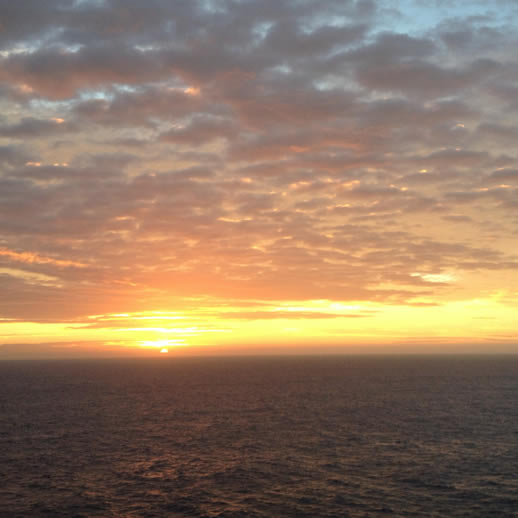 8am – Room service. Breakfast in bed is always my favorite travel treat. I went for the healthy option of fruit and muesli but thankfully Rich let me try some of his bacon.
9am – Stretch class in the Queens Room. I joined 18 ladies and a couple of gents for a surprisingly arduous stretch class led by a German fitness instructor. It's amazing how hard it can be to just hold one position for 30 seconds.
I loved being able to do an exercise class that was only thirty minutes long because it made me feel healthy and left more time for other things.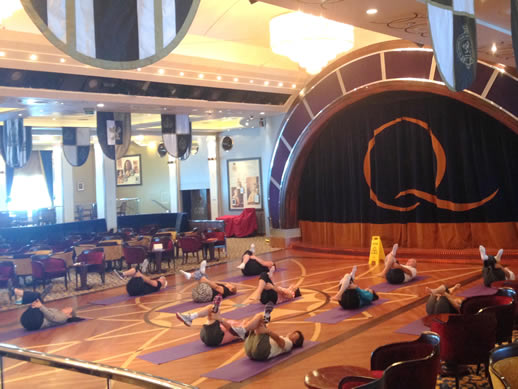 9,30am – Spa time. The 20,000-square-foot Canyon Ranch SpaClub is the largest spa afloat. The SpaClub features an Aqua Therapy Centre with a full range of rejuvenating aqua-thermal environments including:
Thalassotherapy pool with airbed recliner lounges;
Neck fountains;
Deluge waterfall;
Air tub and body massage jet benches;
Whirlpool;
Thermal Suite with herbal and Finnish saunas;
Aromatic steam room.
It's bliss! You can give yourself a full body massage on the body jet benches and by positioning yourself creatively under the waterfalls which pounds your neck, shoulders, scalp and back.
You can buy a one day or multiple day spa pass from $40 and it's well worth it.
11.00am – Gallery tour – Executive chef Nicholas Oldroyd has 163 chefs working under him and runs a tight ship, serving 1,200 people in an hour twice each evening in the Britannia Restaurant. Every chef has a special job like making sponge, preparing potatoes or adding a drizzle, dash or pool of the 60-80 liters of sauces that are made every day, to the plated food.
I find serving a family dinner for five once a day tricky but Nicholas and his team seemed relaxed and happy. Many of the chefs have been with Cunard 2o years and Nicholas has been on the Queen Mary 2 for 10 years and he still loves it.
Nicholas focuses on choosing and using the best local produce from wherever the Queen Mary 2 is and featuring it on the menu to give guests a taste of the place they're cruising through. The Britannia Restaurant can cater for any special dietary requirements and they also offer Canyon Ranch Spa options for people who want to make sure they eat healthy during their cruise and avoid coming home several kilos heavier. It's a great idea although I didn't attempt it. 
The galley tour was organised specially for our press trip and left me with total respect for the entire culinary team.
12pm – Lunch at the Britannia Restaurant. After seeing behind the scenes and finding out  how it all works we wanted to try the food again. The other people on our table ate moderate lunches but in the name of research Rich and I polished off another three course meal including, for me, seafood mousse with smoked salmon, crepes forestier (those spinach pancakes were good but I still I wished I'd ordered the seafood vol-au-vent like Rich) followed by a plum crumble which was advertised as low sugar and tasted nice and tart.
The staff and service are amazing in the restaurant and everywhere we go on the Queen Mary 2.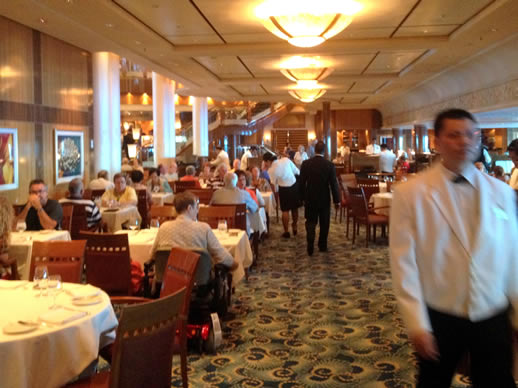 1.00pm – Visit the Champagne Bar to see what we missed there and make a note to come back for a champagne, caviar and smoked salmon tasting another time. Go back on deck to see what the other guests are up to. There are people around but plenty of loungers free by the pools. It's quiet on board which means it must be nap time.
Click here to continue reading – there's more fun and photos in Part 2.
I was a guest of Cunard Cruise Line. The Queen Mary 2 gets around too but you can check out her cruises here. If you're in Australia or New Zealand and you've left it too late to book a Queen Mary 2 cruise this year then fear not, she'll be back down under in 2015.
Subscribe now – its 100% Free!
Stay tuned to Get In the Hot Spot for a weekly injection of tops to help you be more adventurous, have more fun and feel fabulous. Click here now for free updates.
Share This Story, Choose Your Platform!