10 Things to Do In and Around Honiara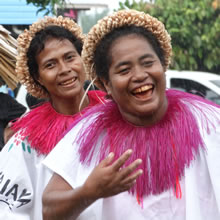 When you visit the Solomon Islands you'll probably arrive in the capital of Honiara. The city isn't a tourist attraction in itself, but there are some amazing things to do in and around Honiara if you have time to spare before you head off to the outer islands, hop on a dive boat or continue your travels elsewhere.
DAY TRIPS 
1. World War 2 Tour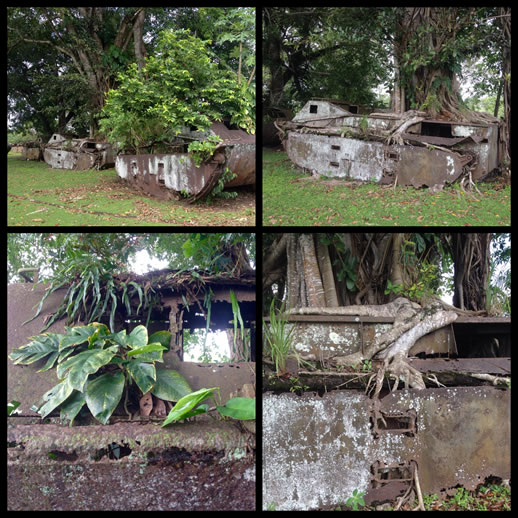 A World War 2 tour around Honiara awakened an interest in World War 2 and history that I didn't have before. You'll visit both the Japanese and American war memorials as well as the sites of bloody battles and unmarked graves. We even met the grandson of a local war hero at Tetere Beach War Museum. Find out more about a World War 2 tour.
2. Savo Island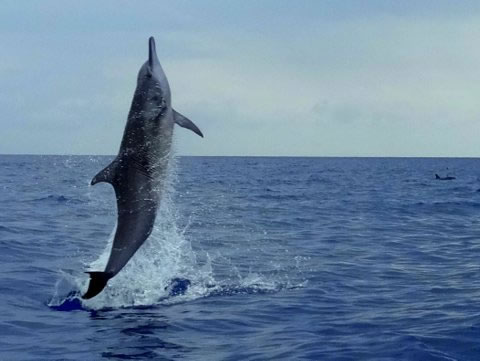 Savo Island is a wonderful escape from the grit and bustle of Honiara. It's a full day trip but you'll have the chance to climb a volcano, snorkel with tropical fish and see the acrobatic dolphins. If you want to catch the megapodes birds laying their eggs in the early morning you'll need to organise an overnight trip. Find out more in Day Trip to Savo Island in the Solomons.
3. Tenaru Waterfall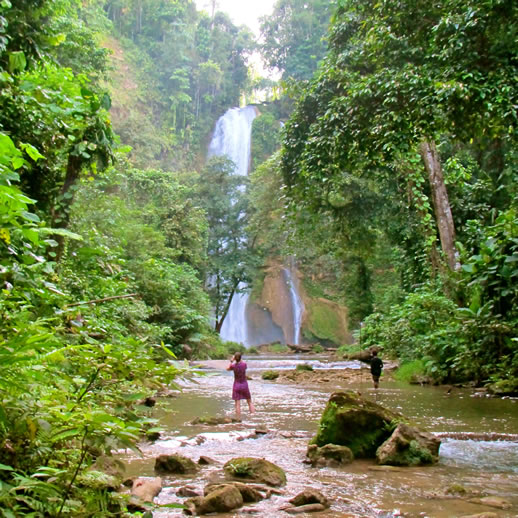 Crashing 60 meters over a cliff, Tenaru Falls are reputed to be the best waterfall in the South Pacific. It's a long, hard trek to get there down a steep, slippery jungle path and definitely not for the faint-hearted, but if you're a fit, adventure seeker Teraru Waterfall is well worth the trip.
The roar of the water and the power of the wind it creates is humbling, and you can cool off with a swim in the waterhole below the falls before getting all hot and sweaty again as you hike back up the lodge.
HALF DAY TRIPS
4. Melanesian cultural village visit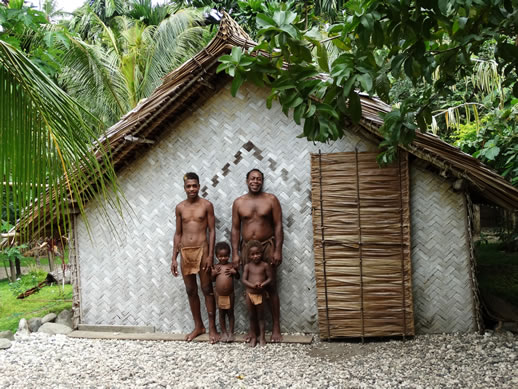 The majority of the population in the Solomon Islands are of Melanisian descent. You can visit a the Melanesian cultural village about a 30 minute drive north of Honiara to find out about traditional living including cooking and hut-making demonstrations.
5. Polynesian cultural village visit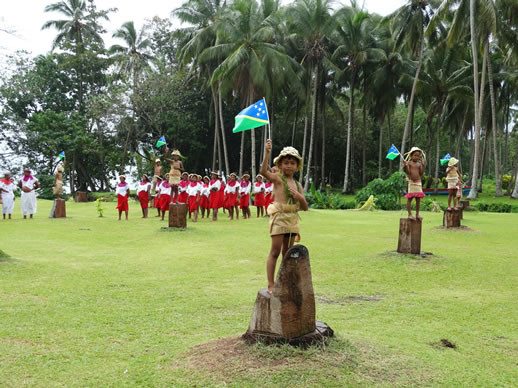 The minority of Solomon Islanders are of Polynesian descent with a unique culture and traditions. We visited Sikaiana Village on the beach about a 45 minute drive south of Honiara where we were treated to song and dance, cooking demonstrations, coconut tree climbing and a feast of tradtionally cooked fish and root vegetables.
6. Snorkel (or Dive) World War 2 Wrecks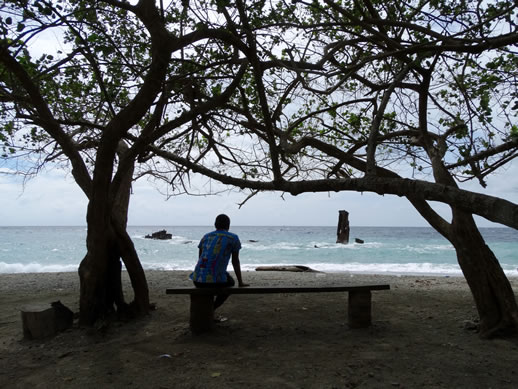 Just 30 minutes outside Honiara at Mbonege Beach you can snorkel over the wreck of two ships that sunk during World War 2. It's both meserising and sad to see the colorful tropical fish weave their way in and out of the rusty portholes, at once capturing the folly of man and the resilience and beauty of nature. Hire a snorkel and mask at Tulagi Dive Center or join one of their dive trips.
THINGS TO DO IN HONIARA
7. National Museum
Honiara's museum consists of one room with small but interesting displays and photographs about traditional dance, body decoration, currency, weaponry, and archaeology. You can also learn about the role of local coastwatchers during WWII and the missionary influence on the Solomon Islands.
8. Shopping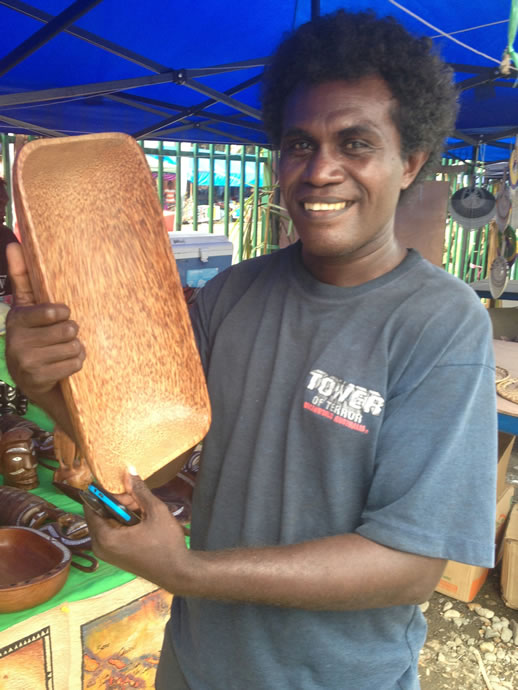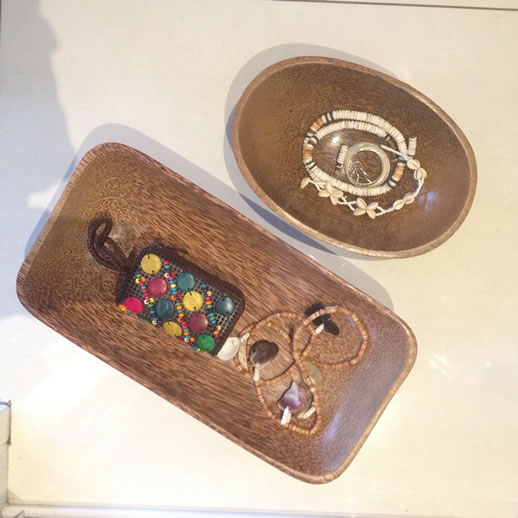 You can visit the local food markets which make a great photo walk, or shop for souvenirs and gifts at the tourist stalls outside the Heritage Park Hotel. The sellers will reduce their prices, so feel free to negotiate if you feel something is over-priced. I love the coconut bowls, woven bags and shell jewellery.
9. Free WiFi and Fabulous Curries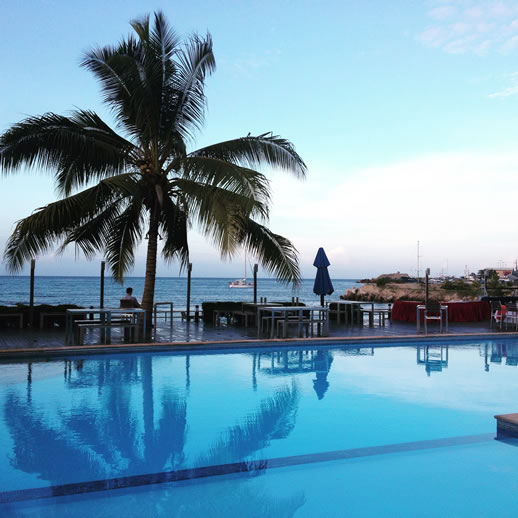 Heritage Park Hotel has good WiFi and excellent curries cooked by a Sri Lankan chef. The lobster curry is amazing, and every Wednesday evening there's an excellent Indian buffet with a big range of delicious curries and side-dishes.
Heritage Park Hotel also serves excellent cakes and/or cocktails which you can enjoy in the restaurant or by the pool. So if you want to catch up with work or share some holiday photos on Facebook this is a great place to hang out.
10. Meet Expats and eat well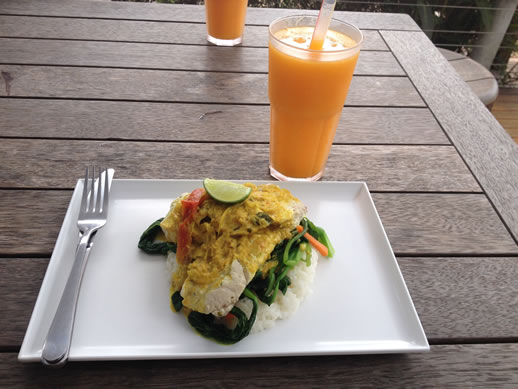 The local expats are a brilliant source of travel information in the Solomon Islands. They're always looking for fun things to do in and around Honiara so they'll be able to give you inside information on what to do and where to go. If you want to meet some local expats the Yacht Club, the Lime Lounge Cafe or Breakwater Cafe are popular expat hangouts.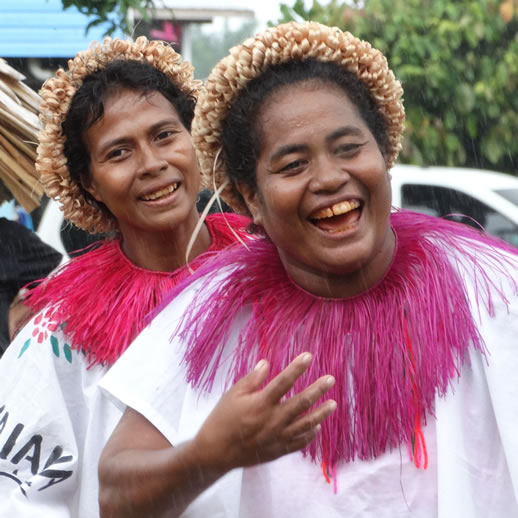 Have you got any ideas about things to do in Honiara?
LOOKING FOR MORE SOLOMON ISLAND TRAVEL TIPS?
I was a guest of the Solomon Islands Visitors Bureau during my visit. See the SIVB website for photos, travel information or to plan your trip, including any of the ideas mentioned above. Read more here:
Seeking Travel Inspiration?
Stay tuned for more travel stories, ideas and inspiration. Get free email updates from Get In the Hot Spot – a weekly injection of tips to help you be more adventurous and have more fun. Click here now for free updates.
Share This Story, Choose Your Platform!