The Solomon Islands: 10 Things You Should Know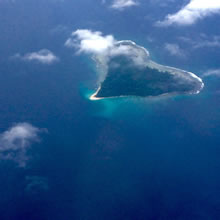 You've probably heard of the Solomon Islands but might not be sure what they're like, who lives there or even where they are.
So before sharing travel stories from my recent Solomon Islands trip, here's some background information.
1. English is the official language
English is the official language of the Solomon Islands, but not everyone speaks English. The lingua franca is Pijin English. Apart from our common official language, life in the Solomons and life in most other English-speaking countries couldn't be more different. This is very much a developing country.
Still, finding that many people speak English makes it easy to travel in the Solomons, chat with locals and learn about their customs and culture.
2. They're in the Pacific Islands
The Solomon Islands are scattered between Papua New Guinea and Vanuatu so many of the preconceptions you may have about the Pacific Islands, including laid back, friendly people living near sandy beaches backed by coconut palms and lapped by turquoise waters, are true.
3. Over 900 islands
The Solomon Islands include six major Pacific islands and over 900 smaller islands. So if you like island life and a slower pace of life you'll love the Solomon Islands.
4. Culturally rich and unique
The people of the Solomon Islands are predomonantly Melanesians with dark skin, but the Solomons are also home to a minority of Polynesian and Micronesian groups with fairer skin. Each of these groups is rightly proud of their own traditional culture and striving to maintain it, both to pass on to the younger generation and to share with and entertain tourists.
5. Only two and a half hours from Brisbane
Although the Solomon Islands worlds are away from Australia cuturally, they're only a two and a half hour flight from Brisbane in Queensland. So you don't have to endure a long distance flight to get there and will be quickly immersed in another culture and climate.
6. The capital is Honiara
The Solomon Island's capital, Honiara with a population of about 60,000 people, is located on Guadalcanal Island. Honiara gets a lot of bad press because, like most cities in other developing countries, the roads are bad and there's not much to hold tourists after their arrival at the international airport.
However, there are still some great opportunities to enjoy the marine life, birds, waterfalls and cultural villages within easy shooting distance of Honiara.
7. Seafood galore
Tuna, snapper and lobster are all caught locally in the Solomon Islands and most commonly cooked Western style, island style in coconut milk or Indian style in a curry. It's simple, fresh, tasty food.
I stayed at the Heritage Park Hotel in Honiara where the Sri Lankan chef made amazing curries including my favourite lobster curry.
Outside the capital the food is generally basic so foodies beware.
8. World War II history
The Solomon Islands played a major part in World War II, in particular the 1942 battle of Guadalcanal against Japanese troops.
John F. Kennedy is easily the most famous American soldier who was stationed here and, after being shipwrecked on a tiny atoll, now called Kennedy Island, was lucky to survive.
Many other soldiers were less fortunate; 1,592 American troops were killed in action in the Solomon Islands with 4,183 wounded and thousands more suffering from tropical diseases like malaria. However, the Japanese suffered most, losing 118,700 soldiers in battle or from disease, while about 1,000 Japanese fighters were taken prisoner.
By February 9, 1943, the U.S. troops had taken control of the main island of Guadalcanal, helping to turn back the Japanese drive toward Australia and secure a base from which to launch attacks against the Japanese in the South Pacific.
The Solomon Islands are home to relics, museums and memorials, with specialised World War II tours attracting thousands of visitors to the islands.
9. Scuba diving and snorkelling mecca
The tropical waters surrounding the Solomon Islands are home to a myriad of colorful fish. The ocean fronting Honiara is known as Iron Bottom Sound because of the huge number of sunken World War II ships, aircraft carriers and planes wrecks which create a unique diving or snorkelling experience.
10. Adventure destination
While many popular travel destinations feel like tourist traps these days, the Solomon Islands remain a little known secret. They attract true adventure travellers who want to get off the beaten track and explore the thick jungles, cascading waterfalls, clear oceans and cultural villages or hear stories about the World War II battles that were fought here and see the evidence.
The Solomon Islands is a developing country, so outside Honiara food and accommodation tends to be simple. Poverty remains a big problem in the Solomon Islands and it can be confronting to see but there are no beggers and no one will bother you; the people are generally shy, respectful and friendly.
I was a guest of the Solomon Islands Visitors Bureau during my visit. See their website for  photos, travel information or to plan your trip. 
Want to find out more about the Solomon Islands?
Stay tuned for more travel stories, ideas and inspiration. Get free email updates from Get In the Hot Spot – a weekly injection of tips to help you be more adventurous and have more fun. Sounds good? Click here now for free updates.
Share This Story, Choose Your Platform!