The Year That Was: 2011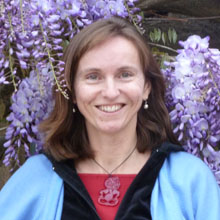 Do you often wish you could get more done? Or feel that time is being wasted?
I can never decide if I'm an under-achiever or an over-achiever which probably means I'm stuck in the middle somewhere.
But here's what I actually did in 2011 as opposed to what I wrote.
1. Set up my new blog Successful Blogging.
2. Joined Toastmasters to practice and overcome my fear of public speaking. I spoke at workshops, business groups and conferences including the prestigious Walkleys Media Conference and to over 200 people at the Sunshine Coast Creative Collective.
3. Broke my toe. I really wish I'd broken it falling off a bar while dancing but sadly I just stubbed it on the sofa exceedingly hard. Ouch. I was limping for weeks.
4. Went to England to revisit my family, see Stonehenge and feast my eyes on the beautiful spring flowers including the purple wisteria vines that clung to so many old buildings.
5. Got paid to have a massage. By my local tourism board Sunshine Coast Destination Limited which was a lovely job.
6. Learnt how to make a podcast with much needed help from the Podcast Guy.
7. Ate black squid ink risotto for the first time and loved it.
8. Wrote my first sponsored blog post for InsureandGo.
9. Spotted a wild koala walking along the ground which was exciting. Normally they're up a gum tree not doing much but this fine specimen was lolloping along the ground.
10. Moved house – only about 200 meters to the next road but it was still extremely time-consuming and rather painful. We're here now though and we have a much bigger house with five bedrooms, an office for the Mucho Man and two spare rooms!
11. Hung out in Melbourne and stayed in a luxury hotel before, during and after a blogging conference.
12. Became the mother of a teenager. Not a teenaged mum. My oldest son turned 13.
13. Cried because all my children got such good school reports.
14. Splashed out on a pair of J Brand skinny jeans. I'm not much of a fashionista but I had to have a pair of these in cobalt blue. Love them.
15. Improved my writing and focus by practicing them daily. Still lots of room for improvement but I'm working on it.
16. Picked up hitchhikers at night even though I know I shouldn't and I'm never going to do it again.
17. Slept under canvas on our camping holiday.
18. Drank 1,780 cups of chai. That's a rough estimate but it's probably about right. Call it five cups a day. I rarely drink water. Just decaffeinated chai. I'm a bit of a hippy like that.
19. Experimented with writing techniques, styles and tones.
20. Played cards with my kids and poker with my friends.
21. Transformed myself into a giant blue jelly fish on halloween.
22. Read a lot of fiction, personal development, ebooks and of course blog posts.
23. Took my son busking. He plays the guitar. You have to get a busking  license and if it's for a child a parent has to supervise. I try to hide behind a tree.
24. Felt mortal and sad as more friends battled cancer or were diagnosed with it for the first time.
25. Forgave myself for being imperfect and impatient.
How about you? What did you eat, do, experience or learn in 2011? Leave a one word answer in the comments or write a whole blog post about it. I'll be reading.

Share This Story, Choose Your Platform!