Tenaru Falls: a Solomon Islands Adventure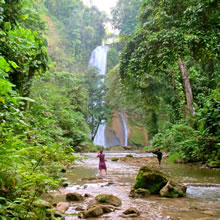 Why are waterfalls so appealing? Is it the sheer power of the water cascading over a cliff edge? The torrential noise of gallons of falling water? The feel of a fresh water mist on your skin? Maybe it's the combination of these that make waterfalls one of the most mesmerising sights nature has to offer.
No matter where I am, or why I'm there, if there's a waterfall in the vicinity I want to visit it. If I've got a spare day somewhere new, I'll almost certainly check out if there's a waterfall worth visiting. Forget shopping or museums. Waterfalls  are my thing.
So when I discovered that Tenaru Falls, just outside Honiara, is reputed to be the best waterfall in the South Pacific, naturally I wanted to go there pretty badly. The kind people at the Solomon Islands Visitor Information Bureau did their best to disuade me, with hair-raising tales of a steep, muddy and very slippery jungle trek.
A friendly expat told me she slithered the whole way there on her bottom because, since the path was so treacherous, it was the safest method. But once I set my tiny little mind on something I'm not easily dissuaded.
So one afternoon, after another sensational lobster curry at the Heritage Park Hotel in Honiara, we set off for the hills on a mission to see Tenaru Falls. After weaving our way through the pot-holed streets of Honiara, we were excited to leave the city behind and head off  into the lush green rural areas of Guadacanal.
As we left the bitumen and began our ascent up steep muddy roads, we began to realise why you need a 4WD vehicle for the trip. The roads were rough but the views were sweet.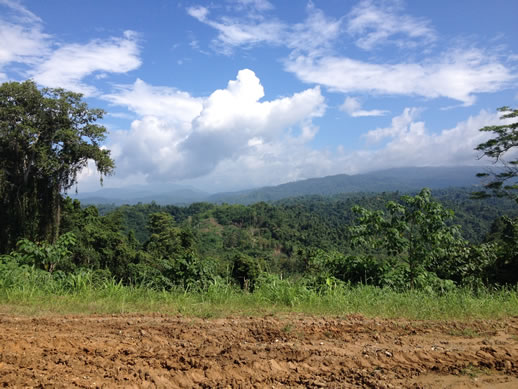 After driving through the jungle we were suprised to stop at Piringiju Mountain Lodge, a new lodge built from beautifully woven natural materials, with wide views across the hills all the way to the coast.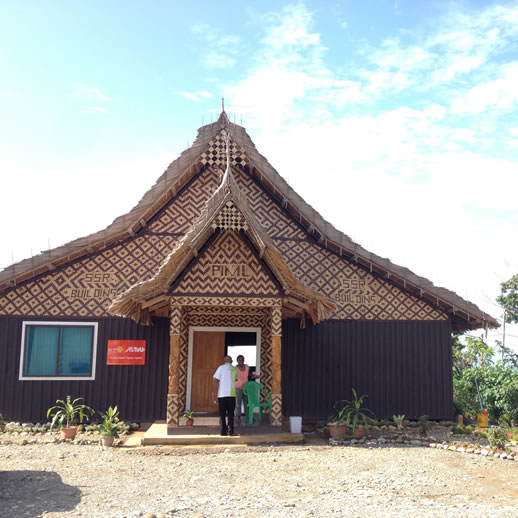 You can eat, drink or sleep at the lodge, but we were on a mission to see the waterfall, and were soon joined by a young man called Godwin who would guide us to the falls.
Everything I'd heard about the slippery, muddy jungle path was true. We skidded, skated and sidled down the track in the most inept manner while barefooted Godwin moved nimbly ahead, gallantly turning back to take our hand and help us navigate particularly treacherous stretches.
The trek to Tenaru Falls is not for the faint-hearted; you need to have a reasonable level of fitness, good knees and a can-do attitude. Sturdy hiking boots would be ideal and a proper hiking stick would be a godsend.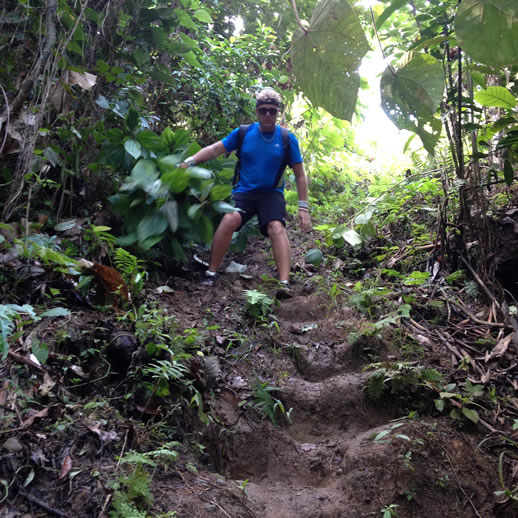 I managed reasonably well in my trusty Chaco sport sandals, but my fellow travel-writing adventurer, Tim Roxborogh, struggled in trainers. (Sidenote: Chacos are perfect for a hike like this because you can wear them to walk right through rivers and they're quick and easy to dry out when you get back to civilisation.)
Godwin was a man of few words, yet he instilled confidence in us. As we continued along the path we heard a dry, throaty noise, a cross between a bark and a cough which Godwin said was a hornbill. Sadly we couldn't spot the bird in the thick jungle.
After 30 minutes of sweating profusely, as we slithered downhill, we emerged on a riverbed which we followed for another 30 minutes to the waterfall.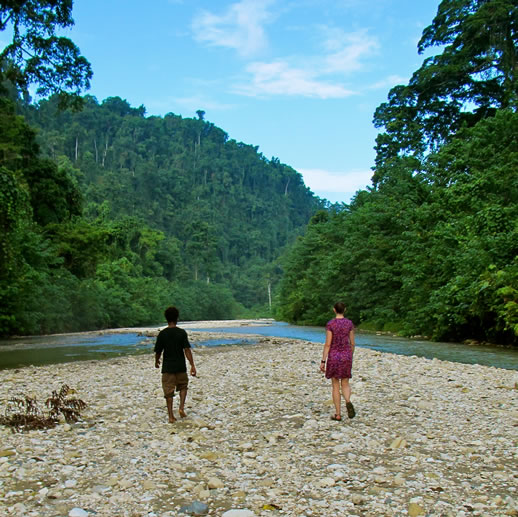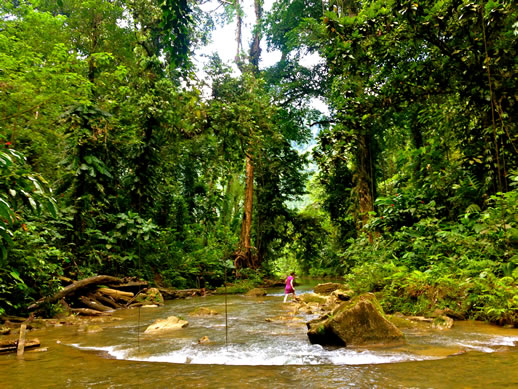 Tenaru Falls cascades 60 meters over a cliff face creating a steady wind which relentlessly buffets the folliage around it. The sound of rushing water, and feel of the cool air blowing against our skin, intensifed the closer we got to the water.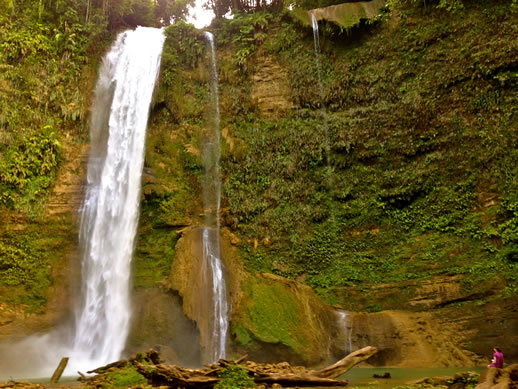 After taking a thousand photos, none of which did justice to the spectacle, we peeled off our filthy clothes and dipped our tired bodies into the pool. Meanwhile Godwin, our jungle guide turned sat on a nearby rock, looking utterly peaceful and meditative, like a Pacific Island Siddharta.
Although gravity goes against you on the hike back up to Piringiju Mountain Lodge from Tenaru Falls, it's easier on the knees with less likelihood of a momentous slip leaving you covered in mud.
Back at Piringiju Mountain Lodge we had time to admire the epic view once last time, and thank Godwin for his guidance before heading back to the city.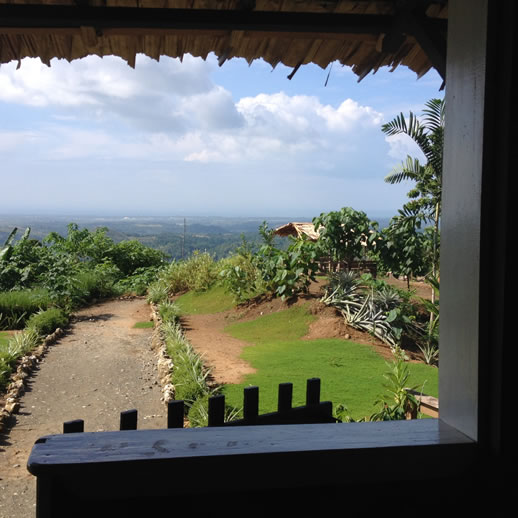 This would be our last night in Honiara but we'd leave with that sense of fulfillment that comes from an adventure realised. Mission accomplished!
We were glad we didn't let a little bit of mud and 60 minutes of sweaty jungle trekking hold us back from experiencing the wonders of Tenaru Falls.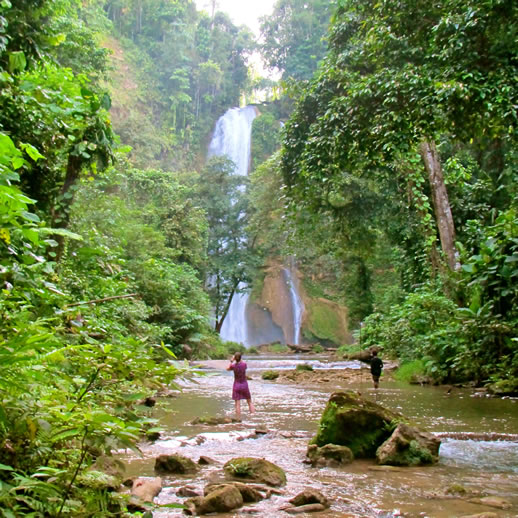 Solomon Islands and Tenaru Falls Travel Notes
I was a guest of the Solomon Islands Visitors Bureau during my visit. See the SIVB website for travel information or to plan your trip including a visit to Tenaru Falls. Trips to the falls can be organised through the SIVB.
Allow six hours for the trip from Honiara to Tenaru Falls so  you have plenty of time to swim and enjoy the waterfall when you get there.
Other Solomon Islands Travel Stories and Photos
Want More Travel Inspiration?
Stay tuned for more travel stories, ideas and inspiration. Get free email updates from Get In the Hot Spot – a weekly injection of tips to help you be more adventurous and have more fun. Click here now for free updates.
Photo credit: Tim Roxborogh for the our photos that include me in my red Kathmandu dress. All other photos taken by me.
Share This Story, Choose Your Platform!