3 Unmissable Storytelling Tips to Captivate Your Readers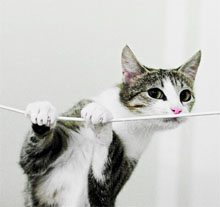 Guest post by Hari Kotrotsios
"Can you make up a story?" my friend's kids asked me many years ago.
"Oh, okay, how about: the three bears were walking through the forest when…"
"Can we go and play?"
"But I'm telling you a story."
"That's boring!"
The kids didn't want a dry narrative. They wanted vibrant action and a wild imagination. They wanted to see, hear, smell and feel the story. So do adults, whether they're reading a blog or listening to a presentation.
As a newspaper journalist my writing was black and white – and apparently, so was my storytelling. Every week I was challenged to come up with a new chapter, wild characters and incredible plots. Our story became interactive and the kids helped define the characters and events.
While the verbal storytelling improved my presentation techniques, my newly-developed imagination also affected my writing style:
I incorporated imagery.
I added dialogue.
I simplified the narrative.
I added more action.
Make storytelling personal
Darren LaCroix, the 2001 World Champion of Public Speaking, says we use stories to make our point (or lessons) more memorable. People learn from stories, which are more powerful than statistics, lists or graphs.
When your stories show what you have experienced, learned or achieved, the reader can discover the point/lesson for themselves.
Sharing your experiences allows the reader to connect with you, and they can make their own judgment or informed choice about an issue or idea.
3 storytelling mistakes and tips on how to avoid making them
Wordiness/repetition. Long-winded descriptions and minute details are not necessary. Be specific.
Stating the obvious. Let your story tell the message. The reader can usually figure it out themselves. Give them an "ah-ha" moment.
Reader participation. When you tell a story in narrative format, it doesn't involve the reader. It's like speaking at them. They want to see the action, hear the dialogue, and feel the emotions.
Telling: Dinner was a failure.
Showing: I shifted my gaze from the stained cutlery strewn across the bench top to the red liquid oozing out of the blackened pot. A pungent, smoky aroma hovered in the kitchen. "I'll go order pizza," John grinned, walking out of the kitchen.
3 storytelling tips which show what you mean
Storytelling Tip 1
Use active voice. Active voice conveys a stronger sense of action and is a more direct way of storytelling. It helps keep the action fresh and fast-paced.
Passive: Too many repetitive words should not be used in a sentence.
Active: Don't use too many repetitive words in a sentence.
Storytelling Tip 2
Use word pictures. Add details to describe a scene. For example, when talking about your favourite place to someone who's never been there, you'll want to bring out the colours, smells and sounds.
Telling: There was thunder outside.
Showing: Thunder roared like a freight train.
Storytelling Tip 3
Describe emotions. How do you know when someone is angry/sad/tired/bored? You can show this by describing their facial and body expressions, or by the sound of their voice.
Telling: She cried.
Showing: She bit her lip as her eyes welled with tears. She blinked furiously but couldn't stop the tears streaming down her face.
Describing actions and emotions allows the reader to experience them too. By engaging their senses, you draw the reader into the story and take them on a journey which entertains, educates, motivates or inspires them.
"What chapter are we up to now?' the kids asked as we snuggled in bed three years later.
"I think it's chapter 43."
"Lucky mum and dad have gone out tonight," they giggled, "We can be as loud as we want and won't get into trouble!"
Which stories captivate you? Got more storytelling tips to share?
Hari Kotrotsios is a writer and journalist, based in Coolum Beach, Queensland, Australia. She can be contacted via her blog The Goldilocks Trilogy.
Image credit: A Young Woman Reading by Gustave Courbet
Share This Story, Choose Your Platform!