5 Things to Look for When Renting an Apartment Online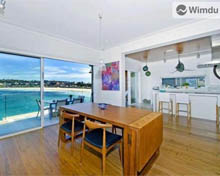 Can you imagine waking up in Paris in your own apartment? Sending your husband (or wife!) down to the local patisserie store to pick up fresh croissants, then enjoying them together on the balcony as you look down over the city?
Renting a city apartment seems to be a popular travel dream, with Paris everyone's favourite destination.
After writing about the top 10 cities for travelers to rent an apartment for the booking site Wimdu I was amazed by the enthusiasm surrounding renting a house or apartment with so many people leaving positive comments about their experiences like Jenny who said:
"I'm convinced apartment living is the way to go. It also means you can stay longer in a city and really get to know it."
Leanne, another reader and fellow travel blogger, also enjoys the space, convenience and lower costs of renting an apartment for families and explained:
"now that we travel with our kids, renting our own apartment versus staying in a hotel (where we need two rooms) makes so much more sense for us, both space and cost wise. Plus we're in a neighbourhood, shopping at markets, dropping into cafes – love it!"
You don't have to convince me of the joys of renting an apartment though, I'm right into it, having lived in rental homes in Costa Rica and Australia for over five years now so I'm happy to share another Wimdu inspired post
The best thing is it's never been easier to rent an apartment overseas than it is now. There are a smorgasbord of dedicated apartment rental sites around with thousands of apartments to choose from, including fresh new upstart Wimdu as well as old suspects like Craig's List, but it's always a case of buyer beware.
We mostly hear about happy holiday makers and their apartment rentals but there's the odd horror story too and we can learn for that.
Take the strange case of my fabulous style blogging friend Nikki Parkinson who just got back from New York where she rented an apartment online. The apartment was great but the excitement of being in New York was tarnished just a tad when she opened the apartment door one afternoon to find a debt collector delivering court papers for unpaid rent.
This interruption was swiftly followed up by a visit from the building superintendent who told Nikki that a court-martial would be around in a day or two to seize the property.
Not fun. Of course Nikki did the sensible thing which was pack her bags, find somewhere else to stay and leave immediately.
Hopefully the three nights she paid for and her security deposit will be reimbursed but it's just not what you want to happen when you're on holiday in a strange country.
So how can you make sure your apartment rental experience is dreamy?
What to Look for When Renting an Apartment Online
1. Talk to the owners
This is especially important if you're renting an apartment from a private advertisement but highly recommended even if you're using an apartment rental booking site. Wimdu allows you to direct message with the owners so you can find out more about the apartment and availability but I'd speak to the owners on Skype too to make sure they are genuine.
Traditionally we think the apartment renters wear the risk of hosting dodgy tenants but there are a few dodgy landlords out there. Most people will be happy to talk to you and if they're not you should wonder why.
2. Inspect every property
You probably won't be able to do this yourself but you might have a local friend who will be kind enough to go round and check out the  property. Even a quick drive by can give them an idea of the neighbourhood and neighbours.
One thing that makes Wimdu stand out from most other apartment booking sites is that all the accommodation on Wimdu has been checked out by them. You can also read feedback from other guests who've stayed there before.
3. Get insurance
Just in case something does go horribly wrong make sure you have insurance. No one ever plans to set fire to the kitchen, flood the bathroom or spill a glass of red wine on the cream carpet but accidents happen. Especially if you have kids in tow or if you are chronically accident prone like me.
Wimdu insures all guests against damages for up to €500,000 free of charge.
4. Use a safe payment system
You nearly always have to pay a deposit in advance when you're renting an apartment but you can avoid being ripped off by making sure you really know who you're paying.
Speaking to the owners will help but Wimdu also has a safe payment system where they hold onto your payment and it is only transferred to the owners 24 hours after check in.
5. Trust your instincts
If anything seems strange or suspicious, like when the listing address isn't the same as the apartment address and warning bells ring then pull out and do contact the site to let them know your concerns.
There are plenty of apartments to rent all over the world  – on Wimdu alone you can choose anything from a stylish safari tent in the bush in Australia if you're into glamping, to a luxury Sydney penthouse – so keep searching until you find the right place and are confident everything is above-board.
It's obvious why renting an apartment when you travel is becoming more and more popular and, while there are a few horror stories around, you won't come home with a horror story if you  follow these tips.
Instead, you'll be boring your friends with stories about those flaky croissants, and browsing the Internet as you start dreaming about and planning your next apartment rental holiday.
Have you got any tips about renting apartments or houses? We'd love to hear your experiences, both good and bad. 
Share This Story, Choose Your Platform!