Top 10 Cities for Travelers to Rent an Apartment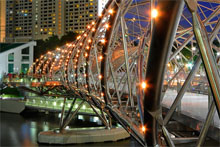 Would you prefer to live like a local next time you're on a city break?
Big anonymous hotels cater to tourist and business travellers, sealing you off from city life. Sometimes that can be a good thing if that's what you feel like doing, but if you want to really get to know a place and experience the true city lifestyle when you travel then the best thing to do is rent yourself an apartment.
Sure you'll want to visit the main attractions and see the famous city landmarks but now you can also get to know your local area and live like a local. Best of all, with a whole apartment to yourself, you'll be able to spread out, prepare your own meals and share with friends if you wish.
1. London
Even though the weather can be dodgy London's hotter than ever thanks to the resounding success of the 2012 Olympics. Having been raised in England and lived in London several times I only really appreciated it until I left the UK and returned for visits.
London is a true multi-cultural hub, stuffed with everyone from the upper-crust to the ultra-cool, all rubbing shoulders amidst incredible architecture and ancient culture.
Every area of London has a distinct feel to it and a unique vibe. My favourite hang outs in London are Notting Hill for shopping and night life, the King's Road for art galleries and Greenwich for its park, views and second hand shops.
2. Paris
I love Paris, and not just in the springtime. When I lived in Paris we rented an apartment in the Marais area, home to the Picasso museum and a popular gay hangout. Sandwiched in between Bastille and the Pompidou Center it was an easy walk to Sunday markets, the River Seine and even Notre Dame Cathedral.
If you rent an apartment in Paris you'll be able to pick up fresh bread, croissants and patisserie from your local bakery and enjoy them on your apartment balcony while you watch the Parisians walking their doggies on the pavement below.
I  love that you can walk everywhere in Paris because the centre is so small. Just watch where you put your feet.
3. Sydney
Sydney's harbour and gorgeous beaches make it a unique city to travel to. Here you can enjoy the cultural attractions, diverse food and fabulous shopping of a city along with Australia's beach culture.
Great areas to stay include Manly or Bondi, if you want to be near the beach, Newtown, close to buzzing King street with its many restaurants and cafes, and Surry Hills for arty vibrance.
4. Seoul
I can't believe how many travel writers have told me South Korea is their favourite travel destinations. Having never been it's definitely on my bucket list now with Seoul top of my South Korean travel list.
I love the idea of staying in an apartment in Seoul or renting a room from locals who can really give me the  low down on where to go, what to eat and how to get around.
New social travel networks like Wimdu make that a real possibility by connecting travelers with people who want to rent out their spare room, apartment or a house. I'm already looking forward to wandering the streets of Bukchon Hanok Village, enjoying the Secret Garden of Changdeokgung and slurping a big bowl of noodles.
5. Los Angeles
Los Angeles is on everyone's radar with so much to do including theme parks like Disneyland to keep the kids happy as well as Universal Studios and Hollywood.
Venice Beach or Santa Monica are the perfect place to stay and hang out with the locals. Rent an apartment, rent a car, (make sure it has  a GPS – you'll need it) and go la la in La La Land.
6. New York
Has Los Angeles surpassed New York as a the USA's prime travel destination? Maybe but I still prefer New York for its edgy people and iconic buildings. New York is perfect for walking because it's easy to find your way round and there are endless places to people watch.
Don't miss Central Park, a boat trip to see the Statue of Liberty and Washington Square which has arguably the best people watching opportunities in the world.
7. Singapore
Singapore is a great introduction to Asia and the best place to break a long journey from Europe to Australasia. The public transport is great as is the food, the culture and the architecture – that's Singapore's newest landmark, the Helix Bridge pictured up top.
With everything from Little India and Little China to an amazing zoo and the tropical resort feel of Sentosa Island, Singapore is a great place to rent an apartment and hang out for a little while.
8. Madrid
When you visit Madrid you'll want to hang out with the locals and adjust the way you eat and sleep. Get used to having a long siesta after lunch, eating well after your usual bed time and to staying up until your normal wake up time.
The great thing about having your own apartment is you can come and go as you please or share it with friends who'll make your travel experience even more fun.
9. Melbourne
Melbourne gets over-looked in the rush to visit Sydney but it's the best place to experience city life in Australia. Melbourne has a distinct vibe and a unique gritty feel where you can soak up the cafe culture, ride the trams and enjoy the street art. I'm about to go on my third visit in three years and am looking forward to uncovering more of Melbournes' secrets.
10. Rio de Janeiro
The capital of Brazil has stunning scenery, gorgeous people and world famous beaches including Copacabana and Ipanema. While the rest of Brazil will beckon you'll want to stay a while in Rio to get a feel for the culture, meet people and see the sights including the statue of Christ the Redeemer who'll welcome you with arms flung wide.
Whether you want to hike, surf, sail, dance, drink or just people watch Rio de Janeiro won't disappoint.
With so many great cities to visit the big questions are where to go first and how soon can you leave on your next city break?
What are your favourite cities to travel to? Have you ever rented an apartment there?
This blog post was published on behalf of Wimdu. Check them out if you'd like to live like a local and rent an apartment next time you're on a city getaway. There are heaps of apartments to choose from to suit travelers or all budgets in cities all over the world.
Share This Story, Choose Your Platform!