History and Culture in Warsaw, Poland: Local Travel Tips by Agness Walewinder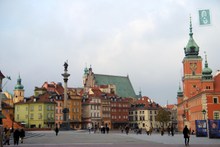 Looking for travel tips and things to see and do in Warsaw, the capital of Poland?
I haven't visited Warsaw or Poland so I asked Agness Walewinder who's a local, to be our Warsaw guide as part of our World's Best Travel Destinations series.
Here Agness answers all your questions and spills the beans on the very best things to see and do in Warsaw, including where to shop, what to eat and how to get the most of your trip to Poland.
So tell me Agness, what's the low down on Warsaw?
Not many world travellers are familiar with Warsaw – the capital city of Poland. It is a real shame because it is considered one of the most beautiful cities in Europe – simple but sophisticated, quiet but not boring, with rich culture, traditions and history and delicious dumplings called "pierogi".
I'm originally from Poland and every time I visit Warsaw I experience something different and special. This city has a soul and history not many European countries have. It's a city nurturing over 400 years of pride and history as the capital of Poland, vast areas of parkland and catering to all tastes and budgets.
Why did you go to Warsaw and how long have you been there?
I always arrive at Frederic Chopin International Airport when I come back home from my worldwide travels. I have some friends I met via the Couch Surfing website so I usually stay one or two days in Warsaw with them before setting off to my home town of Zagan, located 500 km from Warsaw.
Every time I visit I explore the capital city in a different way – have a stroll across the Old Town, visit the Palace of Culture and Science or do some cycling.
Why do you rate Warsaw as one of the world's best travel destinations?
Warsaw has a lot to offer but the architecture is what makes it so unique and different from other travel destinations. Warsaw was a ruin after the World War II and slowly, but surely recovered from the vast damage.
After reconstruction and remodelling it's now a modern city. All facades are new and adapted to contemporary standards. You can easily spot that Warsaw's architecture is a diverse mix of styles and talents, from modern buildings and skyscrapers to historical landmarks.
But the most exciting thing is the constant and rapid change it is undergoing, which means that every time you visit, there is something new to be discovered.
Best things to see and do in Warsaw
You need at least two days to get to explore Warsaw properly. Warsaw has a lot to offer in terms of sightseeing. There are many museums and national galleries, baroque churches, parks, monuments and statues.
My top 5 Warsaw destinations and activities are:
#1 Old Town – stroll down the Old Market Square and have a lunch in one of local restaurants. I recommend you order mulled wine and Polish dumplings called pierogi but you can find food from all over the world.
#2 Royal Castle– take some stunning photos of one of the oldest castles in the world – you can see it in the photo at the top of this post.
#3 Visit Historical Museum of Warsaw – a must see for anyone wishing to understand the complex and unique character of Warsaw. 60 rooms illustrate the history of the city from its dawn to contemporary times. Warsaw's development is portrayed through paintings, drawings, photographs, documents and films.
#4 Visit the Palace of Culture and Science – get to the top of the Palace, drink a glass of wine or hot chocolate with a piece of cheese cake and enjoy the view of Warsaw
#5 Walk in Lazienki Park – stroll down the amazing park and enjoy the beautiful scenery from baroque age.
What and where should I eat ?
You should definitely try some traditional Polish dishes. There are plenty of local shops, restaurants and bars where you can order a plate of meat or vegetable dumplings, potatoes cake, jelly-filled doughnuts called Zygrumtowka or Wedel chocolate with a glass of mulled wine or Polish beer.
Where should I stay?
Warsaw offers accommodation for all budgets and all occasions. You can either stay in a youth hostel, guesthouse or book a room in an exclusive apartment. Here are some recommendations:
Hostel – Aga Hostel
Address: ul.Topiel 27 lok. 14, tel. 694 372 321
Camping – Camping 123
Address: ul. Bitwy Warszawskiej 1920r. 15/17, tel. 228229121
5-Star Hotel – Hyatt Regency Warsaw
Address: ul. Belwederska 23, tel. 225581234
What's the Best Way to Get Around?
You can't really get around the area easily with a car as there is a heavy traffic in Warsaw. However, you can catch a tram or a metro at any time. The tickets vary from 2 zloty to 5 zloty per ticket (60 cents to$1.50).
Is it off the grid or WiFi friendly?
Warsaw is full of cafés, bars and restaurants that have free WiFi. Additionally, the town is creating free WiFi hotspots in various places to make it even easier to get online. While in Warsaw, accessing the internet won't be a problem.
When should I go? Are there any times of year to avoid?
The best time to visit Warsaw is late May till August as the weather is wonderful for strolling and sightseeing and there are many festivals held in June and July in the city centre. Winters are very cold (up to -30C) so your hands will freeze if you try to take off your gloves to take a photo outside.
Oooh, definitely a summer visit then! How did you get there?
You can easily book a flight from anywhere in the world to get to Warsaw. The Frederic Chopin International Airport is by far the biggest in Poland with one million people travelling to and from over 80 countries.
Guest Post by Agness Walewinder
Agness Walewinder from eTramping is a Polish vagabond travelling the world for less than $25 a day. She's an adventure blogger who's passionate about photography, sharing her enthusiasm for life as well as her travel experiences.
Follow Agness on Twitter, Facebook and be sure to read Agness and Cez's wonderful blog eTramping.
Share This Story, Choose Your Platform!