3 Reasons Guatelamala is so Much MORE than Tikal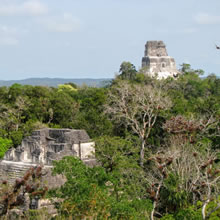 Like many travelers before us, the main reason we visited Guatemala was to see Tikal. We also thought Guatemala would be a relaxing place to start our trip round Central America and learn some Spanish before moving on to Nicaragua, Costa Rica and finally Panama, where we planned to live.
Adventure lay tantalizingly ahead of us, but preparing for our big trip was not relaxing.
First we had to sell our home on the beautiful island of Waiheke Island in New Zealand where we'd raised our three children, two of whom were actually born in the house. Then we sold the furniture and most of our belongings, including all our children's toys. They were not impressed.
Our kids were eight, five and two years old when we turned their lives upside down and whisked them off to Central America so we could live our dream.
We prepared them for the trip by listening to spanish songs and creating a scrap book filled with travel brochure clippings of everything we hoped to see on our trip. There were pictures of monkeys, toucans, tapirs, butterflies, jungles, the Panama Canal and, of course, images of the pyramids at Tikal.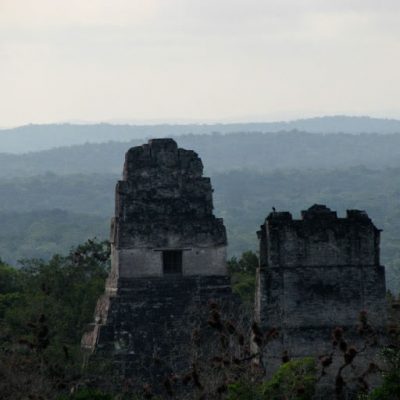 We spent hours cutting out pictures and sticking them in, then weeks poring over them trying to decide what we were most looking forward to. But, no matter how much you prepare them, small children can't grasp the concept of travel until you actually leave. For months before we left, every time we went anywhere new my two year old daughter would ask:
"Is this Guatemala?"
Finally the big day came, with tears at the ferry as we sailed off to Auckland, waved good bye to our friends and checked our bags in at the airport.
"Are we in Guatemala now?" asked my daughter as we boarded the plane.
"Not yet, darling. We'll be there soon." I replied optimistically.
Finally, we landed in Guatemala City where our adventures would really begin. You can read about our first day in Guatemala here.
There's lots to love about Guatemala, and Tikal was certainly impressive, but travel is very different when you have children. We visited some places we may not otherwise have seen and avoided others we'd normally have hung out in.
These are our three favorite places in Guatemala.
1. Lago de Atitlán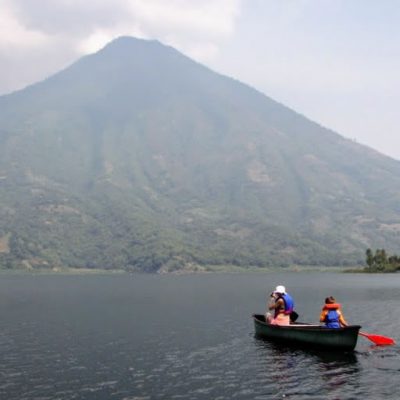 Aldous Huxley rated the Lago de Atitlán the most beautiful lake in the world, but when we arrived at the waterfront town of Panajachel it was so rainy and overcast we could hardly see the lake at all
It's always hard to find a room that sleeps five and the options were limited to a poky hotel near the waterfront. But the owners were friendly and our children weren't put off by the seedy accommodation. They loved it because there was a sad little menagerie in the courtyard, including two squirrels chasing each other round a decent-sized cage, three parrots, one dove, one canary and one parakeet, all in tiny cages barely large enough for them to stretch their wings in, let alone fly.
The highlight was a flea-bitten, tick-ridden puppy called Scooby who provided a source of endless diversion for the kids. They thought Scooby was the best thing in Guatemala and still remember that puppy ten years later.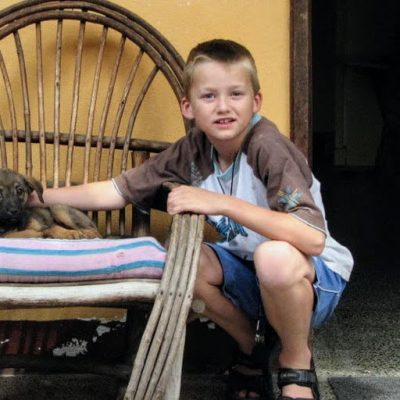 Panajachel is a touristy town, but the Lago de Atitlán has smaller towns all around it so you can pick and choose which one sounds like your cup of tea. There's a town for travellers that want to get high and another for yoga lovers, but we opted to stay off the beaten track at the Posada de Santiago near the fascinating Tzutujil Maya pueblo of Santiago Atitlán.
We swam and kayaked in the lake, enjoyed the volcanic views and watched the gorgeous birds. We loved walking round the villages where the indigenous people looked stunning in their traditional clothes; ladies in tightly belted woven skirts worn with sheer lace blouses over bras in a myriad of bright colours; dashing men in white or black wide-brimmed hats, brims curled up at a jaunty angle, a coloured sash clinching their waist and legs encased in long white and purple striped shorts.
Both scenic and relaxing, the Lago de Atitlán is a great way to start or end your trip round Guatemala.
2. Rio Dulce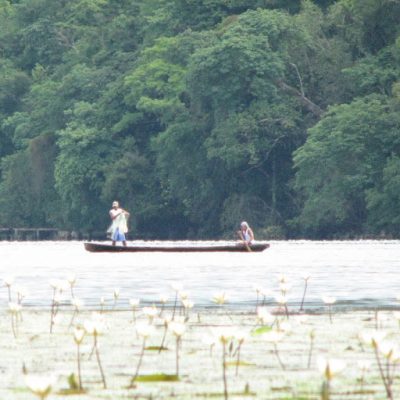 Our final stop was the Rio Dulce on the Rio Dulce river and probably the highlight of our stay in Guatemala. Although we were only there two days, it's a place where you could hang out for a couple of weeks or months.
The Rio Dulce is huge, deep, clean river peppered with beautiful tall white herons, pink water lilies and hot springs. It flows out in the Caribbean sea and is lovely for swimming and there's even a castle you can visit.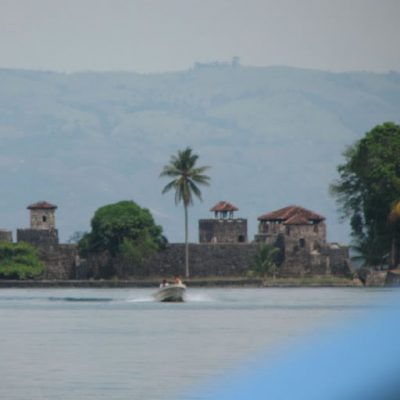 We took a scenic boat trip down the Rio Dulce to a town on the Caribbean coast called Livingston. Only accessible by boat, Livingston is home to the unique displaced Garifunas people, whose roots are in Africa and the Caribbean islands.
The Garifunas people give Livingston a totally different feel from the rest of Guatemala.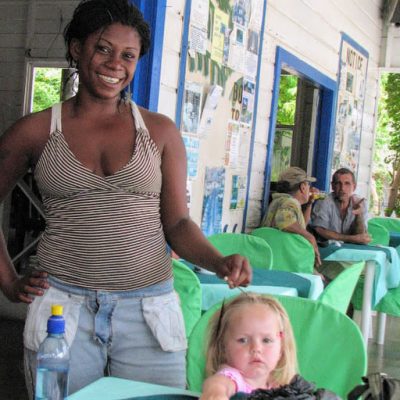 3. Semuc Champey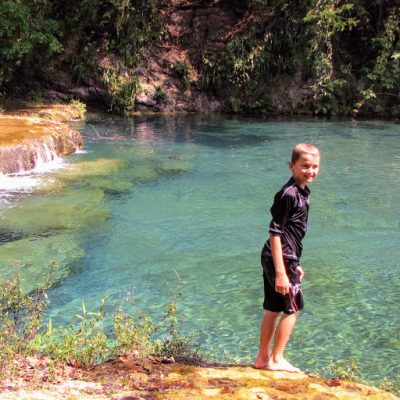 Semuc Champey is off the beaten track, in the heart of Guatemala near a small town called Lanquin. We hired a car and ended up getting hopelessly lost on the way there but it was worth it.
The swimming holes of Semuc Champey, which, in the local Mayan dialect, means 'place where the river goes under the ground', are spectacular. Definitely one of the top natural swimming spots I've visited in over 20 years of globe-trotting.
The kids loved sliding down waterfalls from pool to pool and swimming with the fish in clear blue water.
We ended up spending about eight hours at Semuc Champey. At the end of the day a howler monkey bellowed from the hills above us. Apparently their noise can be heard from over two miles away so finally our five year old son had some competition for the most noisy monkey prize.
We also explored the amazing caves in Lanquin. The term cavernous must have been coined with these particular caves in mind. We spent an hour there with the bats, stalactites and stalagmites.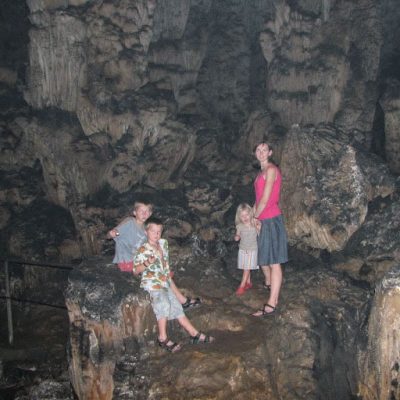 Inside the caves were huge slippery, wet staircases carved into the rock with 20 meter drop-offs. I soon went from slight worry about the safety issues to terror, desperately trying to keep hold of our youngest who, happily oblivious to the dangers, didn't want to hold hands.
Some of the stalactites were like huge organic sculptures and had been given names like 'the curtains' or 'the tower.'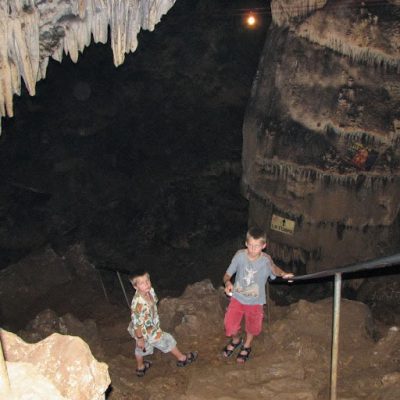 Then there's a massive slab of rock with candles on it called 'the altar' which the Mayan used for making sacrifices, including human ones which added to the unique atmosphere.
So while Tikal drew us to Guatemala in the first place, we ended up being surprised by how much more there is to Guatemala than Tikal.
But that's what we love about travel anyway; having our expectations overturned and stumbling across lesser known travel spots that we end up remembering forever.
So what's the moral of this travel story?
There is so much more to Guatemala than just the pyramids of Tikal, but make sure you visit Tikal too – it's a stunning sight and worth making the trip for.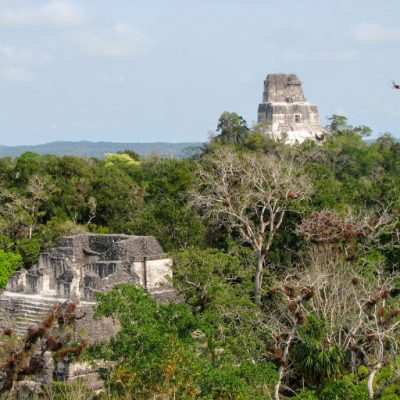 Do you have any tips for things to do in Guatemala? Share your comments and travel ideas below.
Want Travel Inspiration?
Stay tuned for more travel stories, ideas and inspiration. Get In the Hot Spot is a weekly injection of tips to help you be more adventurous and have more fun. Click here now for free updates.
Share This Story, Choose Your Platform!