Christmas Comes Early: FREE Personal Writing Magic Guide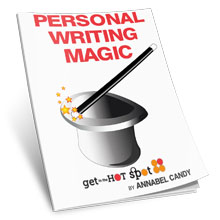 The eagerly awaited free Personal Writing Magic guide is finally up for grabs.
Based on the popular Personal Writing Magic series it will give you tips on how to incorporate personal writing into your travel writing, your blog writing or your business writing. Whatever type of writing you do adding personal stories will bring it to life and make it more powerful.
Why should you care about personal writing?
Because personal writing resonates with readers and makes them enjoy your writing and want to work with you more than any other form of writing.
How do I know? Because for 1o years I could never get a web design or copy writing job unless I met a client face to face.
Then I started blogging and not about business or web marketing either. I was sharing travel stories or personal stories about why I like the smell of chicken poop (see no. 3 here), what a dork I am or how I got robbed and stranded at the beach while wearing only a bikini a few sizes to small.
I could go on but you've probably heard enough. You're either intrigued or you're off to look for a sane blog to read.
Still here? Excellent. Through blogging I accidentally found that telling these embarrassing, ludicrous and nutty tales was piquing people's interest. Suddenly I had people contacting me not just from all around Australia, but from all over the world.
Go figure. It turned out that people are much more interested in my personal story and experiences than they are in my qualifications (I have plenty!) or my work experience – 16 years in web marketing. See, you were starting to doze off weren't you? 
Other benefits of personal writing
Apart from helping you make better business connections and build stronger relationships, personal writing will help you:
improve yourself and gain confidence;
better your writing skills;
have more fun with your writing.
That's why I'd love you to give personal writing a go.
Free Download, No Questions Asked
Interested in learning more about personal writing?
Then download the Personal Writing Magic ebooklet, enjoy it and get writing.
The Personal Writing Magic Ebooklet will help you:
Practice your personal writing;
Hone your personal writing skills;
Come up with personal writing ideas.
It includes personal writing activities so you can actually start writing.
Get Personal Writing Magic now.
Sharing is Caring
If you like the free Personal Writing Magic guide please share it.
Just tell all your writing, blogging and creative friends about the Personal Writing Magic guide. You're welcome to email them the PDF file, send them the link or link to the ebook directly from your blog.
It's yours to do what you want with it. All I really want is to see more people get as much joy and as many rewards from their personal writing as I have.
Thank you so much. I really appreciate that and I appreciate YOU. I can't wait to read your personal stories.
Happy reading and writing!
x Annabel
PS. Into Blogging? Here's another Christmas bonus

This month only you can get my Successful Blogging in 12 Simple Steps ebook or audiobook at 35% off. Just use the discount code "35off" at the check out.
It's the perfect way to kickstart a new blog, reboot a floundering blog or gift to those creative friends who'd like to get into blogging but don't know where to start.

But don't just take my word for it. Check out the full contents and rave reviews here and remember to use the "35off" discount code at the check out.

Share This Story, Choose Your Platform!