Is this the Best Bread in Noosa?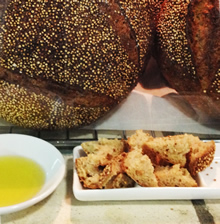 I'm always looking for ways to be healthier. Last year it was the 52 Exercises Quest but this year I've been learning about paleo nutrition, tackling emotional eating tendencies and sharing my weight loss story.
So you might be surprised that I'm dedicating a post to bread when so many people are avoiding it these days. The good news is that everything I've read indicates that most of us don't have to stop eating bread altogether, but we do need to choose our bread carefully.
If you do eat bread sourdough bread is the best option. Even people who thought they were gluten intolerant often find they can eat sourdough bread with no nasty side-effects because the long fermentation process makes it digestion friendly.
Which is why I'm excited by the new Tanglewood bakery in Noosa launched earlier this year and makes only sourdough bread.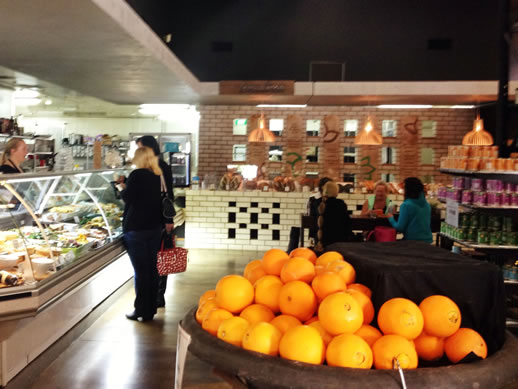 But before we move onto a debate about where to find the best bread in Noosa, let's talk a bit more about why I'm happy to eat bread from time to time and why you probably should be too.
Firstly, I've discovered that banning foods doesn't work for me. Even if it's a food like bread that I don't usually eat every day, banning it just makes me feel deprived and want it even more!
Even though I'm not a huge bread eater I love a really good slice or two of fresh bread from time to time. So about once a week (or whenever I get the urge) I give into those cravings and indulge in the best bread I can find.
Secondly all the books I've read about nutrition recently agree on one thing; if you do eat bread sourdough (including ciabatta) is the best option because the long fermentation process breaks down acids and makes it easily digestable.
So I was thrilled to discover Belmondos, my favourite Noosa deli/wholefood store, has opened a bakery line which is dedicated to creating organic sourdough bread.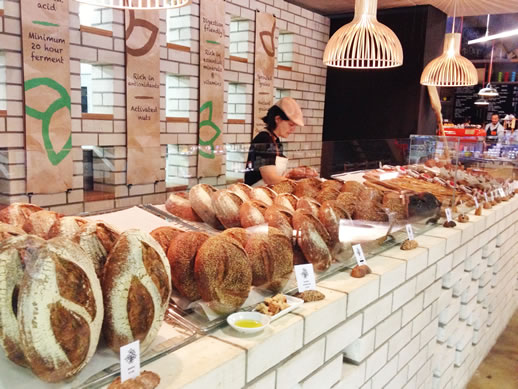 Belmondos also sell fresh fruit and veggies, a great selection of delicatessen meats and cheese, unique organic pantry items and excellent coffee that's roasted on the premises. It's a favorite lunch spot for me and Rich because the food's homemade and you can grab a bite to eat in or for takeaway from around $10.
Their cakes are excellent too. I like baking my own cakes or making them with the kids but when I do run out of time and need a special cake for a birthday or party Belmondos has the best selection.
The newest Belmondos additio, Tanglewood Bakery, produces artisan bread using organic fresh-milled flour with sprouted or ancient grains like kamut, amaranth, buckwheat, spelt, quinoa and barley.
It's the long fermentation process of at least 20 hours that makes their sourdough bread easy to digest, then the activated nuts and seeds make it even healthier and, because it's organic, it's better for the environment too. That's a triple win so you can see why I'm excited about my recent Noosa bread find.
There are a few different types of bread to choose from at Tanglewood Bakery including traditional white bread, sprouted quinoa, rye, spelt, fruit and baguettes with prices ranging from $5.20-9.50. A price I'm happy to pay for what's probably the best bread money can buy.
On my last visit to Belmondos they had some of the different breads cut up for tasting with olive oil and they're all delicious. My personal favorite is the big round seeded loaf with pumpkin, sunflower and sesame seeds for $7.95.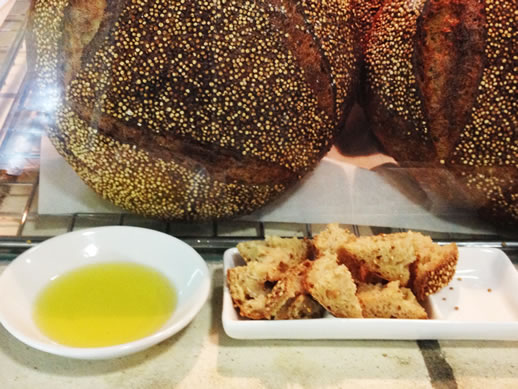 It's hard to describe the taste of sourdough bread and it will vary in taste from day to day, but Tanglewood's seeded loaf has a thick chewy crust sprinkled with crunchy seeds and a moist dense interior with a strong nutty, tangy flavour. The best way to describe it is probably by calling it extra tasty wild fermented bread although organic sourdough trips off the tongue more easily.
It has a great yeasty smell and the nuts and seeds give it a bit of crunch.
This is bread that's so tasty the biggest problem is knowing when to stop eating it. Still, even if you have an extra slice you'll still be left with a clear conscience that comes from eating healthy, handmade, local food that's good for you and for the environment.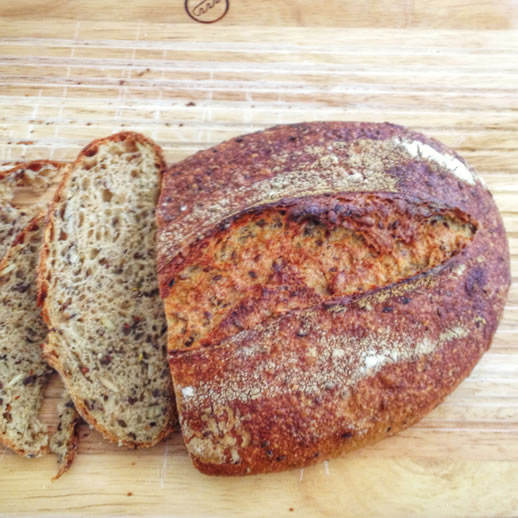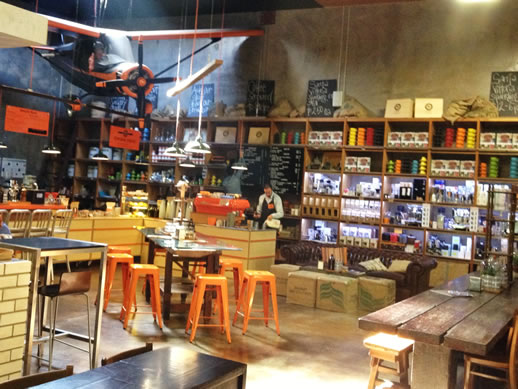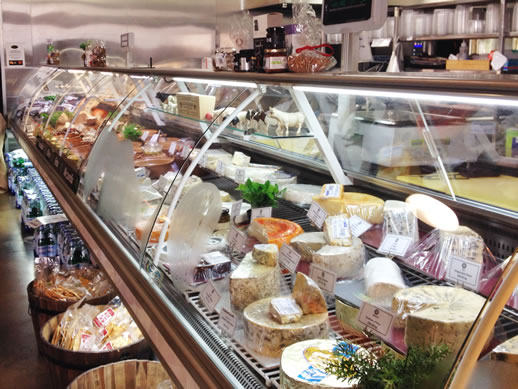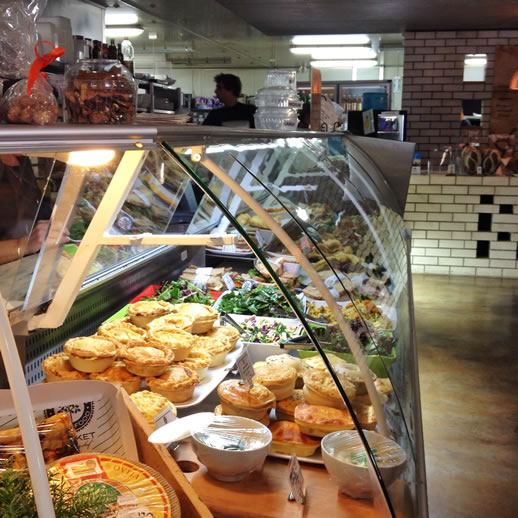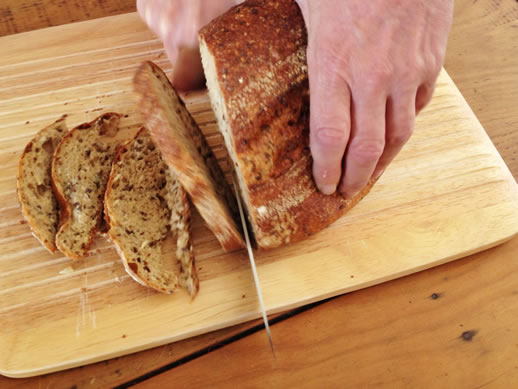 Where to find Tanglewood breads
If you'd like to try Tanglewood Bakery's sourdough bread and enter the great debate about where to buy the best bread in Noosa you can find it at Belmondos at 59 Rene Street in Noosaville which is open Monday to Saturday from 8am until 5pm.
The bread is made on the premises but be warned; it's not just me who loves their sourdough. It tends to sell out by 2pm so if you want to try it get there early.
Do you eat your daily bread? Or try to avoid it? Did you know that sourdough is the healthiest option when it comes to bread? Do you have a favorite bread?
Share This Story, Choose Your Platform!