Have You Ever Eaten Malaysian Food?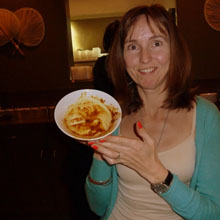 "If you can't stand the heat stay out of the kitchen"
Traditional Saying
I was stoked when Malaysia Kitchen asked me to be one of their merry team of hot bloggers. As you know, some like it hot and I definitely do so I was delighted to become a Malaysia Kitchen Insider.
In case you haven't heard of it yet Malaysia Kitchen is a global campaign to help people find out about how tasty Malaysian food is and get more of us sampling it.
My first port of call was the Old Town Kitchen restaurant on Brunswick Street in Fortitude Valley, Brisbane.
I have to admit that, as planned, I was starving when I got there.
Normally me and the Mucho Man eat with the kids at 5.30pm. Sad I know, although it is supposed to be good to eat early – it gives you more time to burn it off before bedtime.
In a happy turn of events, the Mucho Man and I had the opportunity to spend one night in Brisbane sin ninos, sans enfants or without kids. This was a first and we were excited.
We caught an early movie but when it ended it was late (by our standards) so we didn't eat until 9pm.
When we finally arrived at the Old Town Kitchen Malaysian restaurant I was starving which was perfect because I wanted to try as many dishes as possible.
But despite the fact that I'd collected a menu earlier, taken prolific notes about Malaysian food on the internet and carefully studied the pictures of dishes in the window, I still couldn't decide what to order.
Malaysian food is amazingly diverse with influences from Chinese, Thai and Indian cooking and Old Town Kitchen have over 150 items on the menu. I wanted to try them all, so cutting it down to three things that we could reasonably eat was tough.
But I finally did it. We chose:
Malaysian Sizzling Fish Fillet in Sambal Sauce
Assam King Prawns
Char Kuey Teow
The Char Kuey Teow arrived first. It was hotly recommended in online reviews but it's not a chilli hot dish. Just delicious. Nasi Lemak is wide noodles with seafood, green beans and bean sprouts. You can tell I'm not a food writer but trust me it tasted great so it didn't take us long to hoover it up.
Next came the Assam King Prawns. I love prawns.
If you ever want to curry favor with me please send flowers, chocolate or prawns. Ideally all three.
The assam king prawns didn't disappoint. Eight lovely prawns floated in a spicy sour curry sauce along with tomatoes and green beans. The sour flavor comes from tamarind which I also love and in case you didn't know I like it hot so this was always going to be a winner. It had just the right amount of chilli to give you a kick without bringing tears to your eyes.
Finally the sizzling Malaysian fish made our fellow diner's heads swivel. I'm sure they all wished they'd got what we had. This dish is super temperature wise but not chilli hot though it is aromatic and spicy.
Next our smiley waitress brought us some complimentary fruit followed by glutinous sticky black rice pudding. It's a lovely sweet treat cooked in coconut milk which we devoured with gusto.
As you can see in the photo up top by the end of the evening we'd polished off every single dish.
I'd do it all over again too.
Does Malaysian food sound good to you?
Old Town Kitchen is at: Mcwhirters Mall, Shop 221, 247 Brunswick St, Fortitude Valley QLD 4006 or phone (07) 3252 2866.
Find out more about Malaysian Kitchen Australia at their website which has a handy restaurant finder.
The global Malaysia Kitchen site has lots of recipes so you can cook up a storm at home.
Share This Story, Choose Your Platform!