5 Tips for a Low Cost City Break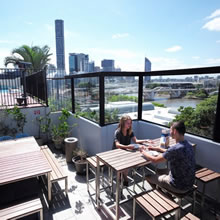 Whether you're looking for family fun, a foodie experience, or a weekend of sightseeing, city breaks have something for everyone. Cities are usually easy to get to and easy to get around, so they make the ideal destination for a quick break when you don't have much time but want to go somewhere different.
On the downside, cities can be expensive, but visitors can still enjoy a city break without breaking the bank if you follow these tips.
1. Get the timing right
Your biggest expenses on a city break are likely to be flights and accommodation. You can make huge savings on both of these by avoid peak times, especially school holidays and bank holiday weekends, as well as weekends in general.
You'll often be able to make significant savings if you arrive on a Sunday. If you can't get time off work and need a weekend break, at least try to arrive on a Saturday and come home on a Monday if you're flying.
Finally, visit off season. Cities tend to be less crowded off season anyway so you'll be able to enjoy the experience more, rather than spending half your time jostling with tourists.
2. Save on accommodation
Unless you're planning to spend the weekend in the hotel, in which case we won't judge you, and assuming your main goal is to enjoy the city atmosphere and sights, then stay in a hostel. You don't need to be young!
Hostels usually have private rooms available, so you won't have to share a dorm, and they attract people of all ages. Many baby boomers who enjoyed backpacking in their youth still prefer to stay in backpacker-style accommodation; it's more social, there's usually a communal kitchen (more on that later) and of course it's much more affordable.
They're also clean, well located and there's even a pool at some, like Brisbane City YHA. They usually have good specials too, such as Sydney Central YHA ,which bundles accommodation and breakfast and has a pool too.
If you like the sound of a hostel, then you can save even more by becoming a member of the YHA association, and that membership extends to discounts on attractions too.
3. Use public transport
Even an Uber probably costs more than public transport and you can probably use public transport to explore the whole city. Many cities offer a public transport pass that's valid for one day, so you can zip around all over the place to see as much as you can, then go back to your favourite places later.
Apart from being a cheaper way to get around, public transport also gives you a real city experience.
4. Avoid hidden expenses
If you are going to stay in a traditional hotel, avoid extra costs like WIFI and the mini bar. You probably won't want to use your city break for a digital detox if you want to share photos on social media, but that doesn't mean you need to pay for the privilege.
Do all your photo editing and caption or story writing offline, then head to one of the free WIFI hot spots which are common in cities, or to a cafe or chain like McDonalds or Starbucks which has free WIFI. You'll have to buy a drink, but a $4 coffee will still be cheaper than the price you'd pay for WIFI in a hotel. Alternatively, all YHA hostels in Australia provide free WIFI for overnight guests.
Finally, beware of the mini bar. Hide the contents of the hotel fridge and any goodies on display in a cupboard, then stock up on your own drinks, nibbles and treats from the nearest supermarket. That way you won't have any nasty surprises when you check out and get the final bill.
5. Go to the supermarket and prepare your own meals
Even if you don't plan to spend much time cooking, you can save a lot of money by preparing your own breakfast, packing a picnic lunch and making your own supper. Sometimes fresh bread, good cheese and a couple of ripe tomatoes make the best meal.
If you're in self-catering accommodation that's a bonus, and you can make something fancier if you feel like it. Alternatively, if you're staying at a backpackers or hostel like the Melbourne Central YHA, you'll be able to use their fridge and cooking facilities.
When you buy your food from a supermarket instead of a restaurant, you'll be able to eat better and save more. Even things like buffet breakfasts that can seem tempting as an optional extra with your hotel room, usually cost $20-40 per person and no one needs to eat that much breakfast! For that price you should be able to buy a tasty, healthy breakfast from the supermarket that will feed two people for two days.
With the savings you make, you'll be able to start thinking about where to go for your next city break.
This blog post is sponsored by the YHA Australia.  They have over 80 hostels all around Australia in some of the best holiday destinations, including my hometown of Noosa, as well as in all the major cities.
If you're serious about saving money, then consider becoming a YHA member. The cost is minimal and you get 10% off any YHA accommodation you book through their website, as well as discounts on many other travel-related products such as travel insurance, activities and car rental. Find full details about YHA membership on their website here.
Have you got any tips for saving money on a city break?
Stay Tuned!
Get free email updates for stories at the intersection of travel, fitness and positive ageing that'll help you stay more active, have more fun and be more adventurous.
Share This Story, Choose Your Platform!