Lost and Found Travel Confessions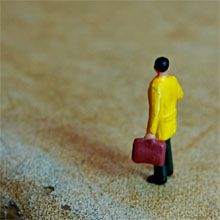 Do people travel because they want to get lost or because they're lost souls?
In why people love to travel the third reason I mentioned was that people travel "to find themselves".
The accompanying photo of me in local Indian garb suggests that, even after a decade of traveling I hadn't found myself yet. I look a bit lost. Suffering from identity confusion maybe. In that photo and in that Kerala village I'm so far from my upbringing as a middle-class English girl it's almost not funny.
But spending four months in India and dressing up in the local garb from time to time (I hope I didn't dress that way every day) also showed a measure of confidence. The confidence to  assert that it doesn't matter where you travel to, what you wear when you get there or how good or bad you look.
You are still you no matter where your travels take you or what tricks your sense of style is playing on you.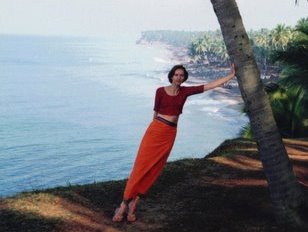 I started traveling when I was 18 to get lost, to get away from my roots and parental expectations about how my life would pan out.
I traveled because my parents dissuaded me from following a career in writing but I didn't know what else to do. The route my parents suggested of secretarial school followed by marrying a well-to-do young man didn't sound like my cup of tea.
I also wanted to escape because I felt like a bit of a misfit in England.
I wasn't like most of the other middle-class English girls I was friends with. They were quite happy to stay in the town where they were raised. They had no great desire to see the world, or even to see much outside their local environment, whereas I was driven by an urge to travel wide and far.
That drive and curiosity is a part of my personality that has seen me explore not just the four corners of the earth but also every nook and cranny of the area I'm living in or visiting. If you come for a walk with me I'll probably try to persuade you to go a bit further:
"Let's just go round the next corner to see what's there."
It's an endless and fruitless quest because I'll never travel to or see everywhere but can't help trying.
Even as a child I knew that I wasn't destined to live in England permanently and I've spent much of my adult life working out where I do want to live. The problem is that there are so many great places to live in that it's impossible to choose. Why would you anyway if you don't have to? I'm lucky to have plenty of options open to me so that's why I've been leading a nomadic lifestyle for almost 30 years.
How Travel Took Me From Lost to Found
Travel gives us a chance to reinvent ourselves if we've lost our way in life as I had when I was younger. Back then I lacked the confidence to follow my dreams in the face of parental disapproval but these days I know that if I don't follow my dreams and make myself happy no one else will.
Travel allows us to free ourselves from the bonds of family and friends who may have known us all our lives and have certain preconceived ideas about us we'd like to shake off. It allows us to emerge fresh and new from the plane, train or bus a stranger in a strange land who could be anyone and go anywhere.
Travel empowers us because it shows us we can do anything and go anywhere if we dare to try it. By reaching out for adventure and seeking foreign lands we gain a true sense of ourselves, the sense that we can overcome small set backs and even conquer the world.
Travel teaches us that we don't have to accept the status quo of the people and place where we happen to have been born. We are free to roam the world and find a status quo that suits us better or even create one that is unique to us.
Many times when I've been travelling I've literally been lost. I have a horrible sense of direction which doesn't help.
But in the end, no matter where I've been and how hard I've tried to lose myself in other languages, cultures and scenery, I've always ended up finding out a little bit more about  myself through traveling and coming one step closer to knowing that I'm not lost.
I am not a lost soul. Through travel I have finally found myself and gained the confidence to be myself.
But I still want to get lost again from time to time.
Have you ever traveled because you felt a little bit lost? Or traveled because you wanted to find yourself?
Share This Story, Choose Your Platform!