The Long Apron at Clovelly Estate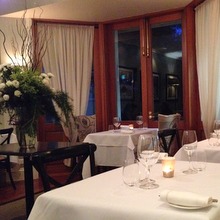 Our room is a calm cocoon of serenity, gently decorated in muted tones with a large private balcony surrounded by vibrant, green trees.
Outside there's a shared lounge with fireplace, books and games for rainy day entertainment. It's overcast so they might come in handy but it feels cool and fresh here at Clovelly Estate, Montville in the Sunshine Coast hinterland. We're not missing the humid coast.
After a showering and moisturising with the Appelle products supplied I change for dinner. With no reason to pack light I've brought five dresses and as many pairs of shoes with me. It's silly but fun to dress up.
Until I discover that, although my bag contains everything but the kitchen sink, I've forgotten to bring a hairbrush. I discover a disposable toothbrush in my makeup bag and decide to try it out in my hair since I have a proper toothbrush with me for my teeth.
If you've never brushed your hair with a toothbrush before it's surprisingly effective. Not ideal, and no doubt my Noosa hairstylist would be shocked, but nonetheless it restores shine to my tousled locks and makes me dinner ready.
The Long Apron, just a short walk along the veranda, is the modern European restaurant everyone wants to eat at on the Sunshine Coast. Chef, Cameron Matthews has made a name for himself and The Long Apron, and turned Spicers Clovelly Estate, which the restaurant is part of, into a must-visit destination for discerning foodies.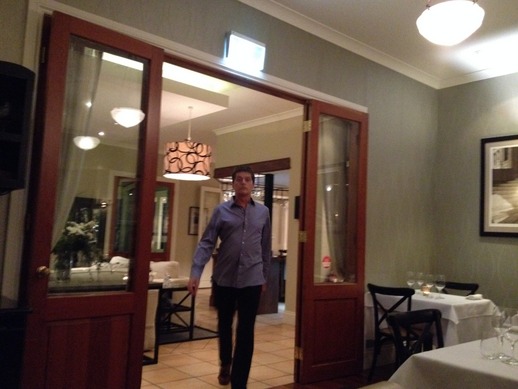 The menu is small but perfectly formed. You can choose from an eight course tasting menu (with or without paired wines) or select two, three or five courses from the a la carte menu.
The tasting menu is tempting but since I prefer to eat mainly vegetation and seafood the a la carte menu works better. Especially as there is one a la carte menu with meat and seafood and another which is totally vegetarian and you can mix and match as you please. Perfect!
We opt for five courses (this is a gourmet getaway after all!) and settle into our comfy corner seats. If you include the vegetarian options there are four choices for each course so choosing our five courses takes some time. We're not in a hurry and there are few things more pleasant than selecting dishes from an innovative menu of innovative dishes that will be prepared by a top chef.
We finally make our selections but surprises await us; as soon as we've ordered the waitress returns with a beautiful plate that looks like a zen garden, complete with pebbles and a bonsai branch. In fact the 'branch' is a delicate, delicious grissini bread stick. It's accompanied by two crispy Parmesan cracker that ooze mushroom caramel when you bite into them.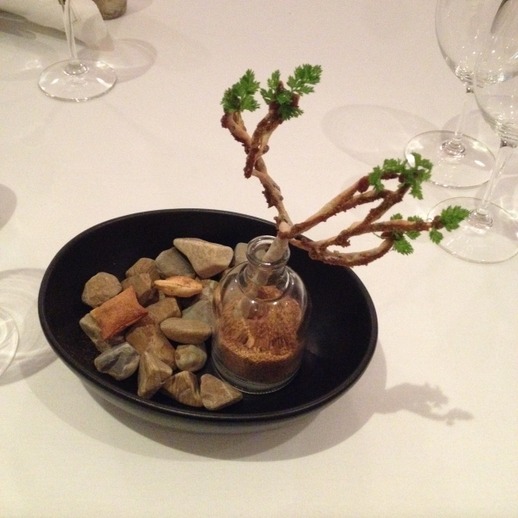 Then another unexpected off menu arrives; glasses of mushroom consommé with hay ash, partnered with cured black kingfish and two perfect medallions of raw ocean trout which melts in my mouth leaving the fresh taste of aniseed.
The earthy mushroom consommé clears the palate making room for other flavours and the black kingfish and ocean trout leave me wanting more. Which is perfect really, since there are still five courses to come.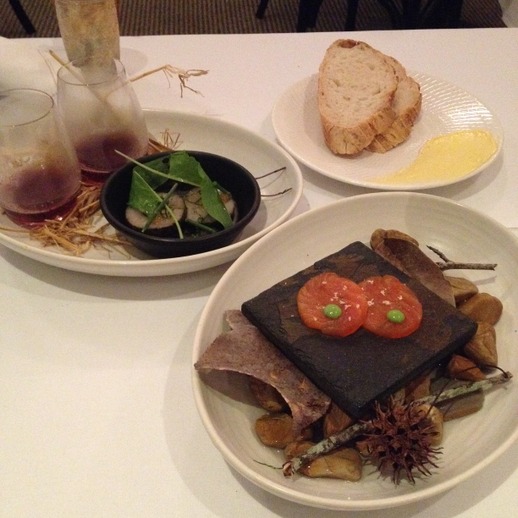 Steamed scampi, fennel and pinenut oil is our first official course, a visual and flavour-packed masterpiece. The bitter citric taste of the pinenut oil and beautiful, clear pinenut jelly is nicely offset with cream.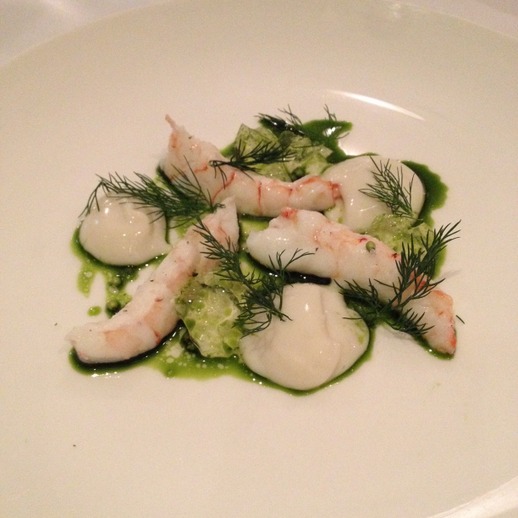 Next I try fried and poached Fraser Island spanner crab with macadamia romesco and burnt lemon. The sweet spanner crab is best enjoyed simply poached. It's so simple and perfect that the battered version falls flat but the romesco, a red pepper froth and the burnt lemon powder make the already sublime spanner crab supreme.
Rich is equally happy with his Mooloolaba prawn, roasted prawn crème and salted cucumber garnished with rose and sea greens.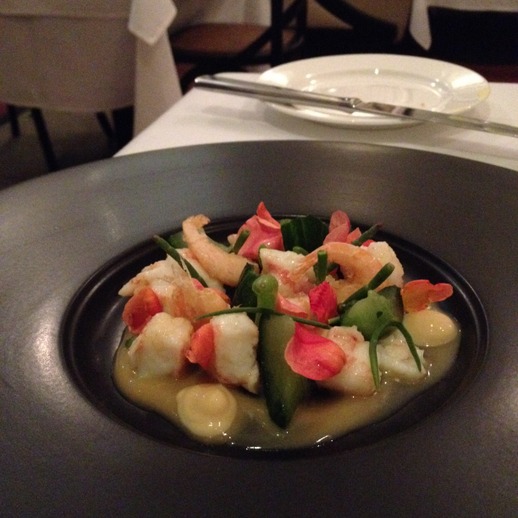 Next I switch to the vegetation menu. If I thought the main menu was interesting and unusual the vegetarian menu takes that to the extreme.
With nothing to loose, since I've been 100% satisfied by everything I've already eaten so far, the pan fried watermelon is a risk I'm willing to take. It pays off big time. The watermelon has been transformed in taste and texture by its cooking, the native berries and saltbush and buffalo curd refine and finesse the roasted watermelon. It's such an interesting preparation and combination I'd like to eat it all over again.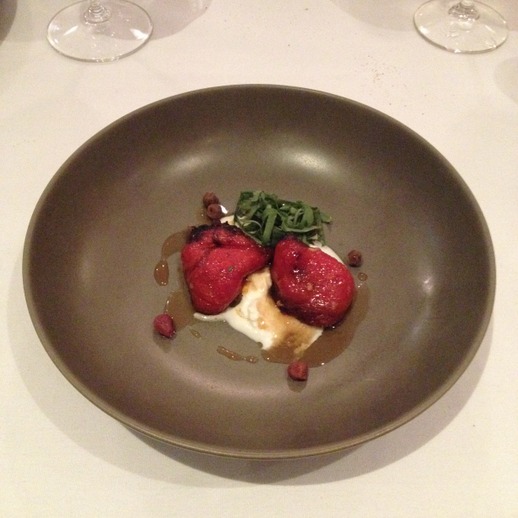 Rich is equally happy with his aged wagyu tartare. Best of all, although we've already eaten more than our fair share of courses, we don't feel too full to eat more.
For my fourth course I've chosen green wheat, dulse and sea lettuce, soured and grilled onions with sorrel. Dishes don't get much more interesting than that and I feel instantly virtuous eating so many different vegetables but the sea lettuce is rather salty and stringy. Probably best left at sea.
Meanwhile, Rich's grouper, freshly caught from the sea, is divine. It's creamy simple taste an ideal antidote to all the different flavours we've enjoyed thus far.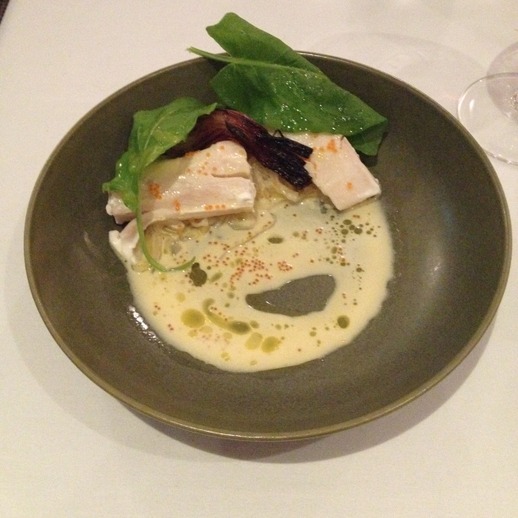 Complimentary bergamot sorbet with gin and tonic clears our palette anew and leaves us impressed at the distinctive flavours in one tiny bowl.
My favourite course is always desert so I can't wait to see how the raspberry cream, crème fraiche, ice cream, sour meringue and amazake, a sweet Japanese liquor will hold up to scrutiny. It's another surprising and interesting blend of flavours and textures. The cold tart, raspberry sorbet encased in white chocolate instantly hits the spot while the sour, crunchy meringue matches perfectly with the sweet amazake.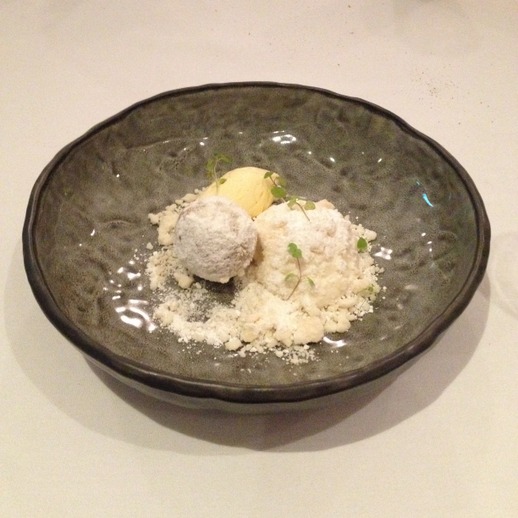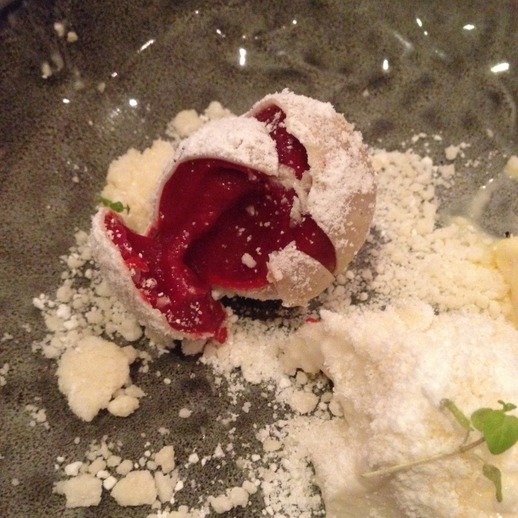 I'll be forever grateful to Rich who took a gamble and ordered the malted potato ice cream, miso caramel chocolate mousse and smoked meringue. If you'd never believe that potato icecream could work you need to get to The Long Apron pronto. And of course I loved the chocolate mousse, a dry almost powdery hit of pure cocoa that tasted like sugar free heaven.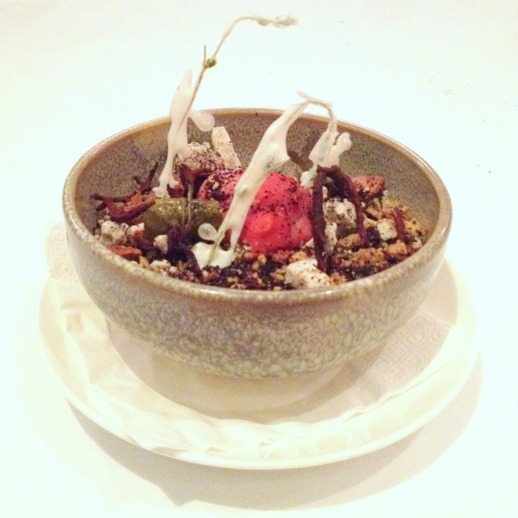 The Long Apron is a culinary experience not to be missed and I loved that everything we ate was local and healthy. We may have overindulged slightly but, even though we ate every single bite of all five courses it didn't feel excessive. It felt great.
The next day we're still debating the merits of pinenut jelly, pan fried watermelon, potato icecream and bergamot sorbet. It all sounds so strange but it's stranger still how Cameron Matthews makes it work. Using local ingredients and clever culinary innovations like curing and smoking his dishes are compelling taste combinations. Food doesn't get more creative than this.
So the weather was disappointing when we stayed at Clovelly Estate. But nothing else really matters when the food is this good.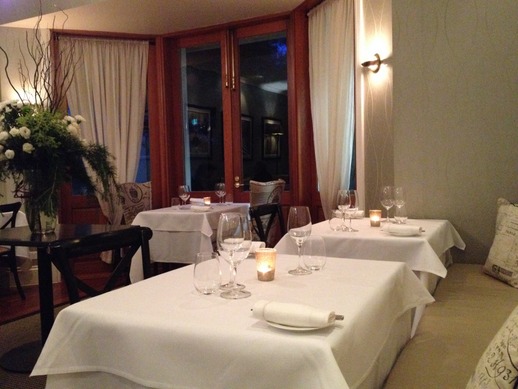 Fancy a gourmet getaway?
Clovelly Estate in Montville on the Sunshine Coast has gourmet getaway packages as part of the 'Dine Unforgettable' experience. For more details about Clovelly Estate and getaway packages visit the Spicers Retreats website. Packages for Clovelly Estate start from $399 per room with various different getaway packages including gourmet getaways like ours as well as spa breaks and romantic retreats.
We were guests of Spicers Retreats during our stay at Clovelly Estate. 
Share This Story, Choose Your Platform!