How I Got Headhunted for a Jaunt to Japan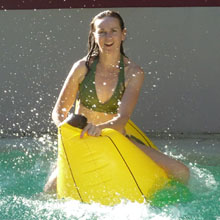 Last month, in among the hundreds of emails I get each day, this one stood out:
"Dear Annabel,

Your blog bio says you have traveled to Southeast Asia and India, but have you been to Japan?

I need one more Australian travel writer to join a whirlwind tour of the Hokoriku region of Japan – northern Honshu, on the Japan Sea coast – famous for rice, ryokan, and the real Japan.

I have attached an invitation to the trip."
I've previously been picked for an all expenses paid trip to Shanghai but I was excited about this invite to Japan so I emailed them back at the double saying:
"Hai! Hai! Hai! Hia!"
At least that was the gist of what I said – it means yes, yes and yes again.
I haven't been to Japan before and I'm mad keen to visit even though I'm hot weather freak and the trip is in February when freezing temperatures and deep snow are the norm.
I love Japanese food, textiles and people and Hokuriku is well off the beaten track so I'll see traditional and rural areas of Japan, which are far from the stereotypical idea of Japan.
My trip to Japan also includes four days in the historic city of Kyoto with a group of travel writers from North America, Europe and Australasia so that will be another experience in itself.
So how did this come about and how can you make your dreams come true?
1. Follow your passion
I've been mad about travel ever since I can remember. While most people dream about travel I designed my life round it, studying to teach english as a foreign language so I could travel widely in my twenties.
Since then, with the Mucho Man and three kids in tow, I've been traveling more slowly but we've still taken big risks like moving to New Zealand, Costa Rica and Australia fueled by that passion for travel.
2. Write a blog
Writing is another lifelong passion and blogging has allowed me to share my writing and love of travel with the world. I've been a web designer and web copywriter for 16 years but blogging has helped me establish myself as a freelance and travel writer too.
My blog has helped catch the eye of companies like Coca-Cola, The Hyatt and Ogilvy and Mather who are keen to gain access to my writing and get featured on my blog.
The creative and business opportunities blogging has brought me have made me passionate about blogging too so I set up Successful Blogging to help other writers and small business owners.
3. Persevere even when it seems hopeless
When I was a child I was discouraged from writing as a career but I wrote anyway. When I was a nanny, a bartender, a teacher I always wrote diaries, letters and stories. Then, when I studied for my MA in Design for Interactive Media, I continued to write and specialized in web writing.
Still, during the first six months of blogging and travel writing no one ever read my blog. But I kept blogging anyway and eventually discovered that people were reading my blog and, even better, they kept coming back to read more.
If you're not convinced about the power of perseverance check out this post about how to get the life you want.
4. Ignore the naysayers
There are always naysayers. There are plenty of people who don't get why I love to travel. Others don't understand what blogging is or why I do it. Sometimes people leave comments on my blogs that hurt. Many people don't see writing as a "proper" job.
If you have a dream you have to learn to ignore those naysayers and stick with what you love doing anyway.
5. When opportunities come jump at them
When I got the email invitation to Japan a friend asked:
"Aren't you scared?"
That surprised me. I might be a bit stressed about all the extra work I'll need to do before and after my trip. Maybe I am a bit nervous about spending eight days with strangers in a group travel situation when I usually travel independently. But I'm definitely not scared. I'm excited.
When opportunities come your way you have to grab them, otherwise they may slip away and disappear forever. Every single opportunity you get and experience you have is a chance to learn, to grow and to keep getting better.
That's what life and travel is all about.
Sneak Peak into Hokuriku and Japan
I'll be in Japan for eight days and I can't wait to share my experiences, stories and photos with you but this is the temperature change I'll be experiencing:
The traditional thatched gassho-zukiri inn in Syoshichi where I'll be staying on my first night in Japan:
Gokasanso where I'll take my first traditional Japanese bath, probably in the snow:
Would you like to visit Japan?
Subscribe Now
For more travel stories, travel inspiration and writing tips get updates by email or by RSS feed.
Share This Story, Choose Your Platform!