Great Movie! Tracks (On an Emirates Flight)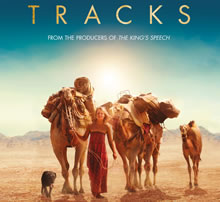 I missed out on seeing Tracks at the movies when it came out in 2014 but I heard glowing reviews from travel-loving friends. So my long haul flights from Brisbane to Barcelona to film the TV travel show Catalunya Experience provided an ideal chance to see the Tracks movie.
All four flights (Brisbane to Dubai, Dubai to Barcelona and back again) were pretty miserable, and watching Tracks was definitely the highlight of the trip.
Every flight was full and being squished in economy with no free seats around you for 24 hours is not fun. To make things worse I got cystitis on the flight to Catalonia and came home with a hacking cough and sinus infection.
Plus, even though I'm usually enjoy airplane meals (no cooking!), the food was terrible. I order vegetarian meals when I fly and on one leg I was served boiled rice accompanied by boiled carrots and boiled green beans. Totally tasteless.
As if all of that wasn't torturous enough, despite advertising chocolate on their menus Emirates were unable to provide me with a single square of chocolate, let alone a whole bar, on any leg of the journey. Since I rely on chocolate to see me through difficult situations I was not a happy flier this time round.
Still I know how blessed I am to be travelling anywhere and as a sweetener the Emirates ICE entertainment system is excellent. There are literally hundreds of movies to chose from as well as TV shows and music. I love the Neurosonica sleep solutions music and find it can lull me off to sleep in even the most trying of circumstances.
Still, most of the time you can't sleep on a plane, no matter how tired you are.
Tracks is the perfect movie to take your mind off the discomfort of travel and remind you why people love to travel, even if it means enduring a long haul flight.
Tracks Movie Review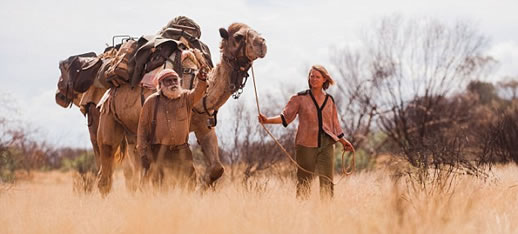 Tracks is about a young Australian woman who satisfies her craving for solitude by embarking on a solo hike across the desert, from Alice Springs to the Indian Ocean, accompanied only by her faithful dog and four camels.
While Wild got all the attention from Hollywood Robyn Davidson's story as portrayed in Tracks and played by Mia Wasikowska makes Wild look like a walk in the park. The Tracks journey is way more compelling, awe-inspiring and adventurous.
The lengths Robyn goes to to make her travel dream come true are incredible.
First she moves to a desert town to learn how to train and handle camels. She works long hours in exchange for a pair of camels but ends up being ripped off by her boss and leaving with nothing.
Determined not to give up she moves to a ramshackle old house and works with another camel wrangler. No one believes that she'll be able to learn how to handle camels, let alone trek alone across the desert with them but she stays focused on her dream.
Her luck changes when she meets a National Geographic photographer called Rick Smolan who suggests the magazine might sponsor her trip. The sponsorship comes off and Robyn leaves on her epic journey but the downside is that, although Robyn is determined to make the trip alone, National Geographic sends Rick to meet her and take photos at regular points.
Stubborn and headstrong Robyn does not appreciate any efforts people make to protect or help her. None-the-less she does end up forming strong relationships with an Aboriginal guide, a farming couple and even with Rick.
Robyn hits rock bottom many times on the journey. During her trek, she suffers multiple hardships, including dehydration, sick camels, the poisoning of her beloved dog, and intrusions by curious people who simply would not leave her alone.
Despite everything, Robyn completes her 1,700 mile journey, making it from Central Australia to the Indian Ocean in nine months.
When she finally reaches the Indian Ocean she takes her camels for a triumphant swim.
The Indian Ocean was the end of her physical journey, but the beginning of her sharing her story with the world – first in the 1978 National Geographic article, and later in her best-selling memoir Tracks which, 37 years later has been made into this beautiful movie.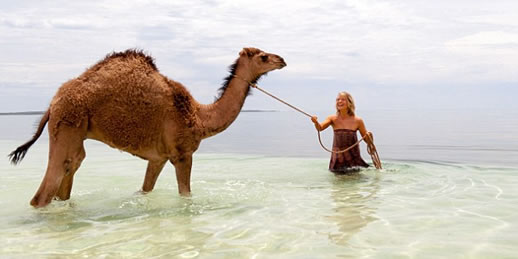 "The two important things that I did learn were that you are as powerful and strong as you allow yourself to be, and that the most difficult part of any endeavour is taking the first step, making the first decision."
Robyn Davidson, Tracks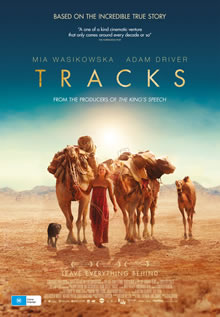 Tracks is a movie that will inspire you to follow your travel dream no matter what the cost, physical, emotional or financial. It shows nature at it's most beautiful and forbidding and portrays the ultimate strength and determination of a woman.
Surely one of the greatest travel, adventure and survival stories of our time, Tracks is a movie that moves you and makes you want to keep moving forward, no matter how hard your circumstances may seem.
Have you seen Tracks or any other great movies lately?
Stay Inspired with Get In the Hot Spot email updates!
Our free newsletter is a weekly injection of tips for midlife adventure. Get In the Hot Spot will help you travel well, feel fabulous and live your dream. Hit this link now to get updates by email. That way you'll never miss out on the best stories.
Share This Story, Choose Your Platform!