72 Hours on the Gold Coast in Queensland, Australia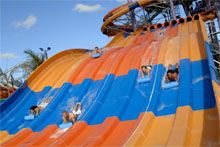 The Gold Coast is known for its theme parks and we hadn't visited them for a couple of years so it was time to load the family in the car, drive down the mountain from O'Reilly's Rainforest Retreat and load the Candy kids up on adrenaline.
Day One – Dreamworld
I didn't take many photos at Dreamworld as we were too busy admiring the animals, laughing at the snoring wombat and enjoying the rides.
Thunder River Rapids Ride was my favorite with its "moderate excitement" but I was also wrestled onto the "extreme excitement" of the Wipeout. Yes I was squealing. Lots. Check the Wipeout out on video here. I think you'll be impressed.
Dreamworld is fun because as well as a huge range of rides from tame to terrifying to suit every type of thrill seeker, you can also enjoy shows, catch a 3D movie and interact with the animals.
Then there are the silly activities like the giant cage where you can shoot spongy balls at your family and at complete strangers for far longer than you ever intended to. I liked that one.
Day Two – Lamington National Park
We rented a holiday home, the Bavarian Hut, a 30 minute drive from the theme parks so we took a day to explore the Binna Burra side of Lamington National Park 30 minutes higher up the mountain and enjoyed a long walk down through the rainforest to the Kweenbari caves.
The rest of the day was spent chilling out at the Bavarian Hut eating, drinking and playing table football.
Day Three – White Water World
White Water World is probably even more fun that Dreamworld on a hot day. White Water World is a blast because the whole family can enjoy most of the rides together.
We ran around carrying huge blow up rings up hundreds of stairs then whizzing down them squealing.
Wear a rash top and pile on the suncream for a day of family fun and lots of happy memories.
Many thanks to Gold Coast Tourism and Dreamworld for kindly treating me and the Mucho Man to go to Dreamworld and White Water World. It was mega fun and the Candy kids thoroughly enjoyed themselves too.
Share This Story, Choose Your Platform!