Girl's Getaway at the Quay West Suites in Brisbane: Part 2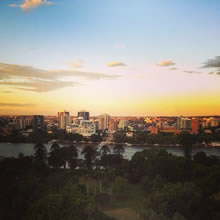 I've never handed my car keys over to a strange man before but valet parking at the Quay West Suites in Brisbane is the way to go.
There's a $35 charge for parking but the valet parking is a free service included with that fee. It's such a lovely way to be welcomed somewhere and beats struggling with strange car park cards, barriers and dark dingy underground spaces.
Our check in process is quick and easy too and the reception staff have all the time in the world to answer our questions. Apparently it's not just us who find the Quay West Suites easy to get to. The hotel is centrally located and close to the motorway which makes it easy to get to wherever you're coming from.
Soon we're whizzing up in the lift to our 18th floor apartment which is clean, spacious and very well-equipped. There's a big living room with a sofa-bed, chair and dining table, a well-equipped kitchen with everything you need to cook a meal, a bathroom with separate shower and bath, a bedroom with huge views and even a laundry.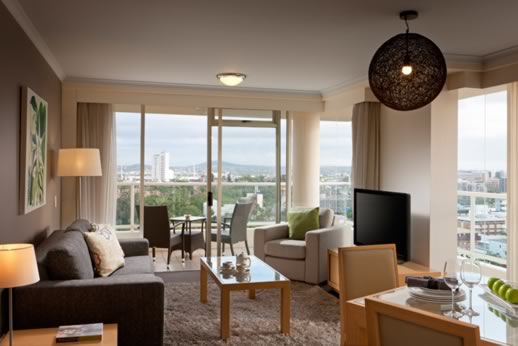 Needless to say we don't plan on using the kitchen or laundry during our girl's getaway but we love having so much space and, being British, being able to make a cup of tea is very important to me. Quay West Suites even pass my Earl Grey tea test with flying colors, providing six Early Grey tea bags along with several other tea options. Perfect for me and my tea swilling ways.
But best of all there's a HUGE balcony with amazing views over Brisbane City Botanic Gardens (if you missed Girl's Getaway part 1 Quay West Suites is right across the street), the city and across the Brisbane River to Kangaroo Point and the South Bank.
But we don't have time to linger in our suite. It's straight back downstairs to McMahons Restaurant for us because we're booked in for high tea.
Here more delightful staff ply us with sparkling wine and load our table high with:
Crispy pork belly with caramel sauce;

Arrancini with Andalusia sauce;

Mediterranean frittata;

Salmon, chicken and ham sandwiches;
Rosewater dumplings;
Citrus tarts;
Chocolate mousse;
Warm scones with jam and cream.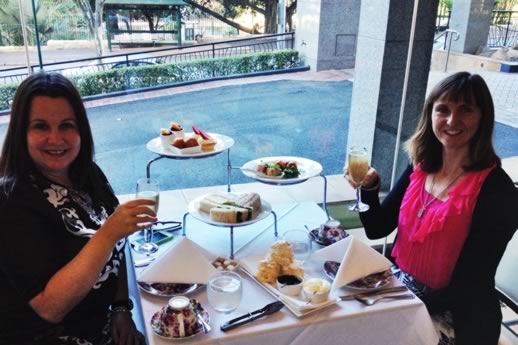 It's quite a feast and although I wished I'd thought to request a vegetarian option there's still way more food than we can eat. After posing for a photo I donate my bubbles to Lisa and sup on a pot of Earl Grey tea while we chat and look out over the Botanic Gardens. The fluffy scones and perfect little citrus tart are the stand out treats.
Quay West Suites high tea is $45 per person including one glass of sparkling wine or $55 accompanied by bottomless sparking wine for two hours. Apparently this is a popular option for special occasions and hen parties. Sounds like a good afternoon to me but you'd definitely want to make sure you had a room booked to sleep it off afterwards.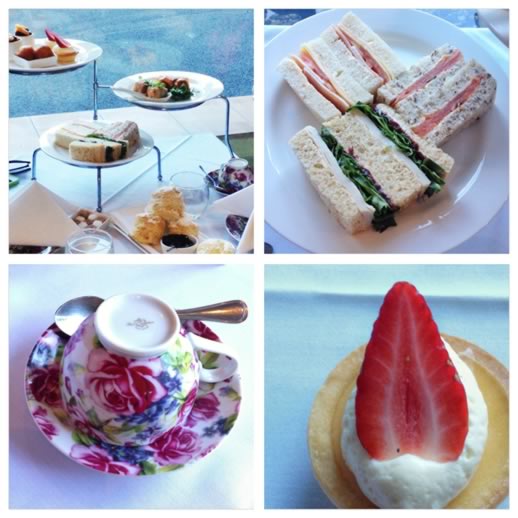 Even without the sparkling wine I'm pleasantly replete and sleepy after our big high tea.
We shelve plans to walk in the Botanic Gardens and retire to our room to relax and read the papers.
I also make Lisa take a zillion photos of me in my new clothes with the beautiful views as a backdrop. She's incredibly patient. You can find out where I got the macaw t-shirt and yoga outfit in part 1.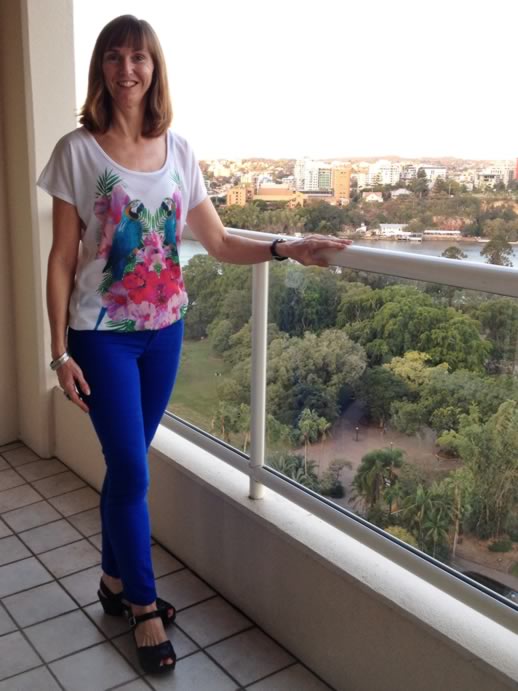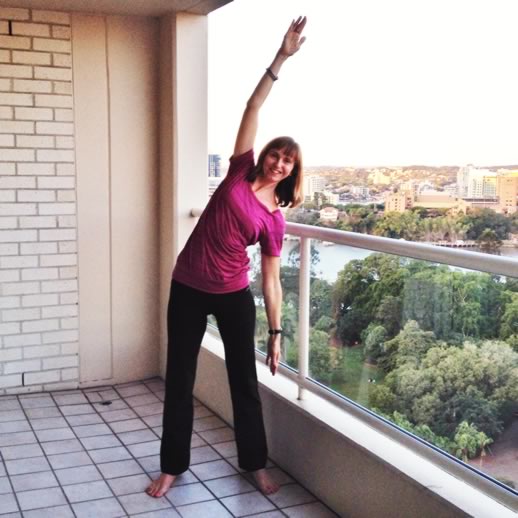 Many hours later and well after dark we finally emerge and walked past the casino to Queen Street Mall which is jam-packed with buskers, street entertainers and people out for a good time. We find a bar for a quick drink and, not being very hungry after our high tea, grab a quick bowl of noodle soup.
But the excitement of Queen Street pales in comparison to the quiet seclusion of our apartment so we head back to the Quay West Suites where the dazzling city night lights greet us as we walk in the door.
After tucking myself between the cool crispy sheets I know I should go straight to sleep because it's well after my usual bedtime but I do love staying in a hotel, having a bed all to myself and being able to read as long as I like without disturbing Rich.
Finally I turn out the light, peep between the curtains at the city lights and drift off to sleep congratulating myself for having organised a girl's getaway.
In the morning I throw back the curtains to enjoy the view only to see nothing but a thick curtain of white cloud. It's magical being up in the clouds with the sun shining above us.
We start the day with a sauna and spa bath because it's always good to avail yourself of all the facilities when you're staying in a hotel. The rooftop pool area and gym area are lovely but alas we don't have time for a sauna as it takes 45 minutes to heat up. We hop into the spa pool instead which is a relaxing start to the day.
Then it's back to our room for breakfast room service.
Because the Quay West is an apartment hotel with all suites I hadn't expected room service but am thrilled they have it. There's a breakfast buffet on offer but it's always a treat to stay in your room and get breakfast delivered. So we're enjoying eggs Benedict in the privacy of our apartment when the sun breaks through and the clouds clear.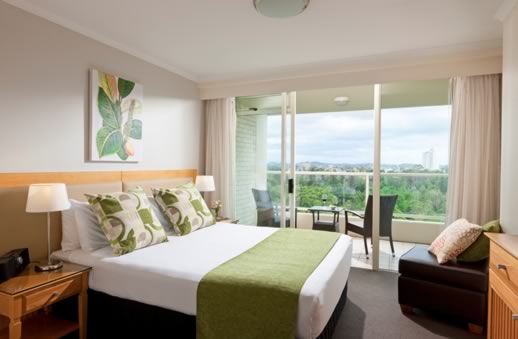 I could have stayed in the hotel all day reading the papers and giving the sauna time to warm up but we've got places to go.
We check out and let the valet pack our car while we cross the street to the Brisbane City Botanic Gardens which are small but perfectly formed. There's a great playground so if you've got the kids with you they'll be easily entertained and the thoughtful Brisbane City Council even laid on a funky brass band to entertain weary parents.
After a gently walk by the Brisbane River it was time to leave. It's always sad to say goodbye but comforting to know that the Quay West Suites and their car parking valets are there whenever you fancy a girl's getaway or a city escape.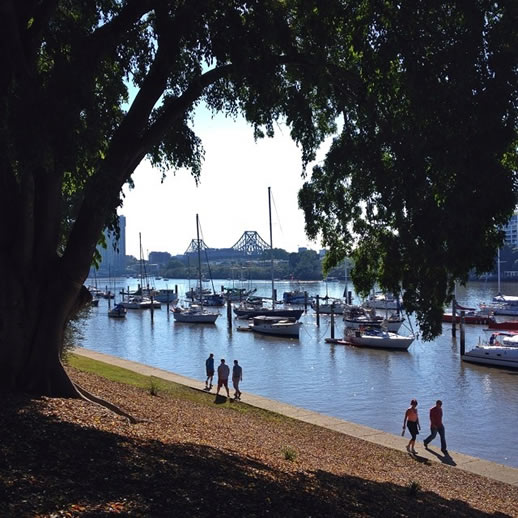 7 best things about the Quay West Suites
Great location right by the Brisbane City Botanic Gardens and the CBD and an easy walk to the shopping district around Queen Street Mall, the river and South Bank.
The hotel blurb claims "Quay West Suites is Brisbane's only 5-star, all-suite hotel offering unrivaled, attentive service and stylish, self-contained apartment accommodation." They delivered all that and more, with amazing service and a beautiful clean apartment.
All the hotel rooms are apartments which gives you more space and makes you feel more at home, and the views from the top floor apartments are great. The photo at the top and bottom of this post show the sunset view from our balcony.
Although you get a full apartment with kitchen and laundry you still enjoy all the services on offer from a hotel including room delivery (24 hours in case you need it) and night time turn down. From the cleaners to the manager, every staff member was relaxed, friendly and only too happy to help with requests for a Sunday paper, help putting out the sofa bed and towels to use after a spa bath.
High tea at McMahons Restaurant is a fun way to spend the afternoon. The restaurant is slightly above street level so grab a window seat and enjoy the views over the Botanic Gardens while you eat.
It's a perfect spot for families because they have one, two or three bedroom apartments with a great shared pool area and the park and playground across the street when the kids need to let of steam.
If you're looking for a good place to stay during the Royal Queensland Show 2014 (aka the Brisbane Ekka from August 8 to 17), Quay West Suites have special packages priced from $283 per night. Find out more on the Accor Hotels website. The Candy kids will be keeping their fingers crossed but I'm not  making any promises!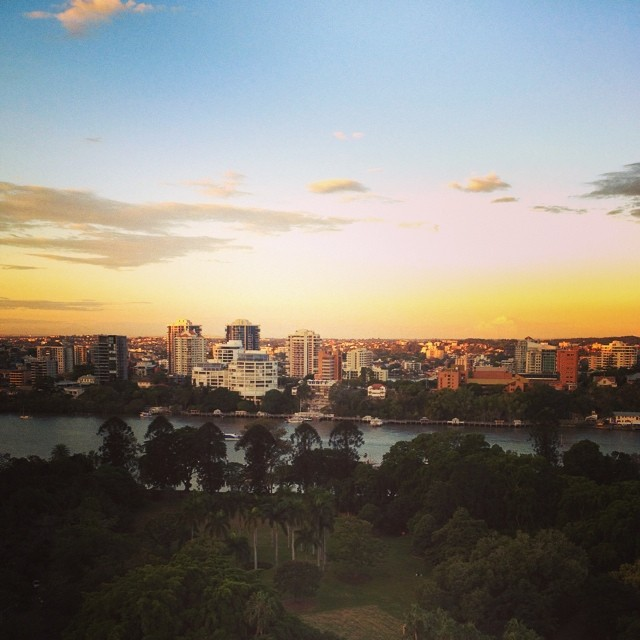 What would you do on a girl's getaway?
I was a guest of the Quay West Suites. In accordance with my disclosure policy all views are my own.
Share This Story, Choose Your Platform!