Funny Travel Story: I Kicked a Door Down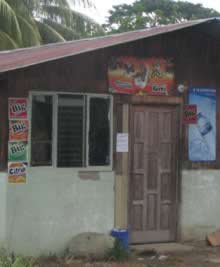 No sooner had we moved into our first home in Costa Rica than Rich got locked in the bathroom.
We didn't own anything much and there wasn't anything major to unpack so while the kids and I were admiring the view and exploring the garden Rich snuck off quietly to christen the loo in the en-suite bathroom off the master bedroom.
The house was totally private, surrounded by jungle and opening out on to huge views over the Pacific Island. After five months on the road I felt like doing a happy dance because we finally had a place of our own but I couldn't fully enjoy the moment because someone was missing. Rich. Where on earth could he be?
It took a while for me to hear the shouting but when I did I walked upstairs to see what all the fuss was about.
"Where are you?" I asked.
"I'm locked in the bathroom," Rich said. "I can't open the door. The lock's broken."
"Oh yeah," I paused before confessing. "Luca told me the lock's broken so not to lock that door."
"Argh! Why didn't you tell me?"
"I didn't have a chance, did I? I didn't know you were going to go straight to the loo the minute we stepped in the house."
"Well I did and now I'm locked in so get me out."
"How?"
"You'll have to kick the door open."
"Really? Kick the door open? How?"
"Just give it a really hard kick and it should fly open."
I remembered those old Starsky and Hutch and Cagney and Lacey shows where the fearless detectives get to kick down a door in every episode and my heart leapt with excitement. I'd never realised I wanted to kick down a door before but now I did and my moment was here. I knew it was going to be good. Very good.
"Okay," I said "Stand back. Stand in the very furthest corner."
"Okay, I'm ready."
"Are you sure you're in the corner?"
"Yep, I'm ready. Just kick the door open can you?"
"Are you right in the corner out of the way?"
"Of course I am. Just get me out."
"Okay. Don't worry. I'm going to do it now. Just stay there."
I took three long steps back, eyed the door, bent my knees slightly and jogged towards it. With perfect timing and thanks to years of practice at a Thai boxing style aerobics class on Waiheke Island I crouched down on my left leg, picked my right leg up and whipped the lower leg out from the knee landing my foot strongly right in the middle of the door. Modesty aside it was the perfect kick. Fast, hard and on target.
There was a massive bang as the door flew off its hinges and crashed into the shower wall then bashed its way down to the floor. My heart beat fast in the silence that followed.
Rich, huddled in the corner took his hands off his head and looked at me. I smiled at him, high on adrenaline and waited to be thanked for this daring rescue.
"I told you to kick the door open, not down!" He said.
"Well I didn't know it would fly right off its hinges, did I?" I said. "I just gave it a really good kick and that's what happened."
Just then the kids came running up stairs and appeared behind me.
"What happened Mummy? What was that crashing?"
"It's okay kids. Daddy got locked in the bathroom and Mummy rescued him that's all.
And that was all. Rich got locked in the bathroom. I got to kick the door down and it all ended happily ever after.
Have you ever got to play out any tough detective guy fantasies? Or maybe you've been locked in a bathroom yourself?
Get the FREE weekly newsletter
Join thousands of happy readers with Get In the Hot Spot's weekly newsletter. Click here to subscribe now. I'll email you weekly with news you can't find on the blog (secret stuff that's just between you and me) and links to the best stories.
Share This Story, Choose Your Platform!