Great Reads! Fatal Storm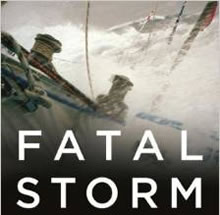 I've probably read more than my fair share of survival books. I love true stories of courage and epic adventure and, although sadly not everyone survives their adventures in Fatal Storm, it's one of the most gripping survival books I've read. But I warn you that it's horrifying to.
Written by sailing journalist Rob Mundle, Fatal Storm: The Inside Story of the Tragic Sydney-Hobart Race
tells the true story of the 1998 Sydney to Hobart ocean race. It's one of the most iconic sailing races in the world, crossing what are often stormy, dangerous seas from mainland Australia to offshore Tasmania.
The Sydney to Hobart race isn't just a race, it's a perilous journey. It's frightening just to hear that in 1998 104 yachts started the race but only 38 finished and to read the full story about what happened is terrifying.
Many boats that year did make it back to shore surviving a huge storm, but other many yachts including iconic boats were decimated by horrific waves up to 70 meters high. There are some incredible survival and rescue stories but six sailors died during the race.
This book is a harrowing read. Even though I was reading it from the safety of my bed it made me feel really anxious. But it's a story about adventure, survival, chance and how precious our one life is.
I loved this quote from the book:
"We all tend to believe we're big rough and tough sailors who can handle anything, but in the true scheme of things, when push comes to shove, when you're faced with the realities of life and you know this could be your last moment on earth, you start to think of family, and friends, and God. You also tell yourself it betters start making amends."
It's a book about team work, about courage and about how differently people react when faced with life-threatening situations.
It's a book about people who are driven by their passion for the ocean and sailing to endure the most difficult circumstances.
Most of all it's a book that makes you realise how precious life is and how lucky we are to be here.
Have you read any good survival or adventure books? Do they inspire you too?
Find out more about Fatal Storm on Amazon here.
Travel Well and Feel Fabulous with Get In the Hot Spot!
Great Reads is a new series to help you discover the best books to read on the plane, on your travels or in between trips.
Stay tuned to Get In the Hot Spot with our free newsletter, a weekly injection of tips to help you travel well, feel fabulous and live your dream. Hit this link to join us now.
Share This Story, Choose Your Platform!