Picture Perfect English Cottage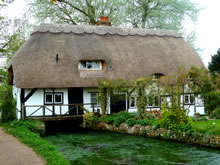 Last time I was in England I went to stay with my BFF's Fiona's parents near Winchester just like we did when we were starving students.
Even though I now had three kids in tow they still opened up their home, hearts and fridge for me and we all got to spend a wonderful weekend in the great English countryside of rural Hampshire.
They're lovely people who epitomise English eccentricity in the best possible way. During out stay we rode on their homemade flying fox, dressed up in their old police uniform collection and ate a traditional Christmas roast turkey with all the trimmings even though it was springtime.
I loved that because my kids have never even had a traditional English Christmas lunch before because it's too hot for that kind of thing in New Zealand and Australia in December.
We also went on a day trip to a small Georgian market town called Alresford  which is seven miles outside of Winchester and about an hour's drive south west of London – see red marker.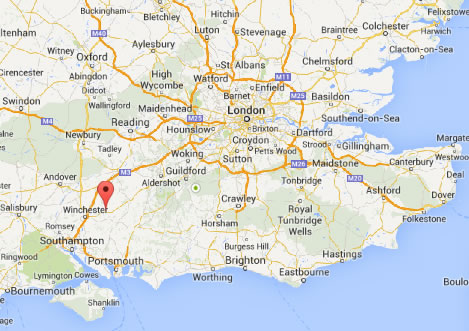 Not only is Alresford a picturesque place but it was also enjoying a brush with fame because Kate Middleton (who was just about to marry Prince William at that time) is a regular visitor to a high end fashion boutique called Moda Rosa on the main drag. Apparently her parents live nearby.
If you plan a visit to Alresford, apart from shopping where Kate shops, you can also take a walk on the heritage trail or enjoy the Fulling Mill and Riverside Walk as we did.
Straddling the River Alre you can see the thatched timber-framed Fulling Mill which was built in the 13th century and is pictured here. It even looked as if people were living in the mill which I found amazing. Even though I grew up in a watermill myself it seems so unlikely these days and so dangerous but I think that's because I've been living in the nanny state of Queensland for too long where pool fences are the law!
Alresford is the hub of the UK's watercress industry and home to the Watercress Line steam train if you like a train trip. You can also walk the Alresford Millennium trail, a self-guided trail about a mile long which links together footpaths around the town, with illustrated boards introducing the history of Alresford, its inhabitants, the railway line, wildlife and rural surrounds.
Then, once you're all walked or shopped out, you can visit one of the quaint tearooms or restaurants in Alresford.
Now I don't live there any more I love England, especially in the spring time. And if you want to visit a quintessential English town I recommend Alresford. You can find out more on the Visit Winchester website here.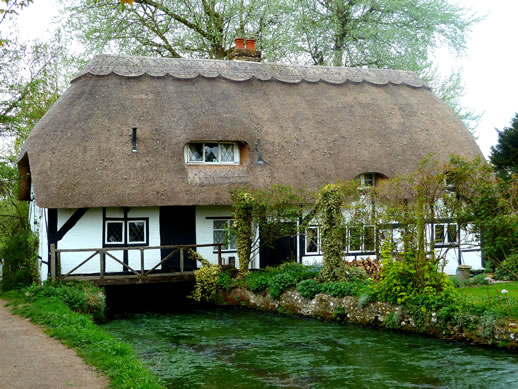 Would you like to live in a Georgian watermill?
Join thousands of happy readers – Get the FREE weekly newsletter
I'll email you weekly with news and links to the best stories. Get in the Hot Spot's newsletter is a weekly injection of tips to help you be adventurous, have more fun and feel fabulous. Click here to subscribe now.
Share This Story, Choose Your Platform!