Top 10 Travel Tips for Boomers in the USA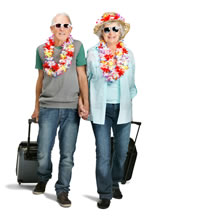 The land of the brave and home of the free is strangely appealing. While I despise globalisation and Americanisms, and scoff at (not up!) crazy American portion sizes, I love the USA and those who live there.
If you haven't already visited the USA, it's probably on your travel bucket list and if you have visited it's probably still on it. It's such a huge, diverse country with so much to see, and the people are so welcoming. It's the kind of place you want to go back to.
I've been fortunate to live in the USA twice (in Connecticut and Atlanta, Georgia), and visit several times, so I've been here and there, if not everywhere. I'd love to return.
With that in mind, here are my travel tips for Australians who are about to or would like to visit the USA.
1. Pack light and shop it up
Travel is always easier if you have less stuff to carry. But I recommend packing light so you have room to buy things to take home with you.
If you head to the outlet malls or shop the sales, you'll find amazing deals on good quality clothes, shoes and accessories, including things like bags, luggage and watches. Everything seems to be cheaper than in Australia. Pack light so you can take things home with you.
Just be wary of sales tax which will be added at the checkout. The sales tax rate varies in each state but can be up to 10% on top of the ticketed price. It's just something to bear in mind as you shop.
2. Start tipping
Tipping is very much optional in Australia but it's almost compulsory in the USA. In restaurants or bars where you're sitting down, tip 15% to 20% of your total bill.
Have $1 bills on hand to tip people who carry your bags, park your car or hand you a paper towel when you visit the bathroom.
3. Lock in your exchange rate
These travel tips aren't focused on saving money but, if you do want to travel for less, one of the smartest ways to do so is to get the best possible rate of exchange.
Use a service like WeXchange to track exchange rates with email or text alerts. You'll only receive an alert once, when the desired rate comes up.
Then you can order your currency online and pick it up in store from Sydney, Melbourne or Perth whenever you're ready.
4. Get travel insurance
If you fall sick or get in an accident, medical expenses in the USA can be huge, so do yourself a favour and get comprehensive medical insurance that includes repatriation. It's good value for money considering the peace of mind it buys.
5. Eat Healthy
While the food and people in the USA has a reputation for being unhealthy, there are just as many healthy food options and fit, active people. So you don't have to use your travels in the USA as an excuse for piling on a few kilos.
You can use your visit to the USA as a way to experiment with healthy eating by visiting chains like Native Foods (for vegan fare), Freshii, Protein Bar or Pret-A-Manger. Mexican food can also be super healthy and tasty and is found just about everywhere, as is Chipotle, a fast food outlet owned by McDonalds where you can enjoy a decent healthy bite (vegetarian or vegan if you wish) for a song.
6. Use your frequent flyer points for domestic flights
If you're got any frequent flyer points going spare use them for domestic within the USA because the taxes are low so they're the best way to spend your airmiles
7. Beware of hypochondria
Prescribed medicines are advertised on TV and in magazines and newspapers along with long, scary details about the ailments they cure. It's enough to turn anyone into a hypochondriac.
Since a trip to the doctor will be pricey and may not be included due to the excess of your travel insurance, head to somewhere like Walmart first where you can consult with a pharmacist and buy medicine cheaply over the counter.
8. Go to a sporting event
Sporting events are a good way to observe and hang out with happy Americans in the wild. There's usually entertainment during the interval, along with food, drinks and a party atmosphere.
9. Get free WiFi
Most hotels charge for WiFi. Unless you want to get stung everywhere you stay, use this as an excuse for a digital detox or visit a cafe like Starbucks which offers free WiFi in exchange for the price of a drink.
10. Take public transport
Don't be afraid to use the subway or take public transport wherever you are. It's cheap and will give you another chance to experience a slice of life. Apparently, you can even travel across the entire country by train for about US$200 if you have time to spare and want a unique experience.
This blog post is sponsored by foreign exchange service provider WeXchange who help make currency exchange hassle free.
Before you travel: WeXchange have stores with automatic cash counters in Sydney, Melbourne and Perth and an online service so you can exchange currency 24/7 and pick it up in-store anytime.
Returning home: If you come home with unspent foreign cash, WeXchange offers a cash buy back plan so you can sell your unspent currency back to them at the same rate you bought it for.
Share This Story, Choose Your Platform!