Our Home Away From Home in Bocas Del Toro, Panama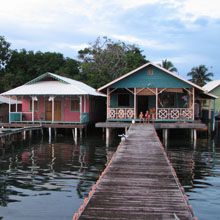 Imagine a Caribbean island, a one horse town which the horse has wandered away from, a place where life has slowed to a gentle crawl. Here the clear blue seas are filled with exotic fish, the trees heavy with bread fruit and the roads a quagmire of mud so often impassable.
That's Bocas del Toro in Panama. There's not much to do in Bocas except learn to surf, hop in a boat to explore other off shore islands or take a cooling swim. But what else would you want to do?
Having just spent 10 years living on a Pacific Island in New Zealand before moving to Central America to find a new home we knew Bocas del Toro wasn't a place we wanted to settle permanently.
Much as we loved Waiheke Island we'd vowed never to live on an island again. But Bocas del Toro was a special place, a place we might never return to and one we didn't want to rush through. So we decided to stay for a month.
Traveling With Kids
The other reason we decided to stay a while in Bocas del Toro was that traveling can be hard work but when you've got three kids in tow it's three times as hard. We traveled with the Candy kids, then aged two, five and eight years old, for about six weeks through Guatemala and Panama  before we needed a break from the grueling schedule of moving on every few days.
I am a homeschooler at heart but in practice I'm not cut out for spending every hour of every day with my children. I'm a hands on mum, I've always worked from home and usually work as little as possible so I can spend the majority of time with my kids. But after six weeks of living out of bags, of packing and moving on, of worrying and watching our children closely everywhere we went and of having no dedicated child friendly places to hang out in, we went we were ready to unpack our bags and relax for a while.
You never really get to know a place properly unless you spend more than a few days there and Bocas del Toro was a place we wanted to get to know.
When you visit a place you love and may never return to you should stay there as long as you can so that's what we did in Bocas del Toro.
Finding a House to Rent in Bocas del Toro
It wasn't easy to find the right place to stay for a month even though our wish list only had three things on it. We wanted to find a house:
1. In a neighbourhood where we'd be living cheek to cheek with local people.
2. With a kitchen so we could do our own cooking because the joys of not cooking soon wear thin, especially when you have to pay a restaurant bill for five people three times a day, some of whom refuse to eat it anyway.
3. With at least one separate bedroom so we weren't all living in the same room because for the last six weeks traveling all five of us had been crammed into one room just about everywhere we stayed.
To find our house I asked hundreds of people on Bocas del Toro Island including expats and locals in hotels,  restaurants, shops and anywhere else I could think of. We left no stone unturned and eventually someone said they knew someone whose brother-in-law might have a house to rent.
So off we went to see our new home which turned out to be the perfect spot.
For rent of around $1,300 a month we hired a small wooden gingerbread cottage with three bedrooms perched over the water with its own deck and dock. Our casa was bright blue and looked out over an inlet to the mangroves on the other side of the water and the airport.
We couldn't actually see the runway but it was fun to watch the planes taking off and landing; there aren't that many scheduled flights to Bocas del Toro so the planes coming and going were an event rather than a nuisance.
Best of all we were completely surrounded by locals as there weren't any other foreigners living in our neighbourhood including the landlord and and his family who lived one meter away from us across the water and quickly became friends.
The Candy kids played with the other kids messing around in a dugout canoe, falling into the water and splashing around. We also spent a lot of time in the hammock on the deck, sometimes arguing about whose turn it was, but often just sitting or hanging there watching what was going by. Maybe a bird, a boat full of bananas or some fishermen coming home with their catch. There was always something going on so we didn't need a TV.
Our two year old girl went to a local school and childcare centre in Bocas Town a five minute communal taxi ride from our home. The school was private and fee-paying, but the kids were split evenly between local and foreign kids so she was immersed in the culture and started learning spanish.
The private and local schools weren't an option for our boys, then aged five and eight, so we hired a backpacker to look after them.
Shanice, a Dutch traveler turned babysitter, who's now an aspiring actress, came two or three days a week to play with the children and look after them so the Mucho Man and I could have a break and explore Bocas Island together.
Shanice became a firm favourite with the whole family and was quickly nicknamed "the evil babysitter" by our kids even though she was clearly an angel.
So what is there to do on Bocas del Toro?
1. Do nothing. This should always be one of your main goals when traveling and Bocas is the perfect place to do nada. We could happily spend hours wandering around town, hanging out with the locals and chewing the fat with them.
2. Go surfing. Most of the expats who've moved to Bocas del Toro love it because the surf is fantastic, the water warm and with few people in it. I learnt to surf in Bocas at the Azucar surf school with the lovely Jessica and Mike who became friends and have a little boy the same age as our little girl.
3. Eat. When you're travelling it's always a pleasure  to eat new foods and try different things. We'd often go out to lunch together and the local chicken casserole became a favourite especially at Flip Flops restaurant which overhangs the water. The food in Central America isn't the best but if you like chicken and rice you'll be fine. It's just a question of trying everywhere so you can find out who cooks it best.
There's a restaurant in Bocas Town called Red Rooster which is like a fast food joint and a great place for us to take the kids for an icecream in the evening while we enjoyed a bit of people watching in the town square. One day we were thoroughly entertained as the staff chased a large rat round the restaurant and tried in vain to catch it
4. Explore the main island of Bocas del Toro and the other nine islands nearby. You can get a taxi or a shared taxi down to the bottom end of the Bocas Island if you want to get away from the "hectic" main town or hop on a water taxi to one of the other island.
Bastimentos Island is the most popular for day trips to Red Frog Beach which is famed for the poisonous red dart frogs. Or see if you can get to Wizard Beach. Apparently it's only a 30 minute walk but when we went it involved an epic walk over hill and dale through exceedingly deep and sucky mud. It was a crazy thing to do with three kids but I'm glad we did. I think Max's shoe's still stuck in the mud there though.
5. Nightlife. If you like meeting real characters you'll find plenty of them in Bocas del Toro. Head to any one of a handful of bars or the only nightclub and one of them will approach you soon enough. If you stay too long you'll end up spending much of your time trying to avoid them.
6. Swim. The beaches aren't stunning white sand beaches and because of all the rain the sea is often murky but it's hot so you'll want to swim from any beach, dock or boat you can find. Look out for dolphins, beautiful giant yellow and blue starfish or tiny iridescent fish that light up the water at night.
Travel Memories and Serendipity
The best memories I have got of Bocas del Toro are the many times that we wandered around Bocas Town, the funny, friendly people we met and the strange and silly things that happens to us.
Most of all I loved hanging out at our home away from home with the locals. I developed a slight obsession with the neighbours on the right and spent a lot of time taking photos of their house because there were so many people and animals coming and going.
I cherish the friendships we made there, not just with other travelers or people who've moved to Bocas, but especially with our landlord and neighbour on the left.
One day he invited me on a boat trip to visit a house he was building on remote island. Suddenly there were dolphins right in front of the boat and it was one of those moments were you just pick up the camera click the button then, by complete coincidence at that exact moment a dolphin leapt out of the water, dark skin glistening, water spaying off it's back shimmering like gems.
Travel is about taking a month or so to really spend time somewhere and just hangout doing nothing. It's about those chance encounters and opportunities that come your way and about making your own luck by being in the right place at the right time.
So if you want to get off the fast track and slow life down head to a real Caribbean Island and rent yourself a house in Bocas del Toro.
Have you ever had a home away from home?
Share This Story, Choose Your Platform!