One Night of Luxury in Bangkok at Sofitel Sukhumvit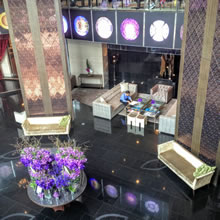 With a massive centrepiece of purple orchids and art from France, the lobby is a Thai-French blend that works.
Traditionally, Sofitel, the only French luxury hotel brand with a presence on all five continents, aims to create a happy mélange of French and the local culture. Sofitel Bangkok Sukhumvit does it well. The 335 room hotel is opulent and classy without being brash, unique and colourful without feeling gimmicky.
Arriving after a late flight, the hotel is only a 30 minute taxi ride from the airport. It's not raining and the notorious Bangkok traffic is flowing. Whatever the weather, traffic won't be a problem from 2017 when a new Skytrain is built, allowing guests to hop on a train at the airport and get here in 30 minutes for just 35 baht or around AU$1.50.
We're tired after flying to Bangkok from Australia via Singapore, but a soft plush bed, another signature of Sofitel hotels, awaits in the roomy suite.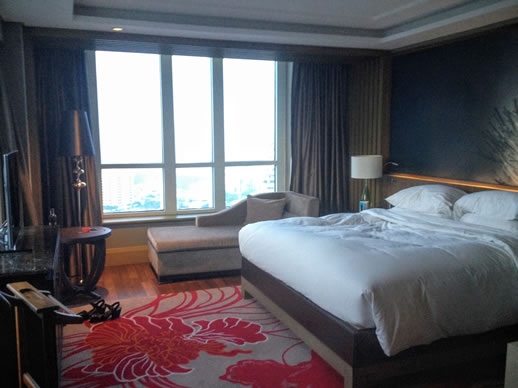 There's a lobby, a living area with office and a large bedroom with space for a chaise longue. The windows overlooking the city are huge, as is the bathroom with full-sized bath plus separate loo and shower. There's room to spread out.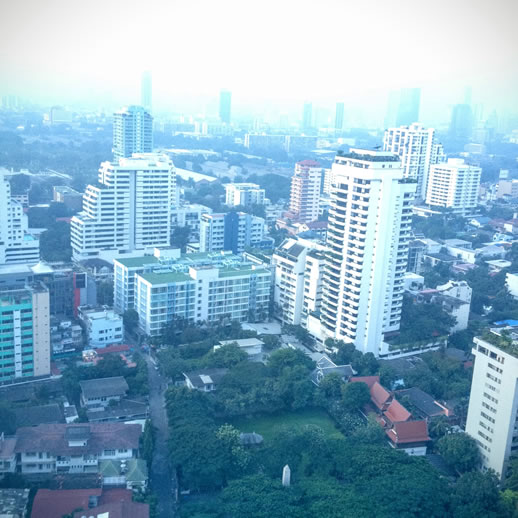 After a quick shower with the Hermès products, I settle onto the sofa to eat the complimentary tropical fruits and Valrhona chocolates.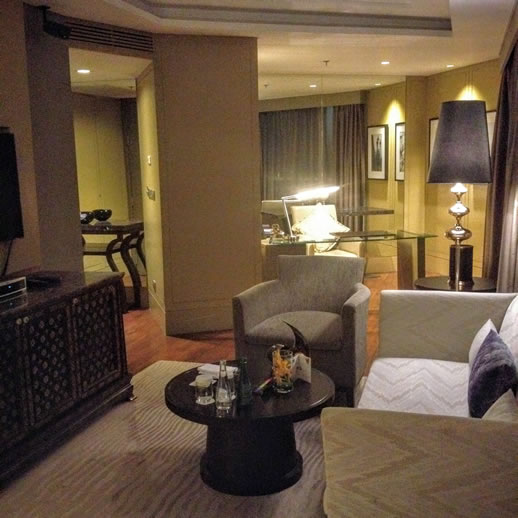 As well as pampering their guests, Sofitel hotels like to educate them. The fruit menu enlightens me on the difference between a mango and a mangosteen, as well as the health properties of durian, papaya and star fruit.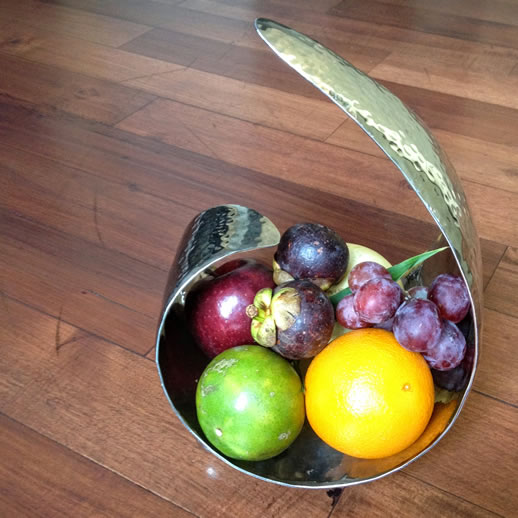 According to the menu, mangosteen is the king of exotic fruits. I cut through the thick purple skin and pop out the creamy white interior. It's a perfect mouthful of smooth flesh with a mild, tangy flavour.
Pillow menus are ubiquitous in luxury hotels these days, but the Sofitel menu is more extensive and the trademarked MyBed system ensures every guest will have a dreamy sleep. There's even a sleep tight message and chamomile tea set on my bedside table to ensure deep rest.
It's not needed and I sleep until dawn, when the sun casts its hazy glow over Bangkok. I stretch luxuriously in bed and contemplate what to do with the remainder of my 24 hours in Bangkok.
Since the focus of this trip is a Half Marathon in Luang Prabang, I need to get my training out of the way first. The well-equipped gym is also huge with heaps of modern equipment, including 10 treadmills and a personal trainer to help you train smarter, or just make sure you always have a fresh towel and full water bottle to hand.
With a mature tree growing right outside the ninth floor window and a view over the park, the outlook is surprisingly green. There are endless building names to read and rooftop swimming pools to count as I run.
As Club Millésime membership comes with my suite, there's a choice of venues for breakfast. One of them is the exclusive setting of the Club rooms on the 31st floor, where there's a small buffet and an à la carte menu with global breakfast favourites.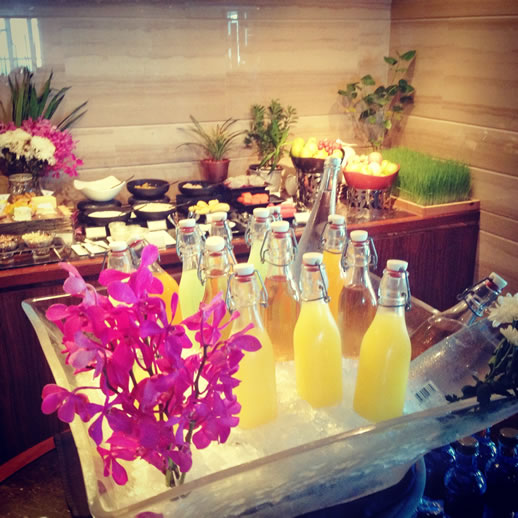 It looks divine but I opt for the even more extensive choice of global foods on offer at Voilà restaurant on the second floor.
The lobby views and food are fabulous. There are specials from the Middle East, Korea, Japan and, of course, Thailand and France, as well as quiche, crispy bacon, roast potatoes and grilled baby tomatoes. Everything is beautifuly presented and on a grand scale.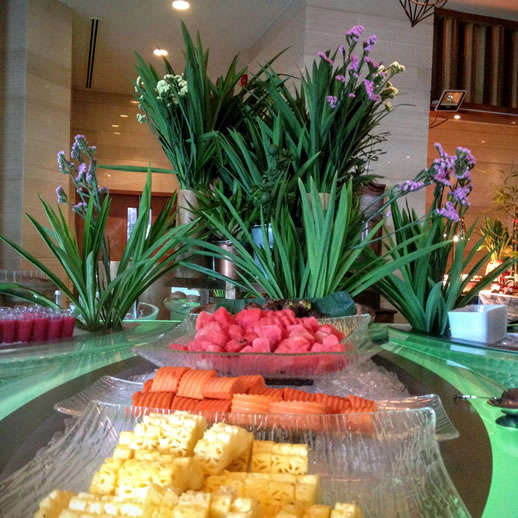 Friendly staff will juice fruit or vegetables to order, but I try their special of pear and cucumber juice. It's a fresh, tasty, healthy choice that I hope will counter-balance the rich chocolate brownies and English bread pudding I plan to eat later. This is going to be a decadent breakfast.
Two tables are needed to display the breads and pastries, and a dedicated pancake chef is busy making pancakes, waffles and French toast. Meanwhile, across the way, there's an egg station and a cheese buffet which looks like a speciality cheese and wine shop.
Naturally a chef can cook your eggs to order anyway you please but, once again, I can't go past the special of oeufs en cocotte. Served in a miniature saucepan, my baked egg is flavoured with herbs and sprinkled with mushroom. An excellent choice.
This is not a breakfast you want to hurry but finally I can eat no more. No matter how far you run, and how tempting the fare, there's only so much brekkie one woman can eat. Now it's time to think about the rest of the day.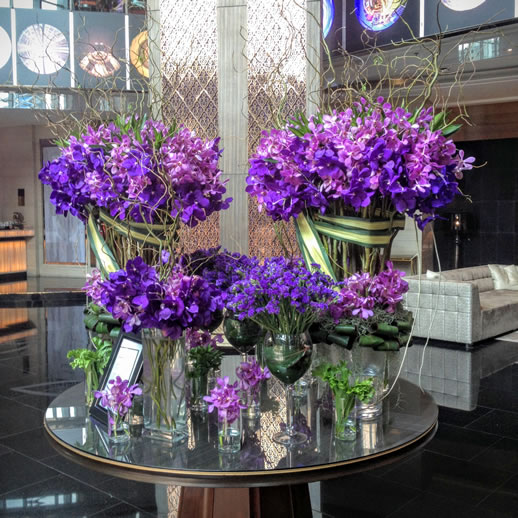 I'm reluctant to leave the seclusion of Sofitel Bangkok Sukhumvit and there's certainly no need to. As well as several restaurants, bars and the gym, there's a spa, a big rooftop swimming pool and an art gallery in the hotel.
There's even a massive ballroom and several meeting rooms so you can hold a wedding or conference here. Thankfully I have no such commitments.
Much as I'd like to stay in, the traveller in me feels it's wrong not to leave the hotel. I should explore Bangkok but I don't want to venture far.
It would be crazy to visit Bangkok without shopping, so I head to Terminal 21 mall a two minute walk south of the hotel.
There are global brands like Levis, but it's mostly local shops and the entire mall is themed like a round the world trip. Floor two is called London and has a massive replica double decker bus. Meanwhile Tokyo, on the first floor, boasts giant sumo wrestlers, a mako girl and a waving cat; all irresistible for selfies.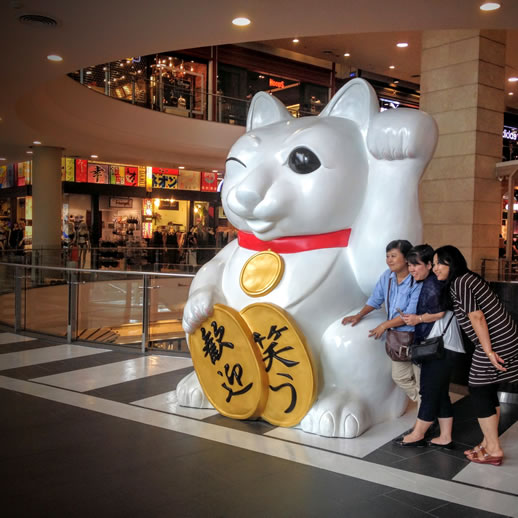 I find some quirky kitchenware for my daughter in the Daiso Japanese shop (in the Carribean on the lower ground floor), including essential items like a mould to create star and heart-shaped hard boiled eggs.
Nearby the Taokaenoiland shop sells gourmet treats. You can buy crispy squid snacks for your frenemies or chocolate coated exotic fruits for your loved ones. I can't go past the Thai curry mixes, coconut toffees and chilli tamarind toffees. The Candy kids will have fun sampling those.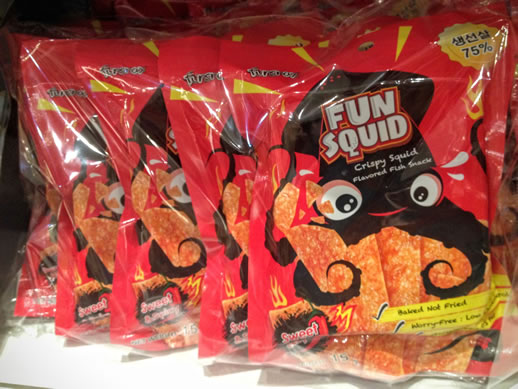 There are clothes and gift ideas galore everywhere. I resist the pug bag my daughter would surely love but pick up some fruit-shaped soap on a rope that will make a fun, inexpensive and heavenly-scented gift.
Feeling smug about getting my souvenir and gift shopping out of the way so soon I can now relax with a Thai massage. It's time to head back to the hotel.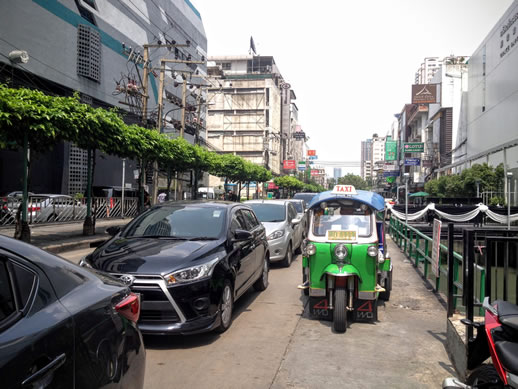 After the hustle and bustle of the Bangkok streets and the shopping center, the spa is cool, dark and serene. There's a beautiful teak bed to lie on and the Thai massage is as they should be. It's like doing yoga while lying down.
I'm given loose clothes to wear and massaged, stretched and contorted in a manner that is best described as painfully relaxing. My tight runner's muscles need this and when I leave I feel noticeably looser and blissfully pain-free. I can only imagine how limber I'd be if Thai massages were a daily part of my well-being routine.
Time flies when you're having fun and that can be a good thing because it's almost time for afternoon tea in the Club rooms, another benefit of membership. Afternoon tea is an informal buffet in formal surroundings, with a small but perfectly formed choice of savoury sandwiches, sweet treats and miniature cookies.
All the portions are tiny which means you can try everything. The caramel-filled choclate eclairs are divine, the rum baba, with a pipette of strawberry syrup, is sweet in all ways but my favourite is the mini crème brulee.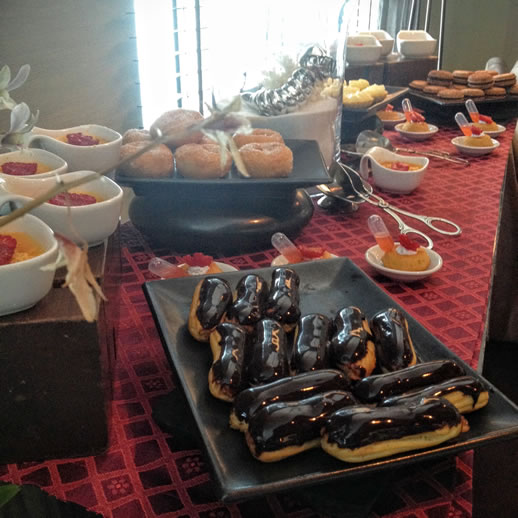 Since afternoon tea is probably not a Thai custom, I compensate by choosing green jasmine tea. My stay seems to be characterised by finding healthy options to offset the decadence.
I should probably do laps in the 25m rooftop pool now, but a quick plunge and a long lounge on a canopy-covered bed is more my style. There's a bar up here and the Liquide menu, which includes frozen cocktails is tempting.
I resist because, as a Club Millésime member I feel duty bound to head back to the Club rooms at 5pm when complimentary cocktails and hors d'oeuvres are served. All in the name of research you understand.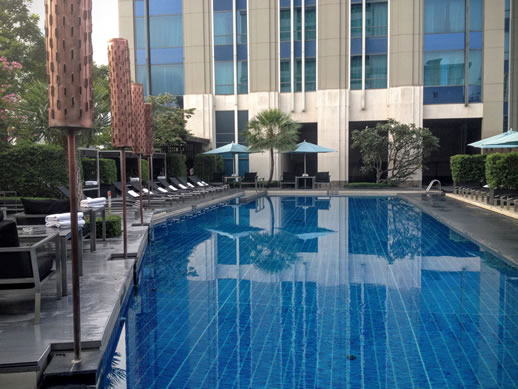 It's fun to dress up so after my "swim" I slip into a dress and heels before heading back to the Club rooms where a mojito hits the spot. The snacks are beautifully presented but for once I resist temptation – not as hard as it seems because I need to save space for supper.
L'Apart Restaurant on the top floor serves drinks and food inside or on the terrace where the glowing table lamps and bright lights of Bangkok make a stunning setting.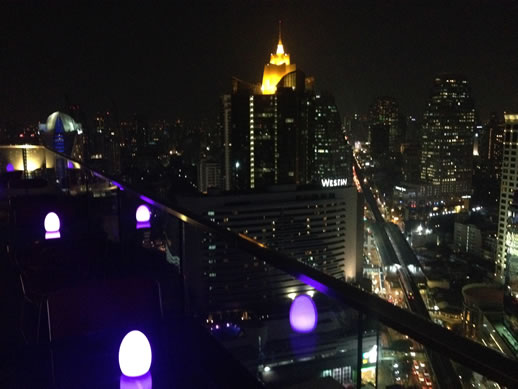 This is the first time I've visited Bangkok for 24 years and my one night in Bangkok will be distinctly lacking in hedonsim compared to my last visit when clubbing until dawn was the norm.
I don't miss the night life and am way happier enjoying the night lights and my first class meal, another elegant blend of the best of France and Thai cuisine. As someone who can never decide if French or Thai cooking is my favourite it's a special meal and I love that I can round off my fresh Thai-style crab and pomelo salad with a chocolate fondant.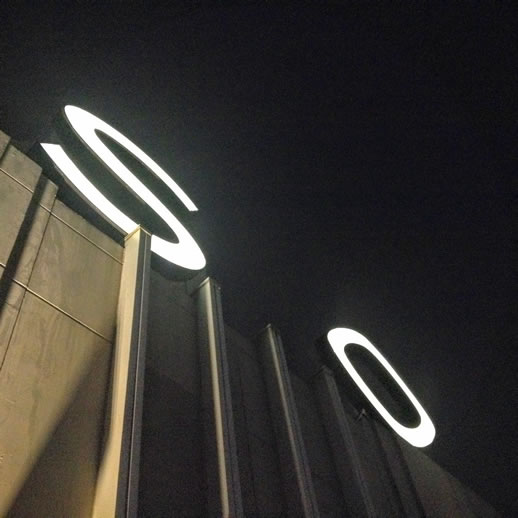 It's only 9pm but MyBed is calling. There are DJ nights and parties in the bar at the weekend but I've happily traded outrageous nights out in Bangkok for fine food and luxury living. Sofitel does it so well.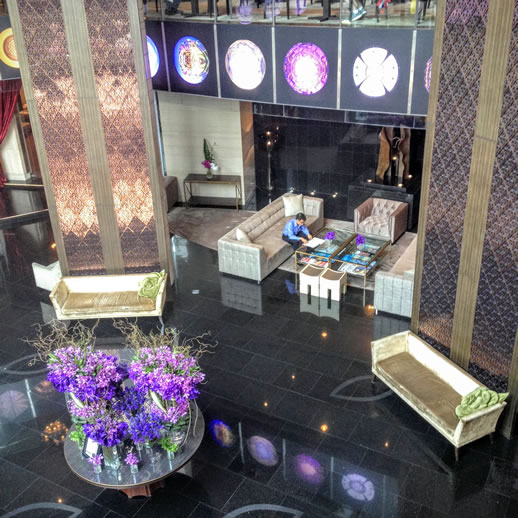 I was a guest of Accor Hotels and flew Scoot business from Australia to Bangkok via Singapore.
Find out more about Sofitel Bangkok Sukhumvit or book a room at the Accor Hotels website. It's equally well suited for business travel or a trip with the family and a fine place to enjoy a luxury stopover in Bangkok.
Want More Travel and Wellbeing Inspiration?
Stay tuned for more travel stories, ideas and inspiration including my recent trip to Thailand and Laos. Get free email updates from Get In the Hot Spot – a weekly injection of tips to help you find fun and adventure. Click here now for free updates.
Share This Story, Choose Your Platform!