Laptop Review: Asus ZenBook Flip on the Road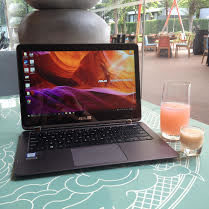 No one likes to feel trapped, which is probably why I don't work at a desk anymore. When I'm travelling I need a laptop and, when I'm at home, I prefer using a laptop which I can take anywhere, to work at the dining table, to read on the sofa or to meet clients.
So when Asus offered to lend me their latest and greatest laptop, the ZenBook Flip UX360UA, to take on my Half Marathon trip to Asia, I was keen to roadtest it. The ZenBook Flip appeals because it has some key features:
High-powered laptop that converts into a tablet;
12-hour battery;
Small enough to easily carry anywhere, but with a 13-inch screeen that's big enough to view your photos or watch a movie with friends on;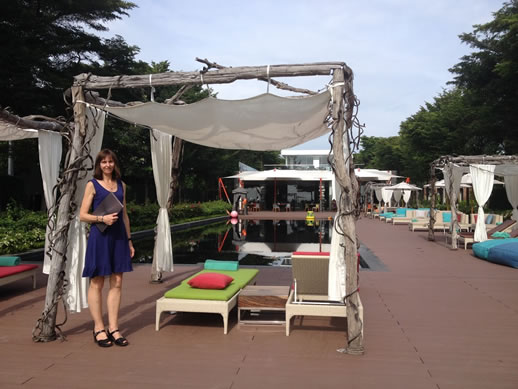 Reasonably priced – which is preferable for travel as carrying something too expensive can be stressful;
Stylish with a simple, elegant design (my ZenBook was mineral grey but it also comes in rose gold), yet tough enough to sustain a few knocks, drops and bangs.
High performing with a powerful Intel Core i series processor that runs on Windows 10 so it works fast, meaning less waiting time for the computer to warm up or files to load;
Flexible so you can use it as a regular laptop or flip the screen to convert it into a tablet with touchscreen. The ZenBook Flip can be used in four modes – laptop mode, tent, presentation and tablet.

Award-winning design
ASUS' elite ZenBook range was developed to be the company's thinnest and lightest laptops, created using the latest technologies and using premium materials like anodised aluminum alloys.
When creating the first ZenBook, the designers wanted a minimalist design based on Zen principles. The hairline concentric circles etched on the surface of the lid mimics the raked gravel circles of a calming Zen garden.
These signature design elements are incorporated into all ZenBook models and won the range countless industrial awards, with acclaim for both style and performance.
Look and feel
The Asus looks stylish and sophisticated with its spun metal finish and durable aluminuim unibody enclosure. It has two small "jewel" hinges in shiny, contrasting coloured metal and comes with its own pouch. The pouch protects it when travelling without creating too much bulk.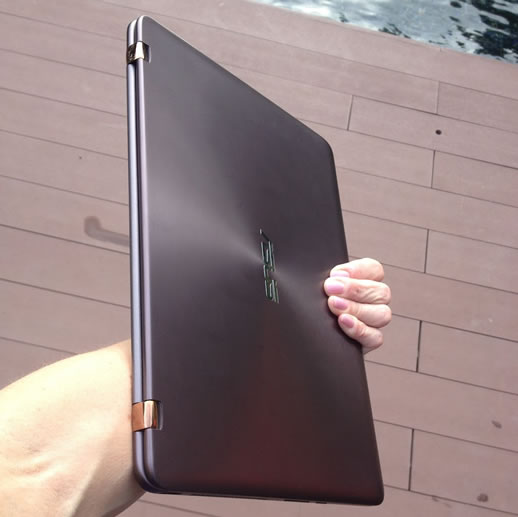 Highy portable
The ZenBook Flip UX360UA is the world's slimmest and lightest flip screen laptop. It's highly portable weighing just 1.27 kg, and only 13.9mm thick. It's slightly bigger than a sheet of A4 but still small enough to easily slip into my (large) handbag, even in the protective pouch.
Easy to use and built to last
It's small and light yet tough. The lower edge is indented so the screen opens easily with one hand. The tough hinge look like they'll stand the test of time. To ensure maximum reliability, the laptop is torture-tested with over 20,000 open and close cycles, ensuring that you can switch ZenBook Flip effortlessly between a high-performance laptop and a lightweight tablet easily, at any time.
It's easy to transition between different modes (laptop, tablet etc) and once you've chosen a screen angle, the jewel hinges keep it there, even on a bumpy journey.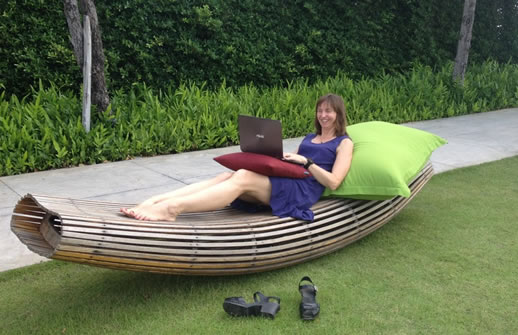 Keyboard and trackpad
The keyboard's a good size so I didn't have any of the usual problems hitting the wrong keys which is common with a small keyboard. I did a lot of writing during my trip and the keyboard took a good hammering with no complaints! The keys are well spaced and backlit making it easier to type in the dark for non-touch typists.
On the grey model, which I had, the keyboard is black. That looks fine until you see the rose gold model which has matching silver keys which looks gorgeous. I'd pick the pretty rose gold if I was buying this laptop, although the grey model is more masculine and probably the best choice for the man in your life.
Trackpads can be fiddly but the ZenBook Flip trackpad handled every swipe, flick and tap well. It was accurate and responsive to each touch. The trackpad can be used to scroll, zoom, click or drag.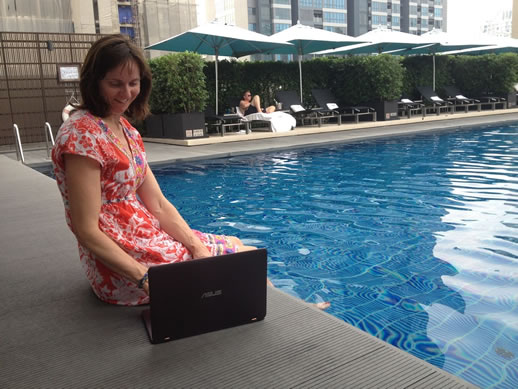 Screen
The flexible screen, which can be flipped 360° to turn the laptop into a tablet, is genuis, especially in small spaces like on a plane.
The screen wasn't bright enough to be viewed outside in the sunshine but I've never found a computer that can cope well with sunlight. I think it's a message that when we're outside we should be enjoying nature, not computing.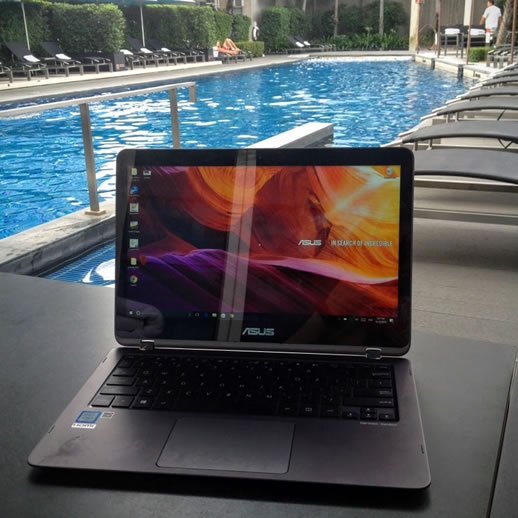 High performance
As mentioned, the ZenBook Flip UX360UA is powered by a high performance Intel Core i7 series processor.
Despite the ultra-thin, light chassis, the ZenBook Flip UX360UA packs powerful components typically found in much larger laptops. It's one of the most powerful lap tops with a flip screen for its size.
The device's powerful components include the latest Intel Core i7 processor, up to 8GB of high speed 1866MHz LPDDR3 memory, a 512GB SSD and a next-gen USB Type-C port.
The ZenBook Flip features the revolutionary USB Type-C port for any-way-up connections and super-fast data transfers. And you'll also find two USB 3.0 Types-A ports, a HDMI port and an SD Card slot, so it's easy to connect to all your current and future peripherals.
The ZenBook Flip comes with the latest 802.11ac Wi-Fi, with ultra-fast speeds of up to 867Mbps. That's three times faster than older Wi-Fi generations, and with stronger, more stable signals. The ZenBook Flip also supports for Intel WiDi technology, so you can stream music, movies, photos and games to any WiDi-compatible HDTV, or use a TV as an interactive second screen for big-screen multitasking.
I found detecting, connecting to and using WiFI fast and easy, even in poor connections, outside and when flying Scoot.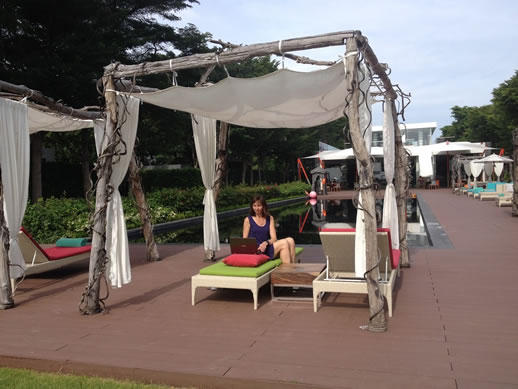 Downsides
The high sheen case shows dirt and fingerprints easily but it's also easy to wipe clean with a dry cloth, or the edge of your skirt!
Because it doubles as a touchscreen, the screen can get covered in fingerprints so it's handy to keep a special cloth for cleaning glasses in the pouch.
Best things about the ZenBook Flip
Like most of us, I don't really know what all the geeky numbers and acronyms mean, but you don't need to be a geek to appreciate the joys of having a small, powerful laptop. The things I loved about the ZenBook Flip were:
Connects to the Internet and WiFi fast, which is super important when you travel or use your laptop out and about.
Has plenty of ports for headphones and USB devices so you can listen to something privately and charge a phone or camera at the same time.
The high resolution touch screen makes even small fonts easy to read, which is perfect for aging eyes!
Movies and YouTube videos are clear, crisp and bright and the wide angle screen means its easily viewed by people sitting at different angles.
The touch screen is highly accurate and very sensitive, so it actually responds to the right touch even if your fingers brush against something else.
It has an eyecare mode for the screen which reduces blue light and viewing fatigue. This comes in handy when you're flying for 12 hours and will be glued to you computer screen! But I'm sure it's better for anyone who is working on a computer for more than four hours a day.
So slim and light that it was easy for me to carry anywhere unobtrusively.
12 hours of use battery is priceless.
The ZenBook Flip is highly portable, good looking and reasonably priced. So if you need a new laptop and want one that's powerful and flexible this is the obvious choice.
I'd definitely buy this laptop for me or my son. He's in his first year at university so I could be trusted to look after it, and I know he'd appreciate the stylish case, user-friendly flexibility and high powered performance as much as I do.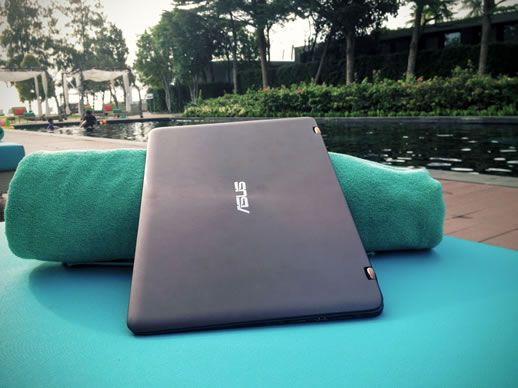 The light, flexible design coupled with an easy, speedy working experience helped me stay connected and keep writing while on the road without compromising my sense of freedom. It's going to hurt when I give the review model back.
This was a sponsored blog post for Asus computers but all opionons are, as always, my own. I was loaned a ZenBook Flip for two weeks to use on my recent trip to Thailand and Laos so I could fully test it while travelling. 
Find out more
You can find out more about the ZenBook Flip on the Asus website or buy it online at the Asus store. Or head to your nearest reputable electronic store and have a play with it yourself.
Share This Story, Choose Your Platform!